Vegetarian Lasagna Recipe
Meatless Monday Vegetable Lasagna
This is a great plant-based vegetarian recipe for vegetarians AND non-vegetarians. This make-ahead meal freezes well for family supper meals or freeze in single servings for lunches.  Serve with a tossed green salad for a healthy balanced meal.
Makes 8 servings
What you need:
9 whole wheat lasagna noodles
1 tbsp olive oil
1-2 cloves garlic
1 cup chopped zucchini
1 cup chopped onion
1 cup chopped red pepper
1 cup sliced mushrooms
1 can tomatoes (19 oz) crushed
2 cups tomato sauce
1 tsp dried basil
1 tsp dried oregano
1 1/2 cups 1% cottage cheese
1/2 cup parmesan cheese
8 oz mozzarella cheese (shredded)
How you prepare:
Cook lasagna noodles and drain. Sauté garlic, zucchini, onion, pepper and mushrooms in oil. Add tomatoes, tomato sauce and spices and simmer for 15 minutes. In a separate bowl combine cottage and parmesan cheese. To assemble, put 3 noodles on the bottom of a dish, pour 1/3 sauce over the noodles, then top with 1/2 cottage cheese mixture. Repeat layering once, then top with remaining noodles and pour on remaining sauce. Finish with mozzarella cheese on top. Bake at 350F until done.
Per serving:
Calories 294
Carbohydrates 34 g
Protein 22 g
Fat 10 g
Dietary Fiber 6 g
Need some personalized help for vegetarian meal planning or how to incorporate more plant-based foods into your diet?   Book a free phone call to discuss your needs and which Calgary Dietitian / Online Dietitian in our practice can help.
As Registered Dietitians that specialize in meal planning, vegetarian health, weight concerns, emotional eating, eating disorders, digestive health, heart health, diabetes, pediatric nutrition and sports nutrition we can see you in our local Dietitian Calgary office or as an Online Dietitian by phone or video conferencing for virtual nutrition counseling. Find out more about our Dietitian Nutrition Counseling Programs here.
As university trained top Registered Dietitians, you can count on us for credible advice and practical meal planning so you don't have to stress about food anymore. You can achieve a healthy and joyous relationship with food and your body. Let's talk about what this can look like for you. CONTACT US.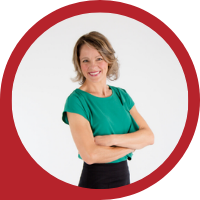 About Andrea Holwegner
CEO, Registered Dietitian, Counseling Practice Director & Professional Speaker
Andrea the «Chocolate Loving Nutritionist» is founder and CEO of Health Stand Nutrition Consulting Inc. since 2000. She is an online nutrition course creator, professional speaker and regular guest in the media. Andrea is the recipient of an award by the Dietitians of Canada: The Speaking of Food & Healthy Living Award for Excellence in Consumer Education....Read more