Very Berry Fruit Crisp Recipe
Healthy Dietitian Approved Dessert
The berries, oatmeal, and whole wheat flour pack lots of fiber and antioxidants into this delightful healthy dessert loved by all!
Makes 12 Servings
What you need:
6 cups mixed berries such as blueberries, raspberries, strawberries, blackberries, saskatoons and/or cranberries (fresh or frozen)
1 cup whole wheat flour
½ cup butter
1 ½ cups rolled oats
1 ½ cups brown sugar
1/4 tsp cinnamon
How you prepare:
1. Grease two 8 by 8 inch baking pans or one large 13 by 9 inch glass casserole dish with oil. Layer the berries in the pans.
2. In a separate bowl with a pastry blender or fork mix together flour, butter, oats, brown sugar and cinnamon until blended into a crumbly mixture.
3. Spread this mixture over the berries.
4. Bake at 350F for approximately 30 minutes or until done.
Per serving:
Calories 313
Carbohydrates 55 g
Protein 5 g
Fat 9 g
Dietary Fiber 6 g
Looking for more healthy eating recipes? Sign up for our weekly newsletter for a healthy recipe of the week (and nutrition articles and videos with a balanced living philosophy to help encourage healthy habits but still save room for your favorites). Our nutrition newsletter is written by the Calgary nutritionists / online dietitians on our team who each hold a professional Registered Dietitian license to ensure you are getting credible advice.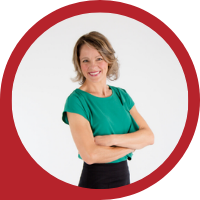 About Andrea Holwegner
CEO, Registered Dietitian, Counseling Practice Director & Professional Speaker
Andrea the «Chocolate Loving Nutritionist» is founder and CEO of Health Stand Nutrition Consulting Inc. since 2000. She is an online nutrition course creator, professional speaker and regular guest in the media. Andrea is the recipient of an award by the Dietitians of Canada: The Speaking of Food & Healthy Living Award for Excellence in Consumer Education....Read more