What is Multiple Sclerosis?
Multiple sclerosis (or MS) is a chronic, often disabling disease that attacks the central nervous system (brain and spinal cord). Symptoms may be mild, such as numbness in the limbs, or severe, such as paralysis or loss of vision.
The progress, severity, and specific symptoms of MS vary among individuals and are unpredictable. today, new treatments and advances in research are giving new hope to people who are affected by the disease.
MS is thought to be an autoimmune disease. The body's own defense system attacks myelin, the fatty substance that surrounds and protects the nerve fibers of the brain, optic nerves, and spinal cord (the central nervous system).
Click here to read more about What is Multiple Sclerosis (MS)? (National MS Society)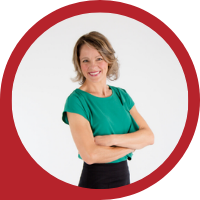 About Andrea Holwegner
CEO, Registered Dietitian, Counseling Practice Director & Professional Speaker
Andrea the «Chocoholic Nutritionist» is founder and CEO of Health Stand Nutrition Consulting Inc. since 2000. She is an online nutrition course creator, professional speaker and regular guest in the media. Andrea is the recipient of an award by the Dietitians of Canada: The Speaking of Food & Healthy Living Award for Excellence in Consumer Education....Read more