What's Eating You?
Andrea's "D-list" for Help with Emotional Eating
By Andrea Holwegner, Health Stand Nutrition Consulting Inc.
We eat for many reasons.  We eat in response to both true hunger and emotional hunger.  As the "chocoholic dietitian" you already know that one of my comfort foods is chocolate.  One of the most difficult parts of my job as a dietitian is getting my clients to tune into the emotional reasons for eating.  It is completely normal to eat to celebrate when you are happy, comfort yourself when you are sad, or soothe yourself by chowing down on something delicious when you are stressed.  When emotional eating starts to become a regular negative influence on your health, mood, body image and relationship with food it is important to learn other ways to comfort yourself without food.
Here is my "D-list" that may help you start exploring some strategies to help you with emotional eating:
Determine what's eating you? (Are you stressed, sad, bored, angry or eating out of habit when you are not truly hungry?).
De-stress and consider how can you comfort yourself without food?  Could you take a bath, read a book, call a friend or go for a walk?
Delay eating an unplanned snack.  Most cravings fade within 10-15 minutes.  The temptation to give into a craving becomes less frequent and progressively weaker when you outlast the urge.
Distract yourself by engaging in something that takes your mind off food.  Fold the laundry, water the plants, do a craft or think about other ways that you can keep your hands busy.
Do the opposite of what your body is feeling.  If you are physically exhausted then choose something relaxing such as listening to peaceful music.  If you are mentally exhausted choose something physical that will get your heart rate up such as a brisk walk.
Don't fret if you decide to indulge, no one needs to strive for perfection.  Don't beat yourself up because you are human. Everyone eats for emotional reasons.
Distance yourself from your major comfort foods.  Manage your environment by choosing not to stock your home or office with foods you find challenging.  Make yourself work for your treats instead of having them stocked for easy access.
Decide how you can handle things better next time if you didn't eat as well as planned.  Be gentle with yourself and remind yourself change is a process not an event.
Demand the delicious and delightful. As soon as you tell yourself you can't eat certain foods that will be what you crave. Give yourself flexible eating patterns that allow for some of your favourite treats, while not giving into all your cravings. Make the decision not to go on a restrictive diet. Instead go for sensible balanced eating that includes all foods.
Thanks for reading!
Andrea Holwegner
"The Chocoholic Dietitian"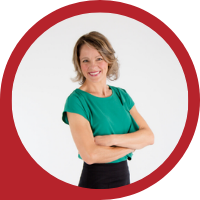 About Andrea Holwegner
CEO, Registered Dietitian, Counseling Practice Director & Professional Speaker
Andrea the «Chocoholic Nutritionist» is founder and CEO of Health Stand Nutrition Consulting Inc. since 2000. She is an online nutrition course creator, professional speaker and regular guest in the media. Andrea is the recipient of an award by the Dietitians of Canada: The Speaking of Food & Healthy Living Award for Excellence in Consumer Education....Read more