What's on the menu at day care?
Read my interview with Lisa Kadane, Calgary Herald: What's on the menu at day care?
Health Tips . Most parents ask questions about the quality of care when researching day care or after-school programs for their kids, but who remembers to ask questions about the food?
It's an equally important component of care that shouldn't be overlooked, says local registered dietitian Andrea Holwegner, who worked with Alberta and B.C. early learning and care centre Edleun (edleun.com for locations) to plan their menus.
Since research shows that what a child eats in the early years can set them up for life, Holwegner urges parents to ask these questions when choosing child care:
1. Who prepares the food? If no one is cooking meals on site, the centre may be relying on pre-packaged foods that contain higher levels of salt and fat.
2. Can you provide me with a copy of the menu for the week? Proper nutrition requires planning. If a menu can't be provided, it should trigger worries about variety and nutrition.
3. Do meals include food from four of the food groups on the Canada Food Guide? Do snacks include two? Get a copy of the guide at www.hc-sc.gc.ca/ fn-an/food-guide-aliment/ index-eng.php.
4. How much juice do you give the kids? Juice is sweet and loved by children, but most nutritionists recommend a daily limit of one half-cup of full-strength juice. Kids who fill up on juice often don't get the nutrition they need from meals.
5. Have you worked with a registered dietitian to build this menu? If not, how do they know it's appropriate?
– Lisa Kadane, Calgary Herald
Read more: http://tinyurl.com/69llvl2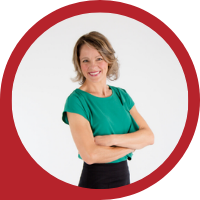 About Andrea Holwegner
CEO, Registered Dietitian, Counseling Practice Director & Professional Speaker
Andrea the «Chocolate Loving Nutritionist» is founder and CEO of Health Stand Nutrition Consulting Inc. since 2000. She is an online nutrition course creator, professional speaker and regular guest in the media. Andrea is the recipient of an award by the Dietitians of Canada: The Speaking of Food & Healthy Living Award for Excellence in Consumer Education....Read more