Whole Wheat Pumpkin Chocolate Chip Cookie Recipe
Healthy Fall Pumpkin Cookies
These cookies are a big hit with both kids and adults! They work great made ahead and frozen for snacks on-the-go and as a healthier dessert option as they are made with whole wheat flour, oatmeal and pumpkin.

Recipe adapted from Marietta Slater – Taste of Home
Makes 42 – 94 small cookies
What you need:
1 cup butter, softened
¾ cup sugar
¾ cup packed brown sugar
1 egg
1 tsp. vanilla extract
2 cups whole wheat flour
1 cup quick-cooking oats
1 tsp. baking soda
1 tsp. ground cinnamon
1 cup canned unsweetened pumpkin (or fresh cooked pumpkin)
1-1/2 cups semisweet chocolate chips
How to prepare:
Heat the oven to 350F.
In a bowl, cream butter and sugars until light and fluffy. Beat in egg and vanilla. Combine the flour, oats, baking soda, and cinnamon; stir into cream mixture alternately with pumpkin. Fold in chocolate chips.
Drop by tablespoonfuls onto greased baking sheets. Bake at 350F for 12-13 minutes or until lightly browned. Remove to wire racks to cool.
Per Serving:
Calories 127
Carbohydrates 17 g
Protein 1.5 g
Fat 6.7 g
Dietary Fiber 1.2 g
We hope you love this whole wheat pumpkin cookie recipe as much as we do!
Looking for more simple meal planning tips and healthy recipes for a healthier lifestyle?  Sign up for our weekly newsletter for a healthy recipe of the week (and nutrition articles and videos with a balanced living philosophy to help encourage healthy habits but still save room for your favorites). Our nutrition newsletter is written by the Calgary Nutritionists on our team who each hold a professional Registered Dietitian license to ensure you are getting credible advice.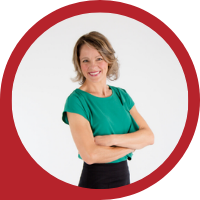 About Andrea Holwegner
CEO, Registered Dietitian, Counseling Practice Director & Professional Speaker
Andrea the «Chocolate Loving Nutritionist» is founder and CEO of Health Stand Nutrition Consulting Inc. since 2000. She is an online nutrition course creator, professional speaker and regular guest in the media. Andrea is the recipient of an award by the Dietitians of Canada: The Speaking of Food & Healthy Living Award for Excellence in Consumer Education....Read more