Why do we stop doing things we know are good for us?
I had heard meditation was a good idea, so several years ago I decided to give it a try. I was a bit intimidated, and felt I didn't have much time, so I downloaded a short 15 minute guided meditation audio clip from iTunes. When I closed my eyes, I remember feeling somewhat freaked out by the noisy and relentless chatter of my thoughts that were flashing about everything and anything. Given the chaos of my mind, I decided I needed this more than I thought, and committed to do this every day for a month to see what happened. It was hard, but the results were awesome. It was like I defragmented my mind. I was a calmer, more present version of myself.
But then I stopped. Not sure why, but like many things in life that are good for us, we wander away from good habits. I think I got "busy" and life pulled me in different directions and distracted me from what I knew was helpful.
Finally, after several years, I was inspired by my husband (aka "Mindful Mike"), who practices mindfulness meditation, to try it again. I found it hard to get going on my own, so I took a few courses. My favorite course (introduction to mindfulness meditation) was led by Carmen Wyatt who offered the kind, compassionate teaching approach that I needed. Carmen reminded me to start small and build the habit. I am beginning to find that calmer, more present version of myself again. Thank you Carmen.
Whatever change you are looking to make, start small and build the habit. What good habit do you need to rekindle to become a better version of yourself?
Contact us to learn more about our nutrition counselling programs and how we can help support you in your journey for healthier eating, weight loss, eating disorder recovery, and medical issues such as diabetes, high cholesterol, high blood pressure, digestive issues and more.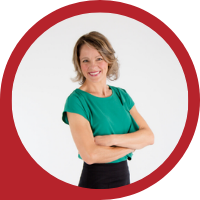 About Andrea Holwegner
CEO, Registered Dietitian, Counseling Practice Director & Professional Speaker
Andrea the «Chocolate Loving Nutritionist» is founder and CEO of Health Stand Nutrition Consulting Inc. since 2000. She is an online nutrition course creator, professional speaker and regular guest in the media. Andrea is the recipient of an award by the Dietitians of Canada: The Speaking of Food & Healthy Living Award for Excellence in Consumer Education....Read more