Your Teenager Wants to be Vegetarian
Listen to my QR77 Radio Program here:
Every Monday at 4:15pm on QR77 Radio join me and Angela Kokott host of Calgary Today with our segment "You are what you eat" to get the goods on healthy eating. If you missed my segments I will be archiving these audio discussions on my blog here.
Episode 27 – Your Teenager Wants to be Vegetarian
Listen to Episode 27 here: Your Teenager Wants to be Vegetarian
Progress gradually
I recommend all vegetarians start off slowly. Remind them that they need to be open to embracing new knowledge, foods and cooking skills. Working with a dietitian and purchasing some books and vegetarian recipe books is a good idea.
Make a deal with your teenager that you will support them with their vegetarian diet if they can prove to you they can do it in a healthy way.
Encourage them to start off with substituting a few traditional meat-based meals per week with vegetarian meals.
Then, if this is going well, they should become a lacto-ovo vegetarian who consumes dairy foods and eggs before ever considering complete elimination of all animal-derived foods.
Replace, don't eliminate
Many teenage vegetarians dislike a wide range of veggies, so when they begin skipping meat, poultry and seafood, it means they could be subsisting on vegetarian pizza, french fries and sweets.
This, of course, doesn't supply enough balanced nutrition to grow and develop properly. You may think your teenager is old enough to fend for themselves, but I rarely see teenage vegetarians achieve optimal nourishment without help from parents.
Many vegetarians don't realize it is about replacing, not eliminating.
If your teen chooses not to eat meat, poultry or seafood that supply protein, iron and vitamin B12, they need to incorporate foods such as legumes (beans, lentils and chickpeas), nuts, seeds and soy foods (such as tofu or veggie burgers) instead.
As a rule of thumb, I would suggest aiming to eat these foods at least twice per day. For example, a day that includes black bean soup for lunch and a tofu based stir-fry for supper is a good start.
If dairy foods are not consumed, be sure to incorporate enough calcium-and vitamin D-fortified beverages and foods: aim to have three to four cups of fortified soy milk or fortified rice milk per day.
Be mindful of eating disorders
At my nutrition counselling practice, we treat teenage vegetarianism as a red flag for an eating disorder. While there are certainly political, environmental and other valid reasons to embrace a vegetarian lifestyle, sometimes the decision may stem from an attempt to lose weight -so it's important to understand the underlying reasons.
Signs of a potential eating disorder may include body image dissatisfaction, restriction of junk foods or past foods typically enjoyed, increased exercise, not wanting to eat in front of others, using the washroom after eating, dieting or weight loss.
Body image issues in a growing adolescent and eating disorders do not go away on their own and instead require comprehensive help from health care specialists
Turning a potential eating disorder around early is far easier than waiting until the problem is deeply ingrained.
You, as a parent, have an intuitive sense to pick up on your teenager's relationship with body image and food -trust this.
Five great vegetarian meals:
– Baked potato topped with canned beans in tomato sauce, grated cheese or soy cheese and a tossed salad.
– Taco salad with black beans, salsa, avocado, taco chips and salad dressing.
– Vegetarian pizza with peppers, onions, spinach, mushrooms, tomatoes and cheese or soy cheese.
– Stir-fry with mixed Asian veggies, tofu, sesame seeds or other nuts and teriyaki sauce served over noodles or rice.
– Chick pea or lentil Indian curry with veggies served with naan bread or rice.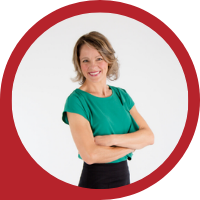 About Andrea Holwegner
CEO, Registered Dietitian, Counseling Practice Director & Professional Speaker
Andrea the «Chocolate Loving Nutritionist» is founder and CEO of Health Stand Nutrition Consulting Inc. since 2000. She is an online nutrition course creator, professional speaker and regular guest in the media. Andrea is the recipient of an award by the Dietitians of Canada: The Speaking of Food & Healthy Living Award for Excellence in Consumer Education....Read more