Zucchini ideas and recipes!
6 tasty ways to use zucchini
If you are looking for some new zucchini ideas and recipes we've got you covered!
Did you know that there are about 15 different varieties of zucchini? We usually only get 3-4 different kinds in our local grocery store but if you grow them you can produce several variations of the green summer squash.
Zucchini is a versatile vegetable as it has a very mild flavor and can be used in many different dishes from savoury to sweet. At the end of the summer often you can find larger zucchini at farmers markets which are great for stuffing. But you most often can find zucchini all throughout the year.
Zucchini is a great source of fibre and water. It contains some pretty important vitamins as well such as vitamin B6, riboflavin, folate, vitamin C and vitamin K as well as minerals such as potassium and manganese.
Because of its versatility, I usually grab a zucchini with each grocery shop and put it into different dishes throughout the week to boost my veggie intake. Due to it's mild flavour I find it doesn't over power any dish but also can be a great feature and additive.
Here are 6 zucchini ideas and recipes to try:
1) Stuffed zucchini
Ingredients:
1 large 12 inch zucchini or 4 x 8 inch zucchini's
Olive oil
Ground beef (or poultry)
Canned lentils
1 Yellow onion, diced
1 Red bell pepper, diced
3 cloves garlic, minced
Salt and pepper to taste
1 tbsp Italian seasoning
1 Jar pasta sauce of choice
1 can tomato paste
1/3 cup Parmesan cheese
2 cups cooked rice or quinoa
Mozzarella cheese to top
How to Prepare:
Cut zucchini in half and hallow out middle, leaving half inch of flesh. Dice the middle flesh scooped out. Place hallowed zucchini on a baking sheet and drizzle with olive oil and season with salt and pepper. Cook at 350 degrees F for 20-30 min until tender.
Meanwhile, in a fry pan add olive oil and ground meat, cook until no longer pink and starting to brown.
Add diced zucchini flesh, onion, garlic, bell pepper to pan and sauté until soft. Add canned lentils, Italian seasoning, pasta sauce, tomato paste and rice/quinoa. Stir until all combined. Mix through parmesan cheese.
Stuff zucchini with meat mixture, top with mozzarella cheese and bake until throughly heated and cheese is bubbly and brown.
Serve with side salad.
2) Parmesan roasted zucchini
Ingredients:
4 small zucchini
1/3 cup grated parmesan
1 tsp Italian seasoning
Salt and pepper to taste
1 1/2 tbsp olive oil
1/2 tsp garlic powder
1/8 tsp chili flakes (if desired)
1 tbsp lemon juice
2 tbsp fresh chopped herbs (parsley is my fav)
How to Prepare:  
Preheat oven to 400 degrees F. Line a cookie sheet with parchment paper.
In a small bowl mix together seasonings and parmesan.
Place the zucchini in a large bowl and drizzle with olive oil. Sprinkle parmesan mixture over zucchini, toss to coat.
Lay out zucchini on cookie sheet so that they are not touching and have space between them.
Bake until tender, about 12-15 minutes. Then turn oven to broil and cook until parmesan is lightly brown, 2-3 minutes.
Remove from the oven and sprinkle lemon juice and fresh herbs over the zucchini.
Serve as a side veggie dish to any great protein and carbohydrate accompaniment.
3) Zucchini noodles to add to Pad Thai
Ingredients:
2 zucchini, spiralized – you can either purchase them already spiralized or you can do it yourself if you have a spiralizer
package of rice noodles
2 chicken breasts, diced
peanut oil or olive oil
1 bell pepper, sliced
2 carrots, sliced in long strips
bag bean sprouts
4 garlic cloves, minced
1/2 tsp red pepper flakes
1/4 cup chopped green onion
2 eggs
Sauce:
3 tbsp fish sauce
3 tbsp low sodium soy sauce
3-5 tbsp brown sugar
2 tbsp rice vinegar
2 tbsp lime juice
1 tbsp Sriracha sauce (optional)
2 tbsp peanut butter
To serve:
crushed peanuts
lime wedges
minced cilantro
How to Prepare:
Cook noodles as per package instruction, wash off and drain.
Spiralize the zucchini and set aside
Pre heat a large pan. Add 2 tbsp peanut oil and sauté chicken until browned and cooked through. Take out of pan and set aside.
Add a little more oil and add bell peppers and carrots until soften. Add garlic and red pepper flakes, bean sprouts and zucchini. Stir and sauté for a couple of minutes until veggies are tender. Push to side of pan.
Whisk eggs, add to open space in pan and cook until scrambled.
Add chicken and noodles to pan. Let everything heat back up.
In a bowl mix all sauce ingredients until well combined. Pour over mixture and toss until coated. Stir in green onions.
Plate, top with crushed peanuts, lime wedge and cilantro if desired. Enjoy!
4) Zucchini fritters
Ingredients:
2 cups grated zucchini
1/2 cup corn (frozen or canned)
1 cup panko bread crumbs
2 eggs
1/3 cup grated parmesan
1/4 cup grated mozzarella
2 cloves garlic
salt and pepper to taste
3 tbsp pumpkin seeds
3 tbsp canola or avocado oil
How to Prepare:
Once you have grated the zucchini, place in a clean tea towel and squeeze out as much liquid as possible.
Place in a large bowl and add all remaining ingredients except oil. Mix well.
Preheat a large fry pan on medium heat, add oil and scoop 1/2 cup of the zucchini mixture into the hot pan. Gently shape into rounds and flatten like pancakes.
Cook for 5 minutes each side, until browned.
Goes well with a fried egg or as a side veggie dish.
5) Chocolate zucchini bread
Ingredients:
1/2 cup cocoa powder
3/4 cups all purpose flour
3/4 cup whole wheat flour
1 tsp baking soda
1/2 tsp baking powder
1/4 tsp salt
1/2 tsp cinnamon
1/2 cup canola oil
1/2 cup white sugar
1/2 cup brown sugar
2 large eggs
1 tsp vanilla
2 cups grated zucchini
3/4 cup mashed banana
1/2 cup chocolate chips
1/4 cup walnuts
How to Prepare:
Preheat oven to 350 degrees F. Spray a loaf pan with non- stick spray or line with parchment paper
In a large bowl mix together all dry ingredients – cocoa, flour, soda, powder, salt, cinnamon, both sugars.
In a medium bowl mix together all wet ingredients – oil, vanilla, eggs, bananas, grated zucchini.
Make a well in the dry ingredients and pour in wet ingredients. Gently fold together until just combined. Fold in chocolate chips and walnuts. Do not over mix the batter.
Pour into prepared loaf pan and bake in oven for 55-65 minutes until a tooth pick comes out clean.
Let cool completely.
6) Zucchini drop cookies
Ingredients:
1/2 cup butter
1 cup brown sugar
1 egg
2 cups all purpose flour
1 tsp baking powder
1/2 tsp baking soda
1 cup grated zucchini
1 tsp almond extract
How to Prepare:
Preheat oven to 400 degrees F.
Cream butter and brown sugar together. Beat in egg.
Stir in flour powder and soda. Mix well.
Fold in zucchini and almond extract.
Drop 1 tbsp of batter onto a cookie sheet. Bake for 10-15 minutes.
Zucchini can also be added as an extra vegetable to stir fries, scrambled eggs with veggies or added to soups! You might also want to check out this article previously posted on our blog here: Zucchini Wrapped Bocconcini Skewers Recipe
I hope you enjoy trying these new zucchini ideas and recipes!
Do you have a tasty zucchini recipe that you love? Share it in the comments below!
Looking for more healthy eating tips? Check out our Personal Resource Mega Bank for meal planner kits, newsletters, articles and recipes here: Personal Resource Mega Bank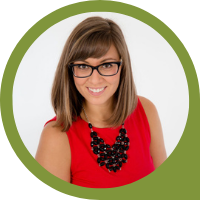 Shauna Kime
Registered Dietitian & Online Nutritionist - Weight Concerns, Women's Health, Diabetes & Meal Planning
The first thing you will notice about Shauna is her contagious optimism, energetic personality and zest. Shauna loves teaching and has a heart full of compassion and empathy for helping clients work through health concerns. Shauna specializes in healthy cooking, diabetes, cardiovascular health, weight concerns and womens health. Read more