17 Employee Wellness Resolutions for 2017
New Year's Is A Good Time for Corporate Wellness Resolutions 
Prep your employees for healthy habits in the new year! The new year is right around the corner, and with Jan 1 comes a series of well-intentioned – and occasionally unrealistic – goals. Your employees have an interest in transforming their health, but they need your support and motivation to meet the challenge.
Healthy employees impact your company's bottom line. Workplace wellness benefits to your company include:
Fewer sick days
More productive employees due to feeling physically and mentally well and less fatigued
Improved wellness, safety and productivity for field workers and those that travel for their jobs
Lower costs of health benefits and medications
Reduced employee turnover and burn-out
Enhanced resiliency, work-life balance and ability to combat stress
Increased stamina, energy and productivity for demanding workloads
3 Ways to Set a New Year's Resolution
You may have heard conflicting opinions on if setting a New Year's resolution is actually beneficial given so many people fail at following them. I am a strong believer in setting a New Year's resolution but starting small. Work towards making sure it is clear and supportive rather than discouraging and overwhelming.
Here are 3 ways you may consider setting a sustainable New Year's resolution that shifts change and inspires success.
1. Non-negotiable and negotiable clarity
Fill out the following statement that tells the story of what it looks like for you to eat healthy but still have a fun, flexible life.
"I am never giving up _____________________ but I'm willing to work on _____________________ ."
2. Top 3 specific areas of focus
Bite-sized changes add up to super-sized results so rather than thinking big, think small.
3. One mantra for the entire year
If something specific doesn't fit for you, why not try setting a single mantra for the entire year? What is the one single personal thing you are going to focus on learning, testing and implementing? Once you decide this, everything else you decide to shift positively is a bonus. Learn More
17 Employee Wellness Resolutions for 2017
Some employees want to improve their health, but are overwhelmed and don't know where to begin. Here are 17 health-related New Year's resolutions to share with your employees.
1. Set a Fitness Goal
Whether your goal is to start working out, or to increase your workouts, fitness goals are important to achieving a healthy lifestyle. If you're new to working out, start small so you can experience success. And whether you're new to working out or a fitness pro, remember to hydrate and eat a nutritious snack before and after working out. Here's my award winning Cocoa Energy Bar recipe that you can make ahead and bring with to your workouts.
2. Stress Reduction
Regular physical activity reduces the risk of high blood pressure, stroke and coronary heart disease — the latter by as much as 50%, according to the Public Health Agency of Canada.
Sustained stress over time increases your risk of heart disease, and some research suggests it may increase your blood pressure. Think about ways you can squeeze physical activity into your lifestyle and how you can manage stress.
3. Stop Smoking
The Heart and Stroke Foundation says smoking almost doubles the risk of ischemic stroke and increases plaque buildup in the arteries, blood clots and blood pressure — and also makes your heart work harder. There is no better way to improve your health than to quit smoking.
4. Improve Your Diet
eaTracker is a free app created by Dietitians of Canada, and available in both English and French:
Plan Your Meals: Get help planning healthy meals with eaTracker's feedback on nutrients and calories.
Analyze Your Food: eaTracker shows you how your food choices compare to national guidelines. Set your eating goals and track your progress.
Track Your Activities: Are you as active as you should be? Do you know how many calories you burn? Use eaTracker to set goals and track your progress every step of the way.
Meet Your Goals: Set your eating and activity goals and track your progress. Use eaTracker to post pictures or quotes to keep you motivated and determined to succeed.
5. Try a New Food
It's hard to stay on a healthy diet when eating the same things every day. Each year there are new 'trendy' health foods: think coconut water, avocado toast, kefir milk, hemp hearts or chia seeds! The trick to maintaining a healthy diet is variety. We are creatures of habit: some people like their oatmeal every morning for breakfast. But eventually, most of us simply rebel from the monotony and binge on whatever junk food is handy. Instead, introduce healthy new or new to you foods into your diet. Variety is the spice of life!
6. Drink More Water
Download a water tracker to your smartphone. I like iHydrate Water Tracker Reminder:
Tracks your daily water intake
Lets you set reminders to drink more water
7. Get More Sleep
Employees who are over-tired are typically less productive at work, are prone to overeat and often have more stress. Many people have difficulty getting enough good quality sleep, even though they may spend the recommended time in bed trying to sleep. White Noise Sleep Sounds is a free app with sounds to help you relax the day and sleep at night:
Create your own custom sound mixes by mixing several sounds together
Change the color and brightness of your screen
Gentle alarms and timers that slowly fade in
8. Eating Out Tips
Focus on the big picture: Restaurant and fast food meals are often high in calories; high in fat – especially saturated/trans fats; high in sodium and low in vegetables and fruit. If you eat out regularly you need to plan to make healthy choices. If you eat out only occasionally don't worry about it – have what you like! All foods can fit in a healthy lifestyle: I advocate Health Without Guilt or Complexity!
Check fast food and major franchises for nutrient listings on their website
Look for terms and symbols that may signal healthy choices
Beware of marketing: "Fat-Free" does not mean "Calorie Free"
Watch out for alcohol… it stimulates your appetite!
Choose healthy, low or no-calorie beverages such as water, soda water with lime, juice, juice and soda water mixed together or tomato juice. Many restaurants serve 0.5L to 1L portions of pop. Say no to the free refills!
Request the sauces and spreads on the side.
Substitute fries for salad or soup, and ask for double the veggies and ½ the rice/starch
Make sure you don't arrive too hungry. Have a small snack to help you make a sensible choice when you arrive.
Eat less! Most restaurants will serve you a much larger portion than you would ever serve yourself at home.
Take the leftovers home for your lunch the next day!
9. Move More at Work
It's well known that office workers sit too much, and move too little. There are things you can do to move more at work:
Take a walk after or during lunch.
Hold standing meetings, instead of sitting meetings.
Schedule walking meetings when only 2-3 people are involved.
Investigate a standing desk for your office or to take turns with your team.
Skip the elevator and take the stairs.
Park in the farthest parking spot, not the closest.
10. Eat More Fruits and Veggies
In addition to choosing fruit at breakfast, pack 10 pieces of fruit or veggies for the office on Monday and place them in a bowl on your desk with a target that the bowl is empty by the end of the work week (2 per day).
11. End Emotional Eating
What to do when you know what to eat but don't do it:
Work on mindful eating. When you are eating, only eat. Stop multitasking. Eat away from the distractions of driving, working on the computer, surfing on your phone or watching TV.
Slow down the pace of eating. Take a few deep breaths before eating and pause between bites.
Allow yourself to savour your bites and enjoy whatever it is you are eating. Take time to use all your senses to enjoy your meal (sight, sound, smell, taste and mouthfeel/texture).
Plate your food in a bowl or on a plate instead of eating out of bags, packages or containers. This helps your eyes and your stomach connect hunger and satiety cues easier.
Sit down at a kitchen table at home or quiet place away from your desk at work. Eating while standing at the fridge or pantry, in your bedroom, while driving or on your computer at work does not create an enjoyable mindful eating experience.
12. Be Mindful
Practice meditation. I like the free meditation app Insight Meditation:
Connect with a worldwide community of millions of meditators.
Choose from a variety of timers for meditation.
Access hundreds of free guided meditations by renowned experts.
13. Be Grateful
Start a gratitude journal so you can focus on the positive things in your life, and not dwell on the negative things.
14. Workout With a Buddy
I have often noticed an interesting trend. The vast majority of folks that were getting physical activity were with a companion (dog, friend, significant other, baby, mug of coffee, iPod, or cell phone). If you are struggling with motivation to get outside for a walk or run, you might want to think about finding yourself a "buddy". If you don't have a dog, borrow your neighbors. Love a morning coffee? On the weekends try walking to a coffee shop in your area and make your warm cup of brew your buddy. Meet a friend for a walking date instead of a movie. Download some new tunes on your iPod if you are alone and need some company. Need to catch up with a friend on the phone? Call them on your cell phone during an evening walk.
15. Get Outdoors More
Many people gain weight over the winter months since they keep eating similar amounts of food (and potentially even more food) but have also reduced their physical activity. Get moving to prevent weight gain. Bundle up and get outside. Exercise is one of the most important ways to manage a healthy weight and keep your metabolism revved and burning calories efficiently.
16. Declutter Your Desk
Each new year and spring I recommend our clients declutter and organize their kitchen cabinets, and start the season fresh. The same strategy applies to your office desk: clear the clutter and restart with a clean organized desk for less stress and more productivity.
17. Choose Healthy Midday Snacks
Poor nutrition and heavy meals lead to feelings of fatigue, sleepiness and disengagement. Choosing healthy midday snacks provides a brain boost: you will have improved concentration, be more attentive and have increased creativity. Some easy healthy work snacks attacks:
Fresh fruit or cheese cubes
Yogurt parfaits (yogurt, berries and granola)
Whole grain crackers and cheese platter
Deviled eggs and raw veggies and dip
Whole-wheat pita bread wedges and hummus
Trail mix or individual bowls of nuts and dried fruit
Snack-size unsweetened fruit and yogurt smoothies
Mini bran or oatmeal muffins, yogurt cups and fresh fruit salad Regular or decaf lattes, tea lattes
Once your employees set their New Year's goals, the next challenge is to keep them. Here are 5 ways you can help your employees stick to health-related New Year's Resolutions from Winston Benefits:
1. Set a Group Goal
Publicly announcing their goals and working toward a common goal is proven successful in helping people get the support they need to meet their goals.
2. Start a Challenge
People are naturally competitive: establish employee teams to work together to achieve a team goal.
3. Provide Inspiration
Find examples of people who your employees can relate to, and share those stories to provide inspiration for them to meet their own goals.
4. Give Incentives or Recognition
People want to achieve their health goals so they feel better: but they also like to be rewarded and recognized for their accomplishments.
5. Share Information
Provide your employees with resources, tools and information to meet their health goals. Newsletters with recipes, wellness resources and meal planning tips, lunchtime health seminars, or an online video health training programs are all ways to give your busy employees access to information.
Starting small is the best way to achieve your health related goals. By helping your employees make and achieve reasonable, sustainable goals you're on the way to creating a healthier, happier workplace.
For information on hiring Andrea Holwegner as your health, nutrition and stress management speaker please contact Andrea.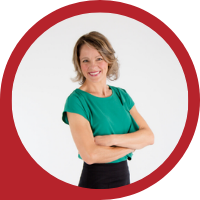 About Andrea Holwegner
CEO, Registered Dietitian, Counseling Practice Director & Professional Speaker
Andrea the «Chocoholic Nutritionist» is founder and CEO of Health Stand Nutrition Consulting Inc. since 2000. She is an online nutrition course creator, professional speaker and regular guest in the media. Andrea is the recipient of an award by the Dietitians of Canada: The Speaking of Food & Healthy Living Award for Excellence in Consumer Education....Read more