Mom Dietitian tips: healthy after school snacks for kids that don't spoil dinner
Healthy kids snack attacks from a mom Dietitian
For many kids after school is the hungriest time of the day. Often times kids get home ravenous and ready to eat down the house. Many parents and caregivers struggle to figure out the best options to feed ravenous hangry kids but not have it spoil dinner.
Watch this previous TV segment on CTV Morning Live with Dietitian Andrea Holwegner that speaks about healthy after school snack ideas for kids:
Here are 3 strategies on how to address this very common issue along with some easy ideas that kids will love:
3 Strategies for managing after school hunger

1. Fix breakfast and lunch
Before getting into healthy after school snacks often times it is important to make sure that we have not neglected what is happening earlier in the day. Hunger later in the day is directly influenced by the timing and type of food offered early in the day.
Maximize breakfast. Be sure to offer a substantial breakfast with carbohydrates from grains and fruits to help provide the brain with energy and a good source of protein since foods such as milk, soy milk, yogurt, cheese, nuts, nut butters, eggs and meat provide more sustained fullness. Traditional breakfast items are great but also consider your kids favourite supper meals such as leftover pizza or quesadillas as other options.
Build better lunches. Get kids involved in lunch planning and consider bento box style lunches with cubed cheese, sliced meat, crackers, cut up fresh fruit and veggies, hard cooked eggs, French toast strips with jam, mini bran muffins or dried fruit that are often appealing to kids. If you need some ideas check out this popular article from our archives that many of our clients find helpful: 26 ideas for a healthy back to school lunch.
2. Consider moving supper later (or earlier)
Ditch the rules you have about what time you must eat supper. There are many ways to eat healthy.
Having a large after school snack and late supper versus a small after school snack, earlier dinner and small bedtime snack are both healthy options. Try out a few options and see what works best for your family schedule.

3. Offer a healthy snack with both carbohydrates as well as protein.
Consider offering some of the foods that are often trickier to get them to eat since this is a time they are most hungry. For example, if your child doesn't love veggies at lunch be sure to offer some of these such as raw veggies with hummus, celery with nut butter, vegetable soup or Greek salad with a few whole grain crackers or other grains.
6 Healthy After School Snacks:
1. Hummus pizza: Take regular pita bread or mini pita pockets and spread with hummus. Top or stuff with grated cheese, spinach, red pepper and cucumber.

2. Homemade snack mix: Airpopped popcorn, dried cereal, pumpkin seeds, shelled sunflower seeds, nuts, pretzels, chocolate chips, dried fruit (dates, prunes, apricots, raisins, cranberries, cherries, blueberries and more).
3. Fruit and cheese kabobs: Wooden skewers of strawberries, grapes, cantaloupe, honeydew, kiwi and fresh pineapple. Build a caterpillar by using only grapes and making a face (eat fresh or frozen). Serve with "yo-nut" dip (yogurt mixed with nut butter) or Greek vanilla yogurt.
4. Ants on a raft: Whole grain crackers spread with nut/seed butter or cream cheese and dried raisins/cranberries/blueberries/cherries.
5. Fish on a river: Celery sticks filled with cream cheese and topped with fish crackers.
6. Handmade fruit cocktail: Serve with a hard cooked egg or other source of protein.

Kids (and adults) love canned fruit cocktail so why not make a fresh fruit version and enhance the variety and the nutrition? Try these or ask your kids to make their own signature recipe:
• Rockin' Red: strawberries, raspberries, diced red-skinned apples with cranberry juice.
• Tropical: Fresh pineapple slices, banana slices, fresh/frozen mango chunks, with pineapple/mango juice.
• Bodacious Berry: Blackberries, blueberries, strawberries with pomegranate juice.
Check out these related family nutrition articles on our Dietitian blog:
20 Dietitian Recommended Healthy Snacks for Road Trips
4 Things Every Meal Planning Newbie Should Know
Kids Nutrition Adventures in the Produce Aisle by a Mom Dietitian
Read More of our Articles and Grab Recipes in Our Free Resources Section Here
Need more support for snacks for kids and feeding a healthy family?
Contact our Calgary Nutritionist / Online Dietitian team for help
As Registered Dietitians that specialize in meal planning, weight concerns, emotional eating, eating disorders, digestive health, heart health, diabetes,  and sports nutrition we can see you in our local Calgary Nutritionist office or as an Online Dietitian by phone or video conferencing for virtual nutrition counseling. Find out more about our Dietitian Nutrition Counseling Programs here.
Join the waiting list for our next Online Nutrition Course The Pursuit of Healthiness.
As university trained Registered Dietitians, you can count on us for credible advice and practical meal planning so you don't have to stress about food anymore. You can achieve a healthy and joyous relationship with food and your body. Let's talk about what this can look like for you. CONTACT US.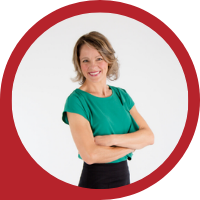 About Andrea Holwegner
CEO, Registered Dietitian, Counseling Practice Director & Professional Speaker
Andrea the «Chocolate Loving Nutritionist» is founder and CEO of Health Stand Nutrition Consulting Inc. since 2000. She is an online nutrition course creator, professional speaker and regular guest in the media. Andrea is the recipient of an award by the Dietitians of Canada: The Speaking of Food & Healthy Living Award for Excellence in Consumer Education....Read more