Dietitian Recommended Road Trip Snack Ideas 
What Foods to Pack for a Healthy Road Trip
If you're headed out on a long car trip this summer, everyone will want to have their favorite foods to munch on in the car. If you're trying to keep the snacks on the healthy side read on for some great dietitian recommended road trip snack ideas!  
You may find it easier to eat healthy in the summer with the delicious selection of seasonal produce available and warm temperatures to get outside and keep active. You may also find it more difficult to stay healthy this summer with holiday plans and vacations that can interrupt good habits. 
Remember that all foods fit! You don't need to avoid your favorite summer treats – they are part of the fun! But be prepared and have healthy options on hand when you need a quick snack.  
How often should I eat?
Use what I have coined The Timing Technique – eat every 3-5 hours. 
While you don't necessarily need to have a snack in order to be healthy, waiting too long in between meals usually ends up in disaster for both hangry passengers and sleepy drivers. It can often lead to overeating later in the day. Choose to have a healthy road trip snack if it will be longer than three to five hours before you will eat again. For satiety and satisfaction many o our road trip snack ideas have both carbohydrates and protein. 
What are the most common snack challenges while on a road trip?
The 3 most common challenges with road trip snacking are: 
Leaving in a rush and failing to pack healthy options
Solution: Even if you are planning on eating meals out on the road at the very least have a cooler with water and some of the healthy snack ideas listed below such as nuts, fresh or dried fruit, air popped popcorn, pre-portioned cheese and raw veggies.  
Mindless munching due to boredom and trying to unwind
Solution: If you often crave savoury foods then put together individual snack packages of raw veggies and pretzel sticks with hummus for dipping. If you crave sweet foods put together a container of fruit such as grapes, blueberries, strawberries or apricots and dip them in yogurt. 
Bottomless supersized bags of sweet and savoury foods
Solution: Most people eat packages, not portions. Buy single unit items to frame a smaller end point (or pre-portion small bags or containers of hard to manage foods purchased in large family size packages before you leave). This works really well for chips, candy, nuts and trail mix. 
Can I still enjoy my favorite junk food?
You can eat anything, just not everything – it is all about choices. 
If you love crunchy potato chips as snacks on road trips or some other favorite soulful food chosen for taste instead of nutrition – no problem BUT be choosey. Choose road trip snack ideas based on what you really love and consider non-negotiable. Road trips that involve fast food for lunch, endless supplies of junk food in the car and then showing up at your destination for vacations filled with lots of alcohol and more junk food for a week can certainly add up. 
What is really worth it? Get clear on what you love and skip over the other items that are eaten because someone else has them in the car or because you were just not thinking about the other opportunities coming up later that day or later in the week. 
For my family, there is often more mid-day happy hour cocktails and savoury snacks in the afternoon or evening on vacation so I do my best to plan really nutritious options for the early part of the day to balance this out. 
What are my healthy road trip snack ideas? Here's 20.
Whole-wheat pita bread and hummus with celery sticks.

Multigrain crackers, pre-portioned packages of cheese and cherry tomatoes.

 

A prepared  smoothie in a travel mug (blend together yogurt, frozen berries, banana and unsweetened juice or milk).

 

Dry, ready-to-eat breakfast cereal mixed with dried fruit (such as raisins, dried cranberries, dates, figs, prunes or dried apricots) as well as mixed shelled nuts or seeds (such as peanuts, almonds, cashews, pumpkin seeds or sunflower seeds). Other popular additions include pretzels, popcorn, crackers and chocolate chips.

 

Roasted chickpeas (bought or homemade) or roasted lentils/other pulses. Try our recipe here: 

Roasted Spicy Chickpeas

 

Oatmeal date squares and yogurt. Try my family favorite recipe posted here on Instagram: 

Oatmeal Date Squares

 

Raw veggies such as grape/cherry tomatoes, carrots, celery, broccoli, cauliflower, snow/snap peas with hummus or a dip like our 

Best Vegetable Dip Ever

. 

 

Bran muffins and cheddar cheese with grapes.

 

Greek salad, marinated vegetable salad or pasta salad (these travel well)

 

Pack or buy a yogurt parfait with yogurt, berries (or alternatively try fresh or canned unsweetened pineapple or peaches) and granola.

 

Containers of drained mini bocconcini (fresh mozzarella cheese) and grape/cherry tomatoes. Just bring toothpicks, a fork or eat with your hands.

 

Cold leftover pancakes or French toast with peanut butter or cream cheese and jam.

 

Individual containers of cottage cheese, yogurt or dessert tofu and fresh fruit.

 

Hard boiled eggs and whole wheat crackers.

 

Banana bread, banana muffins or carrot muffins and cubes of cheese.

 

Mini pizzas made with mini whole wheat bagels or pita bread and tomato sauce, meat, veggies and cheese.

 

Homemade air-popped popcorn with butter, coconut oil or olive oil and a pinch of salt.

 

Cookies, but make them healthy like my nutritious family favorite: 

Health Geek Cookie

 

Enjoy my award-winning recipe for these 

Cocoa Energy Bars

 

Make our top ranked recipe for 

Nutty Chocoholic Balls

 
WATCH my previous TV interview on healthy snacks for road trips here:
Looking for more healthy meal and snack ideas and healthy living advice by our Registered Dietitian team?
Subscribe to our weekly free nutrition newsletter list loaded with healthy eating tips, recipes, and videos. As a thank you, you will receive an immediate download of our popular 52 Health Snack Attack list:Get the healthy snack list here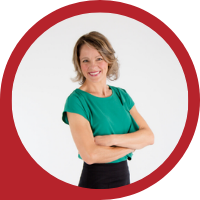 About Andrea Holwegner
CEO, Registered Dietitian, Counseling Practice Director & Professional Speaker
Andrea the «Chocolate Loving Nutritionist» is founder and CEO of Health Stand Nutrition Consulting Inc. since 2000. She is an online nutrition course creator, professional speaker and regular guest in the media. Andrea is the recipient of an award by the Dietitians of Canada: The Speaking of Food & Healthy Living Award for Excellence in Consumer Education....Read more