Backup healthy meal plans in a crunch
Healthy meal plans that fit on days you are swamped!

Wondering what to do when you don't have a plan or your schedule changes?  You need a list of back-up healthy meal plans!

In a best-case scenario, I would recommend booking some time in your calendar to plan meals for the week, make a grocery shopping list and go shopping.  But we all know that life isn't perfect or predictable and planning or executing a plan doesn't always happen.
It is also likely that you can have an amazing plan but something in your work or family life is bound to happen that steals away your precious time and makes it difficult to execute the plan you had in place.
Watch my previous segment on CTV News on backup healthy meal plans in a crunch:
What are some of the most common issues people have with creating a healthy meal plan?
Your life is insanely busy and you simply could not find time to plan and shop with all that you are juggling at home and work
Your schedule changes unexpectedly and makes it impossible to execute your meal plan
Weekday stress and fatigue impacts motivation to want to make a healthy supper
Getting home from school/work too hangry to take the time to execute your meal plan
What is the single most important question to ask yourself the night before?
Want to improve your success with executing healthy meal plans? Before going to bed answer the question: "What is for supper tomorrow?"

Look at your available options in your pantry, fridge and freezer and simply select the 3 components of a balanced meal (grain/starch, vegetables and a source of protein).
Your meal planning doesn't have to be fancy.  Give yourself a break – having pancakes, Greek yogurt and frozen veggies may not be gourmet but it meets the criteria for a balanced meal.
Let the vegetable drive dinner.  To avoid food waste instead of looking in your freezer or pantry, start by what fresh foods need to be used up first and form your meal around those items
If you have forgotten to answer the most important question the night before, think about this on your drive to work, at lunch or while waiting to pick up your kids from school.  ANY amount of planning instead of hoping for the best at supper when you are hangry and tired is helpful.
What is the criteria for creating backup healthy meal plans?
All of the Dietitians in our practice recommend having a list of back-up meals posted in your home:
Make a list of 3-5 back up meals you will have on standby at all times in your home
Make sure your weekly grocery shopping list always contains the ingredients for your back up meals
Meals should be able to be prepared in a short amount of time
Meals should contain 3 things for balance (grains or starches, vegetables and/or fruit and a source of protein)
The main cook and the "not-so-good cooks" should know how to make these (do some cooking instruction if needed so everyone is on board)
Having a solid backup meal plan prevents stress if scheduled meals fall apart, allows for your work or personal family schedule to change and also prevents imbalanced home and eating out if getting to the grocery store is delayed.
What are some ideas for back up healthy meal plans?
While each individual or family food preferences and cooking skill is different here are a few to get you started:
Scrambled eggs, toast (fresh or frozen bread) and carrot sticks or frozen veggies.
Quesadillas:  Flour tortillas (fresh or frozen), canned black beans, grated cheese (kept fresh or frozen), red peppers (fresh or jars of roasted red peppers), frozen corn and canned salsa.
Frozen shrimp sautéed with Thai chili sauce (or lemon, garlic and olive oil) prewashed salad and couscous which can be made in minutes.
Baked beans, potatoes (boiled or microwaved for speed), cabbage (shaved for a coleslaw or steamed if you prefer)
Thin frozen fish fillets you can dust with bread crumbs and seasoning.  Served with whole grain garlic toast and steamed fresh/frozen veggies.
French toast, yogurt or cottage cheese, frozen berries/mango.
Fresh or frozen stir-fry strips of beef, pork or chicken that can be added to fresh/frozen veggies and tossed into a wrap or over rice.
Pasta, tomato sauce, ground meat/poultry (or canned drained lentils or chick peas)
What are some healthy convenience food options?
Healthy convenience foods to consider stashing in your home are:
Pre-cut fresh or frozen vegetables & fruit
Packaged salad or coleslaw mix
Canned diced tomatoes & legumes (lentils, chick peas & beans)
Shredded or pre-sliced cheese (can also be frozen)
Rotisserie chicken
Freeze individual portions of chicken breasts/thighs & fish fillets
Freeze lean ground meatballs
Veggie burgers, non-breaded turkey or chicken burgers, lean beef or bison burgers
Pre-sliced meat (stir-fry & stewing)
Canned fish (tuna, sardines & salmon)
Frozen, peeled shrimp & other seafood
Eggs
Frozen edamame beans
Nuts & seeds
Whole grain pizza crusts or ready-made dough (can be frozen)
Fresh or frozen whole wheat tortellini

Looking for more fast meal ideas and strategies for building healthy meal plans?
Check out these other resources from our Dietitian team:
Nutrition Bootcamp: Online Training & Resource Kit
Article: Meal planning for busy families
Article: 4 Things every meal planning newbie should know
Need more support on healthy meal plans?
As Registered Dietitians that specialize in meal planning, weight concerns, emotional eating, eating disorders, digestive health, heart health, diabetes, pediatric nutrition and sports nutrition we can see you in our local Calgary nutritionist office or as an Online Dietitian by phone or video conferencing for virtual nutrition counseling. Find out more about our Dietitian Nutrition Counseling Programs here.
As university trained Registered Dietitians, you can count on us for credible advice and practical meal planning so you don't have to stress about food anymore. You can achieve a healthy and joyous relationship with food and your body. Let's talk about what this can look like for you. CONTACT US.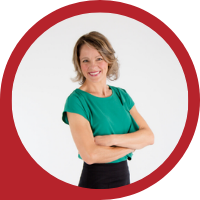 About Andrea Holwegner
CEO, Registered Dietitian, Counseling Practice Director & Professional Speaker
Andrea the «Chocolate Loving Nutritionist» is founder and CEO of Health Stand Nutrition Consulting Inc. since 2000. She is an online nutrition course creator, professional speaker and regular guest in the media. Andrea is the recipient of an award by the Dietitians of Canada: The Speaking of Food & Healthy Living Award for Excellence in Consumer Education....Read more