Baked Macaroni and Cheese Recipe
Easy, cheesy and comforting meal or side dish
Cooler temperatures always put me in the mood to make casseroles and other comfort foods. This baked macaroni and cheese is sure to make everyone in your family feel the love on a cool autumn day!
We've adapted this recipe from Mark Bittman's cookbook "How To Cook Everything."
Serves 6
What You Need
2 1/2 Cups 2% milk (you can use whichever you prefer)
1 pound pasta (macaroni or another favourite)
4 Tbsp butter
3 Tbsp all purpose flour
1 1/2 cups grated cheese (Sharp cheddar, gouda, jack)
1/2 cup grated parmesan cheese
1/2 cup bread crumbs (or you can also use crushed Corn Flakes cereal)
2 bay leaves
Salt & Pepper to taste
How You Make
Preheat oven to 400F
Bring a large pot of salted water to a boil
In a separate saucepan, heat milk with bay leaves over medium low to a simmer (about 5 min). Take off heat.
Cook pasta in salted water until it you feel it is about 1-2 minutes undercooked. Drain and rinse to stop cooking.
In a small saucepan melt 3 Tbsp butter and once it stops sputtering (this means the water has evaporated) add the 3 Tbsp of flour and cook until lightly golden.
Remove bay leaves from the warmed milk and slowly, about 1/4 cup at a time, add the warm milk to the butter and flour mixture, whisking constantly to keep it smooth until you've added all the milk.
Add cheese to the saucepan and stir.
Pour the sauce over your pasta and stir to combine. Add salt & pepper to taste.
Pour pasta and sauce into 9×13 casserole you greased with the remaining 1 Tbsp of butter.
Sprinkle the top with breadcrumbs (and maybe a bit more cheese) and bake for 15 – 20 minutes, until the top is golden and crisp.
Serve baked macaroni and cheese with a green salad, or as a side dish to another weeknight dinner. Or wrap your casserole in foil and freeze for an oven-ready meal on a busy weeknight. Pop in the oven from frozen and add 40 minutes to the cooking time.
Nutrient Analysis
Per serving based on 6 servings
703 Calories
72 g Carbohydrates
39 g Protein
27 g Fat
2.7 g Fibre
We hope you enjoy this recipe for comforting baked macaroni and cheese!
Looking for more simple meal planning tips and healthy recipes for a healthier lifestyle?
Sign up for our weekly newsletter for a healthy recipe of the week (and nutrition articles and videos with a balanced living philosophy to help encourage healthy habits but still save room for your favorites). Our nutrition newsletter is written by the Calgary Nutritionists on our team who each hold a professional Registered Dietitian license to ensure you are getting credible advice.
Click here to sign-up for our free weekly nutrition newsletter: Nutrition Newsletter by our Calgary Nutritionist / Online Dietitian team.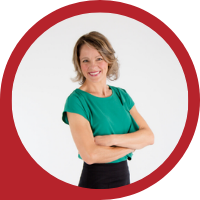 About Andrea Holwegner
CEO, Registered Dietitian, Counseling Practice Director & Professional Speaker
Andrea the «Chocoholic Nutritionist» is founder and CEO of Health Stand Nutrition Consulting Inc. since 2000. She is an online nutrition course creator, professional speaker and regular guest in the media. Andrea is the recipient of an award by the Dietitians of Canada: The Speaking of Food & Healthy Living Award for Excellence in Consumer Education....Read more