Baked Tomatoes Provencal Recipe
Healthy vegetable side dish for breaded baked tomatoes
Whether you're looking for an easy appetizer or a side dish, these breaded baked tomatoes are sure to impress. They require minimal ingredients and preparation and deliver on both flavour and nutrition. These will also impress your guests from their beautiful presentation on the table. Try these out for your next gathering!
Makes 4 servings
What You Need:
4 medium tomatoes
Salt and pepper to taste
1 cup bread crumbs (ready-prepared or homemade)
2 garlic cloves, minced
1/4 cup fresh parsley, chopped
1/2 tsp. dried basil
1 tbsp. olive oil
How You Prepare:
Cut tomatoes in half crosswise and place in a baking dish. Sprinkle the cut side of the tomatoes with salt and pepper to taste.
In a bowl, stir together bread crumbs, garlic, parsley, basil and olive oil.
Bake at 400F for 15-20 minutes or until heated and bread crumbs toasted.  (This recipe also works great to place in a casserole dish on the upper rack of your BBQ if you don't want to turn on the stove on a hot summer day.)
Variations: Try mixing any combination of your favourite fresh or dried herbs or adding parmesan cheese.
Nutrients per serving:
Calories 160
Fat 5g
Carbohydrate 25g
Protein 5g
Dietary Fiber 3g
We hope you enjoyed this recipe for baked tomatoes!  Do you have a favorite way to serve tomatoes? Let us know in the comments!
Looking for more healthy, dietitian-approved recipes?
Sign up for our weekly newsletter for a healthy recipe of the week and nutrition articles and videos with a balanced living philosophy to help encourage healthy habits but still save room for your favorites.
Our nutrition newsletter is written by the Calgary Nutritionists on our team who each hold a professional Registered Dietitian license to ensure you are getting credible advice.
Find out why over 10,000 people follow the newsletter below:
Looking for more side dish recipes? Check out our other recipes below!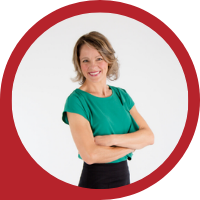 About Andrea Holwegner
CEO, Registered Dietitian, Counseling Practice Director & Professional Speaker
Andrea the «Chocolate Loving Nutritionist» is founder and CEO of Health Stand Nutrition Consulting Inc. since 2000. She is an online nutrition course creator, professional speaker and regular guest in the media. Andrea is the recipient of an award by the Dietitians of Canada: The Speaking of Food & Healthy Living Award for Excellence in Consumer Education....Read more