Berry Baked Oatmeal Recipe
Top Registered Dietitian Recommended Breakfast!
Make this nutritious recipe the night before or on the weekend for a tasty leftover for a weekday breakfast at home.  It also makes an awesome packable option you can reheat at work or after your morning workout.
Makes 4 servings
What you need:
2 cups fresh/frozen berries (blueberries, raspberries, blackberries, Saskatoon berries, or try peaches/apples/pears)
2 cups skim/1% milk
2 eggs, beaten
3 tbsp butter, melted
1 tsp vanilla
2 cups rolled oats
1 tsp baking powder
1½ tsp cinnamon
½ tsp salt
How you prepare:
Grease an 8 by 8 baking dish.
Arrange 1.5 cups of the mixed fruit on the bottom of the baking dish.
Mix together oats, baking powder, cinnamon and salt in a bowl and pour over the fruit mixture.
Mix together the milk, eggs, butter and vanilla in a bowl and pour over the casserole, tipping the pan so the milk tuns through the oat mix.
Scatter remaining ½ cup of mixed fruit on top
Bake at 375 F for 35-40 minutes until golden. Drilled with maple syrup and serve with yogurt.
*Optional: add ground flax, hemp hearts, chia seeds, or nuts to your oat mixture for added nutrition
Per serving:
Calories: 368; Carbohydrates: 50 g; Fat: 12 g; Protein: 14 g
You may also want to check out this blog post that talks about solutions to the top 3 breakfast challenges and gives you access to our BETTER BREAKFAST EBOOK: Breakfast Boosters & Free e-Book
Looking for more top Registered Dietitian recommended recipes for healthy living?  Sign up for our weekly newsletter for a healthy recipe of the week (and nutrition articles and videos with a balanced living philosophy to help encourage healthy habits but still save room for your favorites). Our nutrition newsletter is written by the Calgary nutritionists on our team who each hold a professional Registered Dietitian license to ensure you are getting credible advice.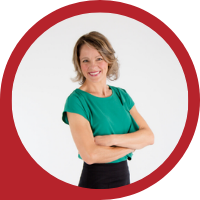 About Andrea Holwegner
CEO, Registered Dietitian, Counseling Practice Director & Professional Speaker
Andrea the «Chocolate Loving Nutritionist» is founder and CEO of Health Stand Nutrition Consulting Inc. since 2000. She is an online nutrition course creator, professional speaker and regular guest in the media. Andrea is the recipient of an award by the Dietitians of Canada: The Speaking of Food & Healthy Living Award for Excellence in Consumer Education....Read more