Solutions for the top 3 breakfast challenges
[thrive_2step id='22633′][/thrive_2step]
Healthy breakfast boosters!
Starting the day off right with a healthy breakfast is one of the most important strategies you can make for better energy, health and is a key strategy to help you move towards your personal best weight. Breakfast is also the most frequently missed meal of the day and often the one that gets the least attention.  
Can you relate to one or more of the following top 3 breakfast challenges we often hear in our Calgary nutrition counselling practice? Read on to learn some of the practical strategies that have helped some of our clients get going on a healthier morning routine.
Watch clip:
Breakfast challenge #1:
I skip breakfast because I am not hungry
There are a couple of reasons why you may wake up in the morning not hungry:
You are not a morning person and since you were a child really never had much of an appetite for breakfast.
You often under-eat in the day and eat the vast majority of food in the late afternoon or evening so wake up with what I call a "food hangover"
You are a recovering dieter and have lost touch with your hunger cues and food guilt and you need time to re-establish balanced routines.
If you have been skipping breakfast for years, often feel overwhelmed or simply can't figure out what to eat here are a few strategies to help:
Keep it super simple. You don't need to become a gourmet chef.  Ease into breakfast eating by planning 3 meal ideas you could learn to tolerate that are fast and furious options. Choose 3 things to achieve a balanced meal (grain/starch; fruit/vegetable and source of protein).
No coffee until you eat. Coffee can give a false sense of energy and for some people can hinder appetite.  Many of my clients that adore their morning cup of java have found a firm rule that they can't enjoy a coffee until breakfast has been accomplished, can add some extra motivation.                                                                                                        
Fake it until you make it!  You may need to simply play the part of an actor and play the role of a geeky healthy breakfast eater (rather than wait until you feel like eating). Anything you do on a regular basis can become a habit but it may take longer than you think.  Research shows that it takes on average 66 days (but the range is 18-254 days) to change a habit.

Add a visual trigger. Set out your plate or bowl and cutlery after supper as a visual cue to be one step closer to success in the morning.
Ask your kids for nudging. For parents the best type of accountability is often your kids. Tell them you are working on eating a healthy breakfast each morning and ask them to join you. Kids love to point out when you may be breaking the rules and will keep you honest with your goals.            
Track your progress.  Use a simple sticky note on the fridge with a checklist for the week.  Alternatively use an app such as Strides with notifications and to help you measure your progress.
Breakfast challenge #2:
I exercise in the morning and I'm unsure what and when to eat
Like many things in life one size does not fit all.  The type, duration and intensity of a morning workout can drastically influence what will work best for you BEFORE a workout.  As a general rule of thumb:
If you wake up and will be doing a short 30-minute workout or run immediately, you may not need anything to eat and may find a few sips of water is all you need.
If you will be doing a longer and more intense workout and it will now be several hours between when you wake up and when you finish your workout, you should eat something.  

Carbohydrates should supply the main part of your pre-training meal. Carbohydrates found in foods such as grains, cereals, breads, fruits and veggies are quick to digest, provide energy for your working muscles and top up your blood sugar.
Have a small amount of protein if eating 2-4 hours before training: In order to sustain energy and fullness if for some reason you have 2-4 hours before a workout add a source of protein such as meat, poultry, seafood, nut butter, nuts, yogurt/milk, cottage cheese or eggs. Excessive amounts of protein is not ideal if you only have a short amount of time before your workout since protein is slow to digest and may feel heavy in your stomach or cause cramping or bloating.
If you are an athlete your recovery meal is the most important meal of the day!  Here are some key things to keep in mind after a workout:
Both carbohydrate and protein are key in the recovery nutrition meal. Better results are achieved by taking in a mix of carbohydrates with protein rather than either of these alone.
Timing is key. As soon as possible (ideally within 30 minutes of completing your high-intensity workout) begin refueling with a snack or meal. Consume water and food to supply fluids, electrolytes, carbohydrates and protein.
Breakfast challenge #3:
I am time strapped and running out the door
If the mornings are often frantic for you don't fret you can still achieve a balanced breakfast built for speed.  
Here are some "make and take" ideas you can eat at home, in the car, on the bus or once you get to work:
"Make and take" breakfast ideas:
 Protein Pancakes or Waffles:
On the weekend make a giant big batch of waffles or pancakes with added hemp hearts for protein (since 3 tablespoons contains 10 grams of protein) and refrigerate or freeze during the week.  
Reheat in the toaster and top with peanut butter (or your favorite nut butter or cream cheese) and jam or honey.
Pack a fresh fruit to go.  Peel or slice an orange or grapefruit for easy eating on the go or slice kiwis in half and eat them with a serrated grapefruit spoon.
 Egg Muffins or Frittatas:

Bake a vegetable-potato frittata and refrigerate extra slices. They're tasty hot or cold.
Or try muffin tin eggs are easy to make ahead at night or on the weekend: Stir together 6 beaten eggs, 1/2 cup grated cheese, 1.5 cups diced ham (optional), 3 tbsp chopped chives and 1/2 cup breadcrumbs.  Spoon into greased muffin tins and bake at 375F for 15-20 minutes.  Enjoy hot or cold.
Pack fresh grapes, berries or a handful of dried fruit such as figs, apricots or dates.
 Mason Jar Overnight Oats or Parfaits:
To make overnight oats in a medium mason jar combine 1/3 cup quick oats, 3 tbsp. seeds (chia seeds, ground flax seeds or hemp hearts), 1/2 cup plain kefir or yogurt and a drizzle of maple syrup or honey.  Top the jar with 1/2 cup fresh or frozen berries. Prepare a few jars at once to save time.
Buy or make a big batch of granola that you can top with yogurt and fresh or dried fruit and mixed chopped nuts or seeds.  
Or try making a quinoa yogurt parfait for a different variation (cook the quinoa in milk, soy milk or almond milk and stir in nut butter).  Freeze individual portions of quinoa to thaw and serve chilled in yogurt parfaits with yogurt and fruit.
To download a free copy of Andrea's Breakfast e-book for tips, breakfast menus and recipes visit her website page: www.healthstandnutrition.com/breakfastboosters
[thrive_2step id='22633′]
[/thrive_2step]
Connect with Andrea on Facebook, Instagram or Twitter at @chocoholicRD.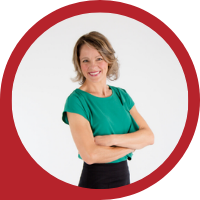 About Andrea Holwegner
CEO, Registered Dietitian, Counseling Practice Director & Professional Speaker
Andrea the «Chocolate Loving Nutritionist» is founder and CEO of Health Stand Nutrition Consulting Inc. since 2000. She is an online nutrition course creator, professional speaker and regular guest in the media. Andrea is the recipient of an award by the Dietitians of Canada: The Speaking of Food & Healthy Living Award for Excellence in Consumer Education....Read more