Indian Butter Chicken with Chickpeas
We Add Chickpeas to this Traditional Indian Curry to Stretch it a Few More Days
Adding chickpeas to this traditional indian butter chicken recipe adds nutrients and fiber. You can also eliminate the chicken and make this only with chickpeas for a vegetarian butter chicken.
A curry makes a nice change from the usual casseroles during the cold winter months.
Serve with rice or naan, steamed green peas or a nice green salad. Makes 6 servings.
What You Need:
4 tbsp butter
12 chicken thighs, cut in 1 inch chunks
1 yellow onion, diced
3 garlic cloves, minced
1 Tbsp garam masala
1 Tbsp fresh grated ginger
1 tsp chili powder
1 tsp ground cumin
1/2 tsp cayenne pepper
1/1/2 cups tomato sauce (1 14 oz can)
1 540 mL can chickpeas, rinsed and drained
3/4 cup coconut milk
salt & pepper
lime & cilantro to garnish
Naan or rice for serving

How You Prepare Butter Chicken
Melt 2 Tbsp butter in a large skillet over medium high heat.
Working in batches that do not crowd your pan, brown the chicken pieces on both sides, do not cook through. Set aside.
To the pan, add diced onion and saute until soft (about 3 minutes).
Add the garlic, garam masala, chili powder, cumin and cayenne. Cook for about 1 minute until fragrant.
Add the tomato sauce. Bring to a simmerand cook for 5 minutes before adding coconut mlk.
Once it has come back to a simmer, add the chicken pieces and drained chickpeas and cook in the sauce for 15 minutes.
Nutritional Information
463.9 Calories
29.4 g Carbohydrates
38.4 g Protein
21 g Fat.
5.6 g Fibre
We hope you enjoy this recipe for delicious Indian butter chicken with chickpeas. Let us know if you've tried it in the comments!
Looking for more simple meal planning tips and healthy recipes for a healthier lifestyle? Sign up for our weekly newsletter for a healthy recipe of the week (and nutrition articles and videos with a balanced living philosophy to help encourage healthy habits but still save room for your favorites). Our nutrition newsletter is written by the Online / Calgary Nutritionists on our team who each hold a professional Registered Dietitian license to ensure you are getting credible advice.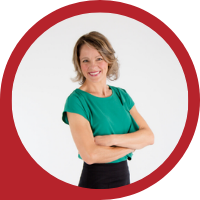 About Andrea Holwegner
CEO, Registered Dietitian, Counseling Practice Director & Professional Speaker
Andrea the «Chocoholic Nutritionist» is founder and CEO of Health Stand Nutrition Consulting Inc. since 2000. She is an online nutrition course creator, professional speaker and regular guest in the media. Andrea is the recipient of an award by the Dietitians of Canada: The Speaking of Food & Healthy Living Award for Excellence in Consumer Education....Read more