Classic French Onion Soup Recipe
Robust, flavorful and elegant soup for a fancy evening at home
If you're planning a classy night in, you need to try this classic French onion soup recipe. Make it extra special by preparing your own beef stock! Serve it with a simply dressed mixed green salad and crusty bread along with a bottle of your favorite French wine or mineral water.  Recipe adapted from Mark Bittman's How To Cook Everything.  
Makes 4 servings.  
What You Need
4 tablespoons (½ stick) butter  
4 large onions, thinly sliced (about 6 cups)  
4 cups beef, chicken or vegetable stock  
1 tbsp flour  
2 or 3 sprigs fresh thyme or a pinch of dried thyme  
1 bay leaf  
Salt & freshly ground black pepper  
1 cup white wine  
4 slices toasted baguette with butter  
1 cup freshly grated Parmesan, Gruyere or Emmental cheese  
How to Prepare Classic French Onion Soup 
1) Melt the butter in a large, deep pot over medium heat.  
2) Add onions and cook, stirring occasionally, until very soft and beginning to brown. This can take 30 – 45 minutes. The longer it cooks, the better the flavor so take your time and keep the temperature low so they don't brown too fast.  
3) Sprinkle the onions with the flour and cook for 1-2 minutes.  
4) Add beef stock and wine then raise the heat to medium high. Cook until simmering.  
5) Lower heat and add herbs, salt & pepper. Cook at a low simmer for 15 minutes.  
6) While the soup is simmering, toast slices of buttered baguette in the oven.  
7) Fish the thyme sprigs and bay leaf out of the soup then ladle into oven safe bowls.  
8) Top each bowl with a crouton and grated cheese.  
9) Put soup bowl under the broiler for 5-10 minutes until the cheese is melted and golden. Serve!  
Nutritional Information
559 Calories 
42 Carbohydrates 
30.6 g Protein 
25.4 g Fat. 
3.2 g Fibre 
We hope you enjoy this recipe for Classic French Onion Soup on a cold winter night or for a special date night.  
You may also enjoy some of these other warm and comforting recipes: 
Looking for more simple meal planning tips and healthy recipes for a healthier lifestyle? Sign up for our weekly newsletter for a healthy recipe of the week (and nutrition articles and videos with a balanced living philosophy to help encourage healthy habits but still save room for your favorites). Our nutrition newsletter is written by the Online / Calgary Nutritionists on our team who each hold a professional Registered Dietitian license to ensure you are getting credible advice.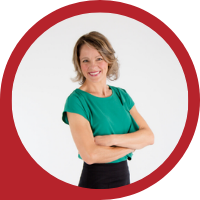 About Andrea Holwegner
CEO, Registered Dietitian, Counseling Practice Director & Professional Speaker
Andrea the «Chocolate Loving Nutritionist» is founder and CEO of Health Stand Nutrition Consulting Inc. since 2000. She is an online nutrition course creator, professional speaker and regular guest in the media. Andrea is the recipient of an award by the Dietitians of Canada: The Speaking of Food & Healthy Living Award for Excellence in Consumer Education....Read more