Creamy Cauliflower Soup
Get your daily veggies when you eat this delicious soup 
Creamy cauliflower soup is both light and refreshing, yet satisfying. It's quick to prepare for lunch or dinner and makes a balanced meal when you serve it a gooey grilled cheese sandwich. Switch things up by roasting the cauliflower in the oven first, or adding teaspoon of curry powder for a flavour boost.
Makes 6 servings
What you need
1 large onion, diced
1 tbsp. butter
1.5 lb. head of cauliflower, cut into flowerets
1 carrot, peeled and chopped into small pieces
4 cups chicken or vegetable broth (home-made, reconstituted from powder, or canned)
1 cup 1% milk
¼ tsp nutmeg
¼ tsp cayenne (or more/less depending on how spicy you like it!)
Salt and pepper to taste
Optional: fresh or dried dill or your favourite spice
How you prepare creamy cauliflower soup
In a soup pot, sauté onions in butter/margarine until soft. Add the cauliflower, carrot and broth and bring to a boil. Reduce heat, cover, and simmer for ~15 minutes until vegetables are soft. Remove soup from heat and cool until warm. Place soup in a blender/food processor, add milk, and puree until smooth. (You may have to do this in batches due to the large quantity).
Place soup back in the pot and reheat. Add seasonings and more milk if the soup is too thick.

Nutritional Information per serving:
Calories 104
Carbohydrates 13 g
Protein 8 g
Fat 3 g
Dietary Fiber 3 g
We hope you enjoy this recipe for creamy cauliflower soup! You may also enjoy these other vegetable rich soups:
Let us know what your favourite soup and sandwich combination is in the comments.
Looking for more simple meal planning tips and healthy recipes for a healthier lifestyle? Sign up for our weekly newsletter for a healthy recipe of the week (and nutrition articles and videos with a balanced living philosophy to help encourage healthy habits but still save room for your favorites). Our nutrition newsletter is written by the Online / Calgary Nutritionists on our team who each hold a professional Registered Dietitian license to ensure you are getting credible advice.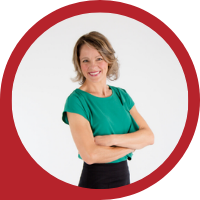 About Andrea Holwegner
CEO, Registered Dietitian, Counseling Practice Director & Professional Speaker
Andrea the «Chocoholic Nutritionist» is founder and CEO of Health Stand Nutrition Consulting Inc. since 2000. She is an online nutrition course creator, professional speaker and regular guest in the media. Andrea is the recipient of an award by the Dietitians of Canada: The Speaking of Food & Healthy Living Award for Excellence in Consumer Education....Read more