The scoop on detox, cleanses & "eating clean"
At this time of year you may be thinking about spring-cleaning not only your home but also spring-cleaning your body or the food you eat. Cleansing and detoxing is an old trend that has resurfaced as the miracle cure-all by so called "health experts" and celebrities. Proponents of these regimes, as well as "eating clean," claim they improve energy, boost health and can help shed unwanted pounds. But are these plans beneficial and even needed?
What is a detox or cleanse?
Detoxes and cleanses are defined differently depending on the person. It could involve fasting or solely drinking a mixture of lemon juice, maple syrup, cayenne pepper and water for days. Other cleanses have you relying on an exclusive diet of fresh pressed fruit and veggie juices or following a set list of whole foods and taking a range of expensive supplements (many of them laxatives). There are also extreme and dangerous detox plans that involve colon irrigation or coffee enemas.
Should I follow a detox or cleanse?
Since many detox and cleanses encourage plenty of fruits and veggies and limit caffeine, alcohol and sweets they can serve to kick-start some healthy habits. But don't be fooled, a short term detox or cleanse will never make up for a horrible diet. It is far more effective to make small healthy changes you can sustain for the long-term.
The human body is equipped with a highly sophisticated detoxification system that has been scientifically shown to be effective. Your body extracts nutrients from food and then waste products in our blood are removed by our liver and sent to our kidneys for excretion as urine.
Rather than improving energy, many cleansing plans that are low in calories can cause fatigue and dizziness. Ironically cleanses may actually increase toxins into the body if you are following a severe calorie restriction or fasting for days as a result of soaring stress hormones.
Our large intestine does not need to be cleansed internally especially since you don't want to disrupt the important job it has for water and mineral absorption. Colonic irrigation should be avoided as they can cause serious damage to the intestines and negatively affect the balance of friendly bacteria (probiotics) that live in the gut.
Can a detox or cleanse help with weight loss?
Claims that a detox or cleanse can cause weight loss by removing toxins to allow the body to function better and let go of weight is simply not true.
Any nutrition change that results in a caloric deficit can result in weight loss. If your eating plan has removed a significant amount of gluten, sugar, grains or other carbohydrates you can expect to lose some temporary water weight since carbohydrates store plenty of water on the body.
Also note that simply having more bowel movements and taking laxatives does not help with long-term weight loss since most of our food is absorbed long before it reaches the colon.
The problem with "eating clean"
The idea of "eating clean" can mean different things to different people, but in general, eating clean is associated with eating so-called good (natural foods) and avoiding so-called bad (processed foods).
As a Registered Dietitian and passionate foodie, I dislike the word "clean eating" and the dieting all-or-none mentality that goes along with it. Simply put, all foods can fit including greasy cheeseburgers, chocolate cheesecake and other delicious treats. Rather than thinking about clean eating which implies you are either eating good or bad, instead choose to acknowledge there are no bad foods, only bad entire diets. Just because you choose to eat a white grain instead of a whole grain or enjoy something sweet or salty doesn't mean all is lost. Replace eating clean with simply just eating better. Eating better allows you to sustain changes for good since you take small nibbles at your goals that are relevant from wherever you are starting at. For some just starting out this might mean eating fast food one less time this week, for other nutrition geeks this might mean baking your own homemade energy bars with oats, flax and chia seeds.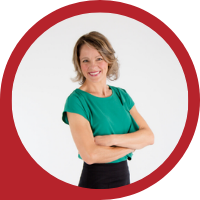 About Andrea Holwegner
CEO, Registered Dietitian, Counseling Practice Director & Professional Speaker
Andrea the «Chocolate Loving Nutritionist» is founder and CEO of Health Stand Nutrition Consulting Inc. since 2000. She is an online nutrition course creator, professional speaker and regular guest in the media. Andrea is the recipient of an award by the Dietitians of Canada: The Speaking of Food & Healthy Living Award for Excellence in Consumer Education....Read more