Dietitian Advice: Detoxes, Cleanses and the Keto Diet
Registered Dietitian tips on trends: detoxes, cleanses and the keto diet
With the new year just around the corner, more people are starting to think about changes they would like to make in the new year which often includes exercise, diet, and nutrition plans for the purpose of health, energy, or weight loss. Some of the most popular diets include a wide range of detoxification or cleansing routines along with the growing popular ketogenic or keto diet. But are these eating regimes helpful? Read on to learn more.
Is it necessary to detox or cleanse?
The short answer is no. A short-term quick fix isn't likely to do you much good over the long term.  Eating poorly for weeks or months and then attempting to make up for this with a temporary detox or cleanse will simply never make up for the fact you are nourishing your body terribly most days.
What is detoxing or cleansing?
Detox and cleansing routines vary widely and could include programs such as:
Fasting while drinking only water, lemon juice, maple syrup, and cayenne pepper.
Replacing all foods instead with fruit and veggie juicing.
Following a restricted list of foods and taking a wide range of supplements, shakes, or laxatives.
Radical regimes that include colon irrigations that is a procedure similar to an enema.
The human body is an amazing natural detoxifying machine:
We draw nutrients from foods we eat.
We excrete waste not needed.
Our organs work together in waste removal (the liver removes waste from the bloodstream and prepares it to be sent to the kidneys for disposal in urine).
The large intestine doesn't need internal cleansing since it works to reabsorb much-needed water and minerals as waste passes through.
Could there be some benefits of cleansing?
Many detox programs encourage eating plenty of healthy foods such as fruits and veggies along with good hydration and less processed foods. Your digestive health may improve or you simply may just feel better because you are eating nourishing foods and this may inspire longer-term healthy changes.
Can a cleanse help with weight loss?
Any diet plan can create short-term weight loss if calories are decreased. Remember that anyone can lose weight temporarily but can you sustain it?
Claims that a specific diet will remove toxins from the body allowing your body to function better and lose weight more efficiently is simply not true. Having more bowel movements does not typically increase weight loss since most of the calories in food is absorbed before it reaches the colon.
Taking laxatives and herbal laxative products can falsely make it seem like you have lost weight because of dehydration and water loss. Also remember if your cleanse takes out carbohydrates, similar to low-carb diets, there can be an initial temporary water weight loss (after all one gram of carbohydrates stores about three grams of water on the body).
What are the risks or potential negative effects of cleansing?
Colonic irrigations done improperly can seriously injure the large intestine and create an imbalance for the friendly, good bacteria found in the gut.
Other "safer" plans (those that promote eating only select, nutritious foods) may cause fatigue or dizziness if they don't supply adequate calories.
If severe calorie restriction is sustained for more than a few days, the body may sense impending starvation and release stress hormones, a response that ironically may increase circulating toxins. Finally, the enhanced energy or euphoria that detox dieters often report may be the result of surging stress hormones too. This "fight or flight" response drives hunger and seeking out food aggressively. An adrenaline-charged drive is short-lived, and with prolonged calorie restriction, the body powers down to conserve energy, ultimately slowing the metabolism.
Watch this archived video related to this topic from my interview on Global Television:
Would you recommend the keto diet for weight loss or athletes?
No. While the keto diet has some clinical relevance for individuals with epilepsy for seizure management, for everyone else I am not an advocate for unnecessary restrictions or extreme eating regimes, or dieting behavior. I stand for balance, variety, and maintaining fun to live your best life.
For a full discussion and video on the keto diet visit: To Keto or Not to Keto, That is the Question: A Dietitians Thoughts About the Keto Diet.
What is the keto diet?
The keto (ketogenic) diet in a nutshell involves:
Restricting your diet severely of carbohydrates (typically less than 50 grams per day), causes your liver to turn fat and certain amino acids into an alternative fuel source for the brain known as ketones. The brain runs exclusively on either glucose (carbohydrate) or ketones to stay alive.
Carbohydrates are found in grains/starches (such as pasta, rice, potatoes, legumes, or cereal) as well as fruits, vegetables, yogurt, milk, sweets, sauces, and more.
50 grams of carbohydrate is approximately the amount in only 1 cup of rice (or 1 banana and 1 apple).
The keto diet is not a high-protein diet. It is a low-carb, high-fat diet typically containing a percentage of total calories as follows: 5% carbohydrates, 75% fat, 20% protein. (By contrast, National health guidelines suggest 45-65% carbohydrates, 20-35% fat and 10-35% of total calories as protein).
Concerns about following a keto diet:
Given the wide range of foods limited from this diet, the keto diet is likely low in fibre, certain vitamins, and minerals as well as key phytonutrients supplied by plant-based foods that are naturally high in carbohydrates.
An insufficient amount of carbohydrate in your diet and running on ketones cause fatigue, and poor concentration and reduces overall mood and productivity throughout your day.
Sustainability is a huge concern with the limited variety of foods consumed on this diet and any amount of weight loss on the keto diet due to water loss or to a reduction in overall calories simply will be regained when you return to a normal diet.
The overwhelming majority of high-quality sports nutrition research supports the benefit of consuming a good amount of carbohydrates for sports performance. Athletes and fitness enthusiasts that are involved in high-intensity or long-duration training and following a keto diet will simply not have the adequate muscle fuel required to perform at their best and increase strength and recovery properly.
What is the bottom line about a cleanse, detox or the keto diet?
There are 3 key things to remember this spring: 
1. Cleanse thinking about cleanses!
Instead of short-term quick fixes, focus on eating better instead of so-called "right." Focus on the little changes you can make at a single meal that can be repeated over and over again with practice.  This will have a more profound impact on health than a few days of cleansing or detoxing.
Work with a dietitian to help you focus on habit formation of the things that count over the long term (such as eating on time, understanding portion sizes, how to plan your meals for satiety and productivity as well as how to set up your kitchen and systems for success).
2. Detox your brain of toxic "all or none" thinking
Food and nutrition can't be summarized by "good or bad" or "all or none." Food is just food. Sometimes we eat for nutrition and health and sometimes we simply eat because it tastes darn delicious or in response to our emotions.
There are no bad foods, only bad overall diets. Resist the temptation to place unnecessary food restrictions on yourself since often more restricting leads to more over-consuming and feelings of deprivation. Focus on seeking a peaceful relationship with food and finding a diet you can live with for life.
3. Skip the keto diet (unless your neurologist has recommended this for epilepsy)
The ketogenic diet is only considered helpful as a potential adjunct clinical treatment for individuals with epilepsy.
The keto diet is difficult to follow, full of restrictions that make living a balanced life difficult, will significantly increase fatigue and poor performance in athletes, and can lead to a range of nutrition deficiencies.
If you have a chronic history of dieting or an eating disorder the keto diet will also likely increase obsessive thinking about food and bingeing and further damage your relationship with food and your body.
Eating well should not be painful, taste terrible or be a punishing regime. There are many ways to eat well. Remove the word 'diet' from your vocabulary and go for an eating lifestyle full of as much variety and as few restrictions as possible.  
If you can't see yourself following a nutrition or food plan FOREVER, your energy, health or weight will continue to yo-yo up or down. The idea you can restrict, cleanse or detox now, and then return to having a life later just won't work to provide lasting results. The best eating plan is the one you can live with for life.
As Registered Dietitians that specialize in weight concerns, emotional eating and disordered eating we can see you in our local Calgary nutritionist office or as an Online Dietitian by phone or video conferencing for virtual nutrition counseling. Read more about our nutrition counseling programs and book an appointment by our experienced Registered Dietitian team here: NUTRITION COUNSELING
Looking for more information on healthy eating or healthy weight loss?
As university-trained Registered Dietitians, you can count on us for credible advice and practical meal planning so you don't have to stress about food anymore. We specialize in health without guilt or complexity.
Our dietitian Calgary and online nutritionist services can't guarantee weight loss (no one can!) but we can guarantee we will do everything we can to help you move towards your personal best weight and a sustainable lifestyle.
You won't find any weird fad diets, unnecessary food restrictions and anyone trying to sell you shakes, supplements or so-called miracle cures here. You can achieve a healthy and joyous relationship with food and your body. Let's talk about what this can look like for you.
Check out these related blogs on our website: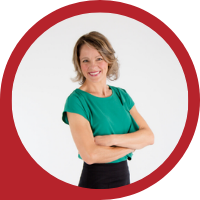 About Andrea Holwegner
CEO, Registered Dietitian, Counseling Practice Director & Professional Speaker
Andrea the «Chocolate Loving Nutritionist» is founder and CEO of Health Stand Nutrition Consulting Inc. since 2000. She is an online nutrition course creator, professional speaker and regular guest in the media. Andrea is the recipient of an award by the Dietitians of Canada: The Speaking of Food & Healthy Living Award for Excellence in Consumer Education....Read more