Digital Health: Is There an App For That?
Apps for Nutrition, Wellness and Healthy Lifestyle
Digital Health Week in November promotes healthier Canadians through innovative digital health solutions.
Technology plays an important role in many aspects of our lives. Similar to the way technology has improved banking or the way we connect with family and friends, digital health is changing the delivery of care. 
In today's smartphone-driven world, for most of us digital innovation means downloading an app. Digital health and wellness apps provide health-related tools and information on our smartphone or tablet. According to the FDA, the most popular digital health apps are:
Sports and fitness activity tracking
Diet and nutrition
Weight loss coaching
Pharmacy
Sleep cycle analysis
Stress reduction and relaxation
Meditation
Medical advice and patient community
Menstrual period tracking
Pregnancy
Hospital selection and appointment management
Andrea's Top Apps for Nutrition, Wellness and Healthy Lifestyle
Are you wondering what the top fitness, health and nutrition apps are? With hundreds to choose from, I wanted to provide a starting place for some of my favourite apps to support a healthy lifestyle. I have chosen a wide range of the best apps for nutrition, cooking, fitness, meditation and goal setting to get you started. (Note that I have not selected apps that only track calories, since after all there is more to healthy eating than simply just adding up numbers.) 
Top Nutrition Apps
Free app created by Dietitians of Canada (English and French)
Credible short nutrition tips on a variety of common questions and topics about nutrition and healthy eating
Read the tips, save favourites and share them with friends on email, text or social media
Free app created by Dietitians of Canada
Help plan meals with feedback on a variety of nutrients (not just calories)
Search and add favourite foods to your "pantry"
Quickly access a nutrition facts table to find out the nutrients in a food
Compare your intake to national guidelines
Set eating and exercise goals and track progress
Post your own quotes and photos to keep motivated
Nutrition analysis of recipes
iHydrate Water Tracker Reminder
Track your daily water intake
Set reminders
Top Cooking Apps
paid app
Organizes all your recipes quickly (no need to type!)
Snap a photo of your recipe from home or clip a photo from the web
Sync between your iPhone and iPad
Paid apps by culinary guru Mark Bittman
How to Cook Everything kitchen companion app is a must have fundamental resource for every cook to own
Search by ingredient or category the 2,000 plus recipes with variations for this award winning no-nonsense cookbook
Also check out How to Cook Everything Fast, Basics, Vegetarian as secondary purchase options
Top Fitness, Meditation and Sleep Apps
Free and premium paid version app
Pre-built workouts or design your own
Strength, stretching, cardio, pilates and yoga
Set your own time limit from 5 minutes or more
No equipment required
Video instruction and audio cues
Free meditation app
Connect with a worldwide community of millions of meditators
Choose from a variety of timers for meditation
Access hundreds of free guided meditations by renowned experts
Free app with sounds to help you relax the day and sleep at night
Create your own custom sound mixes by mixing several sounds together
Change the color and brightness of your screen
Gentle alarms and timers that slowly fade in
Digital health is commonplace in our lives. Many people have already incorporated health apps into their daily routine:
Fitness bands
Calorie trackers
Nutritious grocery lists
Menstrual and ovulation trackers
Electronic medical records
Note: There are some accuracy issues with activity and calorie tracking apps, see my article: Why your calorie counting apps and devices may be wrong: Fitbit and MyFitnessPal issues.
What are your favorite fitness, health, cooking and nutrition apps? I would love to hear from you on how you incorporate digital health apps into your personal life and at work!
a version of this article appeared on LinkedIn 
Meet our team of Registered Nutritionists that specialise in meal planning, overall healthy eating, weight loss, eating disorders (anorexia, bulimia, and binge eating disorder), IBS, celiac disease, diabetes, high cholesterol, high blood pressure, kids nutrition and more here.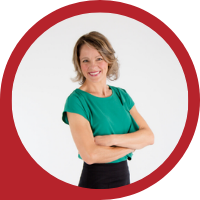 About Andrea Holwegner
CEO, Registered Dietitian, Counseling Practice Director & Professional Speaker
Andrea the «Chocoholic Nutritionist» is founder and CEO of Health Stand Nutrition Consulting Inc. since 2000. She is an online nutrition course creator, professional speaker and regular guest in the media. Andrea is the recipient of an award by the Dietitians of Canada: The Speaking of Food & Healthy Living Award for Excellence in Consumer Education....Read more