Easy Coconut Macaroons Recipe
Try this simple gluten-free cookie recipe
Looking for the best coconut macaroons recipe? This is it! This recipe freezes well and is also good for anyone that requires a gluten-free cookie option.
Makes 24 cookies
Coconut Macaroons
Ingredients
3 cups unsweetened shredded coconut
4 large egg whites
1/2 cup white granulated sugar
1 tsp vanilla or almond extract
1/4 tsp salt
Instructions
Whisk the egg whites with the sugar, vanilla/almond extract and salt until they are frothy (if you have an electric mixer this will be the fastest way to do this instead of a hand held whisk).
Stir the coconut into the egg white mixture. (For extra flavor if you like you can also toast the coconut on a baking sheet for 1 minute until slightly browned before adding to the egg mixture).
With wet hands (to prevent sticking) form small 1.5 inch balls and place on a cookie sheet lined with parchment paper.
Bake at 350F for 15-20 minutes until slightly browned.
Enjoy fresh or from the freezer and try different variations for coconut macaroons by adding dried fruit, chopped nuts, chocolate chips or drizzle melted chocolate on top once they are cooled.
Nutrients per serving
94 calories
7 g carbs
1.4 g protein
7.3 g fat
1.8 g fiber
 We hope you've enjoyed this coconut macaroons recipe!
Lastly, if you make this Macaroon Recipe be sure to leave a comment! Above all, I love to hear from you all! Don't forget to tag me on Instagram as well!
Looking for more simple meal planning tips and healthy recipes for a healthier lifestyle?
Sign up for our weekly newsletter for a healthy recipe of the week (and nutrition articles and videos with a balanced living philosophy to help encourage healthy habits but still save room for your favorites). Our nutrition newsletter is written by the Calgary Nutritionists on our team who each hold a professional Registered Dietitian license to ensure you are getting credible advice.
If you enjoyed this blog post, check out these previous articles on our blog!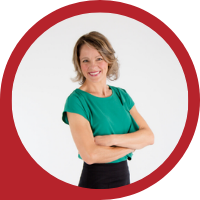 About Andrea Holwegner
CEO, Registered Dietitian, Counseling Practice Director & Professional Speaker
Andrea the «Chocoholic Nutritionist» is founder and CEO of Health Stand Nutrition Consulting Inc. since 2000. She is an online nutrition course creator, professional speaker and regular guest in the media. Andrea is the recipient of an award by the Dietitians of Canada: The Speaking of Food & Healthy Living Award for Excellence in Consumer Education....Read more