Easy Vegetarian Recipe: Black Bean Tortilla Stack
Meatless Monday plant-based recipe
In our family we call this easy vegetarian recipe "Mexican Pie" since you slice this into wedges.  Use the ratios of the ingredients below as a rough guide and add more or less of certain ingredients depending your taste preferences.

Makes 8 servings
What you need:
1 package of whole grain flour tortilla shells (about 8 tortillas that are roughly 7 inches wide)
1 chopped large onion
1 diced red/orange/yellow pepper
optional: diced jalapeño peppers
1 cup frozen or fresh cooked kernel corn
2 cans (540 ml or 19oz each) drained and rinsed black beans
2 cups salsa (or more!)
2 cups grated cheddar cheese or mexican cheese blend
How you prepare:
Spray one spring form pan or two pie plates with oil.
Sauté onions and peppers until tender in a bit of oil.  Mix with beans and corn.
Place a tortilla at the bottom of pan/pie plate.
Put a layer of bean mixture on top of shell, a layer of salsa, a layer of cheese and then a tortilla shell and repeat layers until bean mixture is gone.
 Top with a tortilla shell and cheese.
Bake at 350 degrees for approximately 20 minutes.
Serve warm with sour cream and sliced or diced avocado or guacamole.
Hint: If you have leftovers once this recipe cools you can slice into wedges for lunch the next day or freeze in single servings for future reheated lunches.
Per serving:
Calories 524 calories
Carbohydrates 75 g
Protein 27 g
Fat 15 g
Dietary Fiber  15 g
Looking for more simple meal planning tips and healthy recipes for a healthier lifestyle?  Sign up for our weekly newsletter for a healthy recipe of the week (and nutrition articles and videos with a balanced living philosophy to help encourage healthy habits but still save room for your favorites). Our nutrition newsletter is written by the Calgary Nutritionists on our team who each hold a professional Registered Dietitian license to ensure you are getting credible advice.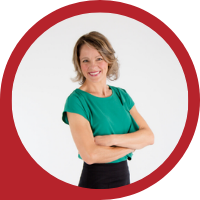 About Andrea Holwegner
CEO, Registered Dietitian, Counseling Practice Director & Professional Speaker
Andrea the «Chocolate Loving Nutritionist» is founder and CEO of Health Stand Nutrition Consulting Inc. since 2000. She is an online nutrition course creator, professional speaker and regular guest in the media. Andrea is the recipient of an award by the Dietitians of Canada: The Speaking of Food & Healthy Living Award for Excellence in Consumer Education....Read more