Falafels
Crispy and delicious falafel, in a wrap or in a bowl you won't be disappointed
These falafels can be made into a wrap with some fresh tzatziki or in a bowl with quinoa and avocado. However you choose to make it into a meal, you won't be disappointed.  Enjoy!

Makes 6 serving
What You Need
Falafel Ingredients
1 cup chopped carrots 

 

 

1 15oz can chickpeas, rinsed and drained 

 

 

½ cup whole wheat flour 

 

 

¼ cup raw sesame seeds 

 

 

½ tsp garlic powder 

 

 

1 tsp ground cumin 

 

 

½ cup fresh herbs such as dill, mint, cilantro or parsley

 

 

Salt and pepper to taste 

 

 

Water to combine into dough  

 

 

Oil for pan frying 

 

 
How to Make the Falafel Recipe
I

n a food processor or blender add the chopped carrots and pulse until finely chopped. 

 

 

Add the chickpeas, flour, sesame seeds, garlic, cumin, herbs, salt and pepper. Pulse until mixture is combined and a dough forms. If it is not sticking together into a dough add 1 tsp of water at a time until dough forms. 

 

 

Using a spoon and your hands, form into tbsp size balls. 

 

 

In a fry pan, heat oil to medium heat. 

 

 

Working in batches, add the falafel balls to the pan and fry until each side is golden brown. Do not burn. Using a slotted spoon, remove falafels from the pan and place them on a plate lined with a paper towel. Continue until all falafel balls are fried. Use in the recipe of desire and enjoy!  
Did you give this falafel recipe a try? Make sure to post a photo of your falafel and tag us on Facebook and Instagram @healthstandnutrition!
Nutrients per serving
206 Calories  
26 g Carbohydrates  
6 g Protein  
8.7 g Fat  
5 g Fibre    
Don't miss out on healthy new recipes or nutrition articles and sign up for our newsletter, today! 
Sound Bites is a weekly nutrition newsletter that goes out to thousands of subscribers. Written by our team of registered dietitians and nutrition experts, it includes articles, videos, tips and recipes.
As a special BONUS, we'll email you our popular '51 Healthy Snack Attacks' PDF.
Enjoyed this falafel recipe? Get inspired with more recipes on the blog here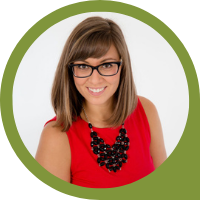 Shauna Kime
Registered Dietitian & Online Nutritionist - Weight Concerns, Women's Health, Diabetes & Meal Planning
The first thing you will notice about Shauna is her contagious optimism, energetic personality and zest. Shauna loves teaching and has a heart full of compassion and empathy for helping clients work through health concerns. Shauna specializes in healthy cooking, diabetes, cardiovascular health, weight concerns and womens health. Read more