Grilled Chicken Kabobs with Vegetables  
You'll love how the zesty honey mustard marinade flavours this simple dish
Put the chicken and vegtables in the marinade a day ahead and you'll have a quick, simple and delicious supper to put on the grill after a day of fun in the sun. Feel free to substitute your own favourite veggies, maybe fresh picked from the garden, in these yummy kabobs.  
Serves 4  
What You Need
1 lb chicken breasts cut into 1 inch pieces 
1 red bell pepper, cut into 1 inch pieces 
1 yellow or orange bell pepper, cut into 1 inch pieces 
1 zucchini, cut into 1 inch rounds 
1 red onion, cut into 1 inch pieces  
1 cup mushrooms 
Honey Mustard Marinade
¼ cup olive oil 
1/3 cup soy sauce 
¼ cup honey 
1 tsp minced garlic 
1 tbsp Dijon mustard  
1 tsp dried rosemary  
Salt and pepper to taste 
How To Make Grilled Chicken Kabobs with Vegetables
Dice chicken into 1 inch pieces.  
In a large bowl add all marinade ingredients.   
Whisk to combine.  
Dice all veggies and add chicken and veg to sauce in large bowl.  
Toss to combine.  
Cover and refrigerate for 1hr-24 hours. 
Using soaked wooden skewers or metal skewers, slide on alternating chicken and vegetables onto skewers until all used up. 
Cook on preheated grill for 5-7 min per side until all cooked through.  
Nutritional Information
For 1 Skewer  
364 Calories
27.5 Carbohydrates 
29.5 g Protein 
16.1 g Fat 
2.4 g Fibre 
Looking for more great grilling recipes? Try:  
Looking for more simple meal planning tips and healthy recipes for a healthier lifestyle? Sign up for our weekly newsletter for a healthy recipe of the week (and nutrition articles and videos with a balanced living philosophy to help encourage healthy habits but still save room for your favorites). Our nutrition newsletter is written by the Online / Calgary Nutritionists on our team who each hold a professional Registered Dietitian license to ensure you are getting credible advice.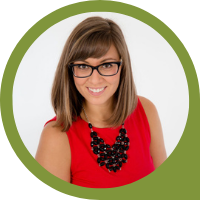 Shauna Kime
Registered Dietitian & Online Nutritionist - Weight Concerns, Women's Health, Diabetes & Meal Planning
The first thing you will notice about Shauna is her contagious optimism, energetic personality and zest. Shauna loves teaching and has a heart full of compassion and empathy for helping clients work through health concerns. Shauna specializes in healthy cooking, diabetes, cardiovascular health, weight concerns and womens health. Read more