Grilled Peaches Dessert
The Perfect Way to End A Summer BBQ
Peaches are fresh and plentiful right now. They're delicious to eat just as they are, but have you tried them on the grill? A grilled peaches dessert is the perfect way to end any summer meal! Peaches are naturally sweet and juicy which is a great combo for any dessert. Try these with a dollop of vanilla Greek yogurt or coconut ice cream, and maybe a spinkle of toasted pecans! 
Makes 4 servings 
  
What You Need
2 peaches, cut in half and pit removed 

 

 

1 tbsp vegetable oil (or melted butter) 

 

 

¼ tsp cinnamon 

 

 

2 tsp brown sugar 

 

 
Optional serving suggestions: serve with vanilla Greek yogurt or ice cream. Top with flaked coconut or crushed nuts.  
How to Make Grilled Peaches Dessert
Preheat grill. 

 

 

Cut peaches in half and remove seed. In a bowl mix together oil or butter, cinnamon and brown sugar. Coat peaches with oil mixture by brushing with a pastry brush.

 

 

Place on grill, cooking 3-5 minutes per side until grill marks appear and peaches are soft. 

 

 

Serve immediately with toppings of your choice and enjoy! 

 
Nutritional Information
(For ½ a peach – ice cream or yogurt and toppings not included)
137 Calories
19g Carbohydrates
1.3 g Protein
7 g Fat.
2.5 g Fibre
Try these other great summer fruit desserts too!
Looking for more simple meal planning tips and healthy recipes for a healthier lifestyle? Sign up for our weekly newsletter for a healthy recipe of the week (and nutrition articles and videos with a balanced living philosophy to help encourage healthy habits but still save room for your favorites). Our nutrition newsletter is written by the Online / Calgary Nutritionists on our team who each hold a professional Registered Dietitian license to ensure you are getting credible advice.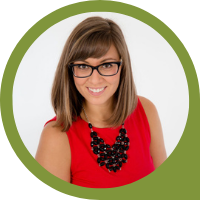 Shauna Kime
Registered Dietitian & Online Nutritionist - Weight Concerns, Women's Health, Diabetes & Meal Planning
The first thing you will notice about Shauna is her contagious optimism, energetic personality and zest. Shauna loves teaching and has a heart full of compassion and empathy for helping clients work through health concerns. Shauna specializes in healthy cooking, diabetes, cardiovascular health, weight concerns and womens health. Read more