21 Ways to Use Summer Fruit
Simple Ideas for Cherries, Blueberries, Peaches and Nectarines
Looking for some simple ways to enjoy summer fruit?  This article has you covered for 21 ideas!  
7 Simple Ways to Use Fresh Cherries
It's cherry season! 10 Cherries contain only 50 calories and supply fibre, vitamin C and potassium. They also contain polyphenols and carotenoids which act as antioxidants and anti-inflammatory components to boost health.  The best way to store cherries is in the refrigerator. Depending on when cherries were picked they will last in your fridge for a few days to a few weeks.
Try these 7 simple ideas for using fresh cherries:
1.  Oatmeal : Add pitted diced cherries to your morning bowl of oatmeal while you are cooking the oatmeal or add them fresh on top.
2. Cherry Lemonade: Make a cherry lemonade by blending lemon juice, sugar, cold water and pitted cherries in the
blender. Serve over ice with a few fresh cherries for garnish.
3. Compote: Make a cherry compote by cooking your cherries with a splash of lemon water and pinch of sugar and serve on pancakes, waffles or French toast.
4. Smoothie: Add pitted fresh cherries to your blender with frozen banana, vanilla yogurt and milk for a creamy delicious smoothie.
5. Salsa: Make a fresh cherry salsa with diced onion, chopped cilantro or basil, a squeeze of lime, pinch of salt and chopped jalapenos (optional). Serve with tortilla chips or as a side with chicken or pork.
6. Simple Dessert: Serve iced cherries for dessert by simply floating cherries in a bowl with added ice and a bit of water. Serving them this way makes them extra sweet!  Or try this Fruit Claflouti Recipe here on our blog.
7. Cherries & Cheese: Cherries and goat cheese are a match made in heaven. Serve this combination on a baguette, cracker or as part of a tossed lettuce, spinach or arugula salad with a lemon and olive oil vinaigrette.  Try this recipe for Arugula Salad with Cherries and Goat Cheese on our blog.
7 Simple Ways to Use Fresh Blueberries
Blueberries are an excellent source of fibre, vitamin C, vitamin A, potassium and folate and are rich in phytonutrients and antioxidants such as anthocyanins which research has shown are associated with cardiovascular and cognitive health as well as cancer and diabetes prevention.
Here are 7 healthy ways to use blueberries:
8. Freeze! Buy plenty of extras and wash them in a strainer, dry them with a paper towel or tea towel and then toss them into freezer bags or containers so you can enjoy them when blueberry season is over.
9. Overnight oats.  Soak rolled oats in milk, almond milk or soy milk, a drizzle of maple syrup or honey overnight.  In the morning top with blueberries and toasted nuts and enjoy.  Or try this recipe using blueberry and oats for Blueberry Pecan Baked Oatmeal Cups.
10. French Toast Casserole. Try our recipe for almond blueberry French Toast Casserole which you can make in the oven or cook on the BBQ or when camping on the fire.
11. Baking: Add blueberries to your pancake, waffle, scone or muffin batter before cooking.  Need a good waffle recipe?  Try this Berry Barley Waffle Recipe on our blog.
12. Quinoa Salad.  Toss quinoa, chopped kale, fresh chopped cilantro or basil, diced avocado, chopped almonds or pecans and serve with a lime olive oil vinaigrette.  Also try this recipe for Kale and Blueberry Quinoa Bowl here on our blog.
13. Summer popsicles: Add chopped blueberries, whole blueberries and blueberry juice (or any other unsweetened juice you have in the house) into popsicle moulds and freeze.
14. Greek yogurt covered blueberries: simple dip blueberries in Greek vanilla yogurt and freeze on wax paper for a tasty icy treat.
7 Ways to Use Peaches and Nectarines
Peaches and nectarine contain antioxidant carotenoids such as lutein, zeaxanthin and beta-cryptozanthin that offer preventative health effects and eye health.  They are only in season for a short time so eat them plentifully this season!
Here are 7 simple ways to use peaches and nectarines:
15. Protein Powered Snack: Slice peaches or nectarines on top of cottage cheese or Greek yogurt or skyr yogurt sprinkled with granola and cinnamon.
16. Peach Plus Protein Combo: Add sautéed peaches or nectarines on top grilled chicken or pork for dinner.  Try this recipe for Pork Tenderloin with Grilled Fruit here on our blog.
17. Simple Dessert! Slice in half and grill until slightly soft and browned and then add a scoop of mascarpone cheese mixed with honey and cinnamon on top.  Get the full recipe here on our blog: Grilled Peaches with Honey Marscarpone Cheese
18. Green Salad with Peaches or Nectarines: Slice on your favorite salad greens with a sweet vinaigrette and goat cheese.  Try this recipe on our blog and substitute the mango for peaches or nectarines (you can also use chicken or tofu instead of pork if you prefer): Grilled Mango and Spinach Pork Salad.
19. Popsicles: Blend nectarines or peaches, yogurt and orange juice in the blender and pour into popsicle moulds for a yummy frozen dessert.
20. Breakfast Fruit Sauce: Enjoy this recipe on our blog using peaches or nectarines as a topping on yogurt parfaits, pancakes, waffles or as a filling for crepes. 
21. Baked Oatmeal:  Add peaches or nectarines instead of berries in this recipe on our blog for Berry Baked Oatmeal.  You can make this recipe on the upper rack of your BBQ or on the campfire if you are camping.
Do you have any more ideas for healthy summer fruit ideas?  Let us know in the comments your favorite ways to enjoy the best foods of summer.
Looking for more healthy eating ideas or advice about a health concern?
Sign up for our free weekly newsletter and get a tasty recipe of the week alongside nutrition and healthy eating articles for healthy living. SUBSCRIBE TO OUR NUTRITION NEWSLETTER 
Contact us for additional private one-on-one Calgary Dietitian / Online Nutritionist support specializing in meal planning, weight concerns, emotional eating, eating disorders, digestive health issues, diabetes, heart health, fertility, kidney disease and more: REVIEW OUR PERSONAL NUTRITION COUNSELING SERVICES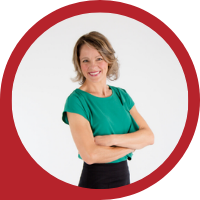 About Andrea Holwegner
CEO, Registered Dietitian, Counseling Practice Director & Professional Speaker
Andrea the «Chocoholic Nutritionist» is founder and CEO of Health Stand Nutrition Consulting Inc. since 2000. She is an online nutrition course creator, professional speaker and regular guest in the media. Andrea is the recipient of an award by the Dietitians of Canada: The Speaking of Food & Healthy Living Award for Excellence in Consumer Education....Read more