Our Favourite Things: Growing Micro-Greens!
Specialty: Fun maker! (and practice director, media expert and professional speaker for conference keynotes and events on health, wellness & productivity).
One of my new favorite things is growing micro-greens!  While I have been growing a vegetable garden for many years in my backyard, I had never planted micro-greens until recently.  To my delight, I have been able to enjoy beautiful, fresh micro-greens as salad and garnish since early June (while I am waiting for my lettuce seeds to grow).  
Micro-greens are the next phase of plant development after a sprout.  While sprouts are germinated in water, micro-greens can be grown in the soil and can be cut off at the stem when they are a few inches tall.  Typically micro-greens are generally 14 days old or less.  Even if you are not a gardener, but want a fresh addition to your salad, visit your local garden store for seed packs or order online.  Try spinach, pea, radish, beet, purple mustard or other micro-greens.  Simply toss micro-green seeds into a pot outside with dirt and water regularly.  Then in a few days watch them come up and enjoy!
Have you tried micro-greens?  Let us know in the comments below!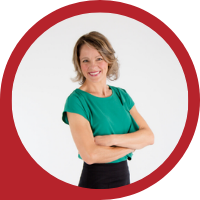 About Andrea Holwegner
CEO, Registered Dietitian, Counseling Practice Director & Professional Speaker
Andrea the «Chocolate Loving Nutritionist» is founder and CEO of Health Stand Nutrition Consulting Inc. since 2000. She is an online nutrition course creator, professional speaker and regular guest in the media. Andrea is the recipient of an award by the Dietitians of Canada: The Speaking of Food & Healthy Living Award for Excellence in Consumer Education....Read more