Dietitian Tips for Promoting Healthy Body Image in Children
Parents and caregivers can do so much to help shape the body image of children and how they respect and perceive themselves. Over the years as a Calgary Nutritionist and Online Dietitian and parent myself, here are some of the key messages that are helpful to foster with the kids in your life as a parent, caregiver, teacher or coach.
There is no one way to have a body
As children age and change they become more aware of their bodies and need help to understand that there is no one way to have a body. We all grow and develop differently.
Body's change and we are all imperfect. The key is to normalize how we grow. Explain to your child that as they grow their body and hormones will change faster than his/her brain can often handle. Some kids stretch wider before they stretch tall while others stretch taller and then fill out. Each person grows in their own unique way.
For teen girls moving from a flat chest and narrow hips to higher body-fat and womanly curves is a big adjustment that is often difficult. Throw in media images of air-brushed and digitally "skinnied" models and societal messages that contribute to the over-sexualization of girls and you can see why adolescent teens feel inadequate and unsure about their body.
To help with this transition teach your child early on to embrace diversity. Remind them that just like we all have different eye colors, we all have different body types and there is not one way to have a body.
Fat is not a feeling
As a parent or caregiver, you play a huge role in helping children understand their feelings and overall self-confidence.
When your child says, "I feel fat," gently reply that fat is not a feeling, just like the colour green is not a feeling. Ask him or her what they would say if the words "I feel fat" could not be used. Is it angry, lonely, discouraged, rejected, nervous, scared, or sad?
Naming and emotion is an important aspect to tame an emotion. As author and psychiatrist Daniel Siegel says, name it to tame it.
Your child or teenager needs help to figure out what was happening before the "I feel fat" comment was made. Remind him/her that feelings come and go just like the weather, and help him/her with some coping suggestions that make them feel stronger and more in control.
Children learn what they live

Do you think your kids didn't see you skip carbs all day while following yet another fad diet? Stuffing uncomfortable emotions with food? Wonder why your child is worried about getting fat or preteen is obsessing about the number on the scale?
Kids learn what they live.
The best job you can do as a parent and caregiver is role model regular healthy meals but also save room for fun foods like chocolate or potato chips chosen for non-nutrition reasons. Expose them to moderate physical activity to keep the body strong.
Remind them that just like we accept that we all wear different shoe sizes, we also need to accept that we all wear a different body size too.
If you or one of your children is struggling with body images issues, weight concerns or a poor relationship with food, contact us for help. We work one-on-one with families to navigate the challenges so many kids face in learning to fuel their body properly and grow confidently into their own skin.
We can also support you as parents to figure out the answers to common questions such as:
What can I do to help my child who is being teased about their weight?
How do I get my kids to eat enough (but not too much)?
My child is sneaking and hiding food. What should I do?
How much sugar is OK for kids?
What do I do when all my child wants to eat is sweets and treats and dislikes vegetables?
What is some speedy (but healthy) meal planning ideas kids will actually eat?
As a parent, I struggle with my weight and a poor relationship with food and don't want my child to struggle the same way I do. What can I do?
Our dietitian Calgary and online nutritionist services can help you with family nutrition counseling. As university-trained Registered Dietitians, you can count on us for credible advice and practical meal planning advice for busy families. We specialize in pediatric nutrition, picky eating, weight concerns, body image, and eating disorders. We can work with you as parents to help you navigate the challenging parts of food and weight for your family. Let's talk about what this can look like for you. CONTACT US.
Read more about our nutrition counseling programs by our local Calgary Nutritionist team / Online Dietitians (including our Pediatric Dietitian and Eating Disorder Dietitians here: NUTRITION COUNSELING.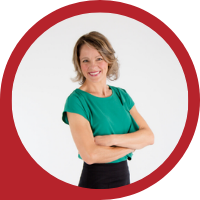 About Andrea Holwegner
CEO, Registered Dietitian, Counseling Practice Director & Professional Speaker
Andrea the «Chocolate Loving Nutritionist» is founder and CEO of Health Stand Nutrition Consulting Inc. since 2000. She is an online nutrition course creator, professional speaker and regular guest in the media. Andrea is the recipient of an award by the Dietitians of Canada: The Speaking of Food & Healthy Living Award for Excellence in Consumer Education....Read more