Healthy Eating Habits
3 Habit Hacks for Easier Nutrition Execution
Before you skip over this article on healthy eating habits in favor of something more trendy in health and wellness please read on!
In our virtual and in-person nutrition counseling practice, we see habits as one of the most important skills for our clients to master.
When it comes to making any change in your diet such as improved energy levels, better health, recovery of an eating disorder, or moving to your personal best weight, dissecting your habits are fundamental to your success.
How do habits work?
"Motivation is what gets you started. Habit is what keeps you going"  Jim Rohn
Charles Duhigg in the book The Power of Habit: Why We Do What We Do in Life and Business talks about habits as a simple but extremely powerful 3-step loop.
Step 1: CUE:
There is a cue, or a trigger that tells your brain to go into an autopilot mode and which habit to use.
Step 2: ROUTINE:
There is a routine (physical, mental or emotional).
Step 3: REWARD:
There is a reward to help your brain figure out if this particular habit loop is something to remember in the future.
Over time this habit loop becomes automatic and the cue and reward become interconnected until a powerful sense of anticipation and craving emerges.
Shifting a habit involves first understanding your habit loop right now and then writing out a new routine triggered by the old cue that delivers the same reward.
Healthy eating habits built to last
I've been fascinated by the science of habits for years.  In nutrition change the little things are the big things.  Bite-sized changes have supersized results.
I've written about this before such as in these articles on our blog related to making healthy eating habits stick:
While there are many aspects to creating healthy habits this article will focus on 3 of my favorite habit hacks that research shows will absolutely help you craft better habits that last for good.
1. Implement habit stacking
Behavior Scientist BJ Fogg at Stanford University refers to this as the tiny habit recipe and author James Clear in the book Atomic Habits calls this trick habit stacking.  To use this strategy find a habit you already do and link and layer another new behavior you are trying to master after this.
What is great about this habit hack is that it:
doesn't require any willpower as this usually fails
can be completed with little effort
takes less than 30 seconds
is a simple behavior you do every day
The tiny habit recipe has 2 simple parts:
Part 1:  AFTER I…
Fill in the statement with a behavior or solid routine you already do (such as eating supper).
Part 2: I WILL…
Next fill in a new simple and tiny habit you want to bring into your life (such as packing your lunch).
The key is making the new thing as tiny as possible so you will absolutely see this stick.  This means after supper you might first need to start with placing your lunch bag on the counter as a visual trigger as the only thing you do in building the habit to pack your lunch.  Once you master this then you can build from there.
Difficult behaviors take a huge amount of motivation therefore to break down bigger habits you need to start as tiny as possible so it becomes automatic and easy.
Here are 10 examples of habit stacking at work:
After I sit down to eat supper, I will take 3 deep breaths and slow myself down to begin assessing my hunger and fullness cues.
After I have supper and before leaving the kitchen, I will immediately place my lunch bag on the counter with a piece of fruit in it (since I know I won't do this in the morning).
After I grab my snack in the evening, I will turn off the TV and my phone and eat this without distraction as I'm learning to become a more mindful eater.
After I turn the light out to go to sleep, I will think of one gratitude for my body since I am working on self-love and body acceptance.
After I brush my teeth, I will select the protein for my supper meal to start the process of meal planning and committing to cooking tomorrow.
After I turn on my coffee pot to heat, I will have one glass of water since I struggle to stay hydrated throughout the day and this starts the day off right.
After I change out of my work clothes, I will put my walking shoes on since I'm trying to nudge myself to go out for a walk.
After I finish work and before getting in the car to drive home, I will walk at least one block.
After I finish work and before hopping on the bus/train to go home, I will eat a handful of nuts and dried fruit so I don't arrive home hangry and eat down the pantry.
After I feed the dog, I will put a vegetable from my fridge drawer on the counter as I'm working my way to eventually chop, pack and eat a vegetable in my lunch.
 2. Use a healthy eating habit tracker
When many people think about a healthy eating habit tracker they think about a paper food journal or a food tracking app that tracks calories, macronutrients and more.  While this may work for some people, the vast majority of our clients won't use this and won't stick with this.  Why?  It is time consuming and tedious.  For some of our clients tracking every morsel of food as actually harmful and leads to food obsession, disordered eating and harms the process of being able to trust your own unique intuitive hunger and fullness cues if you are eating to hit certain numbers on an app.
Instead, what I'd like you to consider is a different way to track your healthy eating habits.  The good news is, it is much simpler and focuses on only a few simple things that can be tracked in seconds.
Since there is indeed supportive research that suggests pen to paper is a helpful way to make changes I'm going to suggest starting with a piece of paper.  If you want to keep it super simple you could use a calendar and simply place a check mark on days you've accomplished a certain habit.
I like to use a simple habit tracker worksheet I developed years ago that offers space for up to 3 habits and the full calendar dates available to visually track.  Here is a link to this healthy eating habit tracker you can print and use for yourself:  Healthy Eating Habits Tracker.
To use this worksheet simply add a goal such as "On weekdays after dinner, I will immediately put my lunch bag on the counter and add a piece of fruit" or "Every day after work I will put my runners on and walk my dog for at least 2 minutes." As the days go on place a checkmark when you've completed this.
Remember start small!  Tiny habits will grow into bigger habits but you must make them something you can easily commit to so they become automatic. At first downscale your habits into something you can do in 2 minutes or less.
Alternatively for those of you that are more interested in using an app, go with a general habit or accountability app rather than a nutrition app.  I'd suggest the Strides app as a good option as you can follow the same strategies from the worksheet above.
 3. Go public and celebrate the win
Habit researchers know that going public and sharing your goal with a coach, friend, supportive family member or like-minded community can help to anchor change.  We also know that a reward also helps to automate your new habit so you will keep doing it.  Let's break this down a little further.
Why then is it the most important things we want to achieve we keep to ourselves?  Likely we are fearful of failure and judgement.  But what if we used group accountability for the tiny habits we are setting in a positive way rather than in a way that could set us up to feel criticized or overwhelmed.
The American Society of Training and Development found that people have a 65% chance of reaching a goal if they have an accountability partner. If you have a specific accountability appointment with that person, you will increase your chance of success by 95%.  In our Registered Dietitian practice one of the most important roles we play with our clients is playing this exact role of accountability partner.
What would happen if the tiny habit you are working on and your healthy eating habit tracker was shared with your kids?  What if they could see you working at something and could celebrate your success with you?  Not only are you improving the likelihood of achieving your goal but you are also teaching them a valuable lesson of what it looks like to set micro goals that work towards making and sustaining change (instead of grandiose goals that are hard to sustain).
Once your created an accountability partner and have been successful implementing your new tiny habit, don't forget to celebrate!  Health psychology research shows that habit formation is easier when we have pleasure and feel a sense of reward.  Experiment with what works for you since not all rewards work for all people.  A reward for packing your lunch on weekdays might
be just pausing to thank yourself for taking care of your body, or it might be buying a special lunch bag or new t-shirt that you love.
While it is easy to nit-pick the tiny mistakes, don't forget to reward yourself for the tiny wins along the way with your new tiny habits in motion.
Where can I learn more information about healthy eating habits and sustaining change?
The best way to making healthy eating habits that are the most relevant for the goals and/or health concerns you are seeking to change, is to work with an experienced Registered Dietitian.  Find out more about our nutrition services here: Registered Dietitian Nutrition Counseling Services.
You might also enjoy reading these previous articles on our blog on healthy eating habits and behavior change here: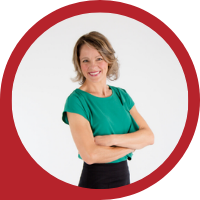 About Andrea Holwegner
CEO, Registered Dietitian, Counseling Practice Director & Professional Speaker
Andrea the «Chocoholic Nutritionist» is founder and CEO of Health Stand Nutrition Consulting Inc. since 2000. She is an online nutrition course creator, professional speaker and regular guest in the media. Andrea is the recipient of an award by the Dietitians of Canada: The Speaking of Food & Healthy Living Award for Excellence in Consumer Education....Read more