What this Dietitian Wants You to Give Up Over the Holidays [VIDEO]
Top 3 healthy eating tips for the holidays
As a Dietitian there are many things people think I eat (such as kale, oatmeal, blueberries, and other nerdy nutritious foods).  They also create a list of forbidden foods a Dietitian mom like me would surely never eat or feed to her child (such as poutine, DQ blizzards, and chocolate cheesecake).  
When it comes to eating healthy during the holidays the so-called naughty or nice labeling of foods gets debated further.  Clean eating diets and fasts preach you should give up shortbread, gingerbread cookies, eggnog, and more.  Or should you? 
I have eaten and will continue to eat ALL of the above things (and of course being the chocoholic nutritionist, chocolate will always be on the top of my list for one of my most loved foods). Yes, the shortbread, gingerbread cookies, eggnog, and other holiday treats can fit. These foods spark joy for many of us.   
There are no food rules, only food love. 
Food is more than just calories, carbs, protein, fat, vitamins, and minerals. Food is a vehicle for connection, celebrating culture, and family tradition. A healthy diet is more than eating vegetables. The word "diet" is Latin for a way of life.  Your way of life can include holiday foods chosen exclusively for taste and social fun that have nothing to do with nutrition. 
My mom, son, and I bake holiday cookies together every year.  It is a family tradition that I absolutely adore and that I'm sure my son will fondly remember when his grandma is no longer with us.   
What food sparks joy for you? Greasy savoury finger food and cocktails at your best friend's annual holiday party? Eggnog and chocolate fudge on Christmas eve as it reminds you of your grandma?  What really sparks joy for you?
Eating Healthy During the Holidays 
1.
You can eat anything, just not everything, be intentional about your choices.
Not everything matters equally. Be intentional about what soulful foods are really the best of the best. Which food sparks the most joy? When? Where? Determine a list of your top soulful foods for the holidays and enjoy them guilt-free.
Rather than trying to avoid tasty holiday soulful foods, instead, focus on enjoying them from the heart. Satisfaction also frees you to then be able to wrap the nerdy nutritious foods you know you need for wellness around it as you know you won't feel deprived.
2. Anticipate holiday cravings and stress eating
More frequent food cravings, stress eating, and generally eating emotionally can be higher during the holidays for many people.  Everyone eats for emotional reasons sometimes. It is very normal to eat when you are sad, mad, happy, or stressed.  Ask yourself how can I comfort, soothe and handle this emotion without food.
Stop what I like to call "chewing around a craving" which is the act of sampling many healthy items from your kitchen to try and satisfy a particular craving for a so-called "forbidden food."  Take time to figure out specifically what you are craving. Is it a particular food? Is it something sweet, savoury, creamy, crunchy, warm, or cold?
Since many people eat packages, not portions, provide yourself with a reasonable endpoint (buy small individual-sized packages or portion out hard-to-manage foods).
3. Use "if-then" planning to get back on track after holiday eating
We all have the best intentions to eat well and live a healthy life but life, work, family, and emotions can get in the way of our success.  If you have a healthy eating goal over the holidays and it doesn't go well, an "if-then" plan can help you get back on track right away (otherwise you might be off track for weeks at a time). 
Use what is called by psychologists and behavior change researchers "if-then" planning.  This is a type of implementation intention that has been studied in research for over 30 years to assist with the achievement of goals. 
If then planning: 
if

X (something unexpected or an obstacle/opportunity happens)…

 
Here are some examples of "if-then" planning: 
If I don't pack a healthy lunch choice today then I won't miss this twice and immediately when I get home I will pack a healthy lunch for tomorrow.

If I don't walk this morning, then I will put the shoes in my car and not drive home until I finish a walk near my office.

If I found myself stress eating tonight and didn't use one of the 3 stress reduction activities I came up with, then I will still do one of the stress reduction tactics immediately after stress eating to practice the new habit I'm trying to implement. 

 
Lastly, eating healthy over the holidays and finding balance sounds easy but can be incredibly overwhelming. Keep things in perspective.  It's what you do between New Year's and Christmas that is important (not between Christmas and New Year's).  Enjoy the upcoming holidays with an open heart and a #balancednotclean philosophy. 
Struggling with healthy eating? Feeling stuck and wanting to improve your relationship with food and your body?
We can help!
Since 2000, our team of online and in-person dietitians have been empowering people just like you to live healthFULLY + soulFULLY.
We will help you stop stressing about food and your body. We make healthy eating simple, fun and more effective in improving health and your personal best weight.
If you'd like to learn how to eat healthier and experience the many benefits, you've come to the right place!
Check out these related blogs on our website: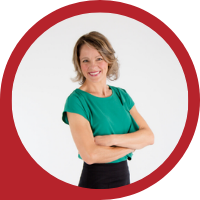 About Andrea Holwegner
CEO, Registered Dietitian, Counseling Practice Director & Professional Speaker
Andrea the «Chocolate Loving Nutritionist» is founder and CEO of Health Stand Nutrition Consulting Inc. since 2000. She is an online nutrition course creator, professional speaker and regular guest in the media. Andrea is the recipient of an award by the Dietitians of Canada: The Speaking of Food & Healthy Living Award for Excellence in Consumer Education....Read more