Fun Holiday Food Ideas for the Whole Family
Lift your spirits with these festive and simple holiday food ideas
Nothing is better than festive foods for the season. Foods that are in fun shapes, made in holiday colors or are presented differently than normal can lift anyone's spirits.
 
Here are 10 fun food ideas to try plus two holiday recipes: Holiday Reindeer Snack and, Veggie & Dip Christmas Wreath!
These ideas also make great Christmas appetizers for holiday party 
Find Images below!
1. Santa Hats
Place a grape, slice of banana and strawberry on a toothpick to make Santa hats. 
2. Christmas Tree Pizzas
 Use a Christmas tree cookie cutter to cut pizza dough into the shape of a tree and 'decorate' with your favourite toppings.
3. Candy Canes
Cut rounds of mozzarella cheese and tomato and place on a plate alternating between the two in the shape of a candy cane.
4. Celery Reindeer
Cut celery stocks into 3-inch pieces. Fill with peanut butter and place a piece of red pepper or raspberry for its nose, 2 raisins for its eyes and pretzels for the antlers. See the recipe below for more details! 
5. Tree Ornaments
Make your favourite cream cheese ball (cream together cream cheese, cheddar cheese, garlic powder, craisins, pecans, chives until well combined, roll into small balls), place a straight pretzel stick through the top.
6. Christmas Trees
Cut whole wheat naan bread into 8 wedges (tree shaped), cover with guacamole and 'drape' thin slices of red bell pepper as garland.
7. Fruit Wreath
Using red and green coloured fruit (green grapes, kiwi, honey dew melon, red grapes, raspberries, strawberries) make a wreath. Place mint leaves among the fruit for added flavour and presentation.

8. Red and Green Dip
Using beetroot hummus and guacamole as your red and green center, surround with red and green veggies such as cucumber, celery, broccoli, snap peas, red bell pepper, radish, cherry tomato.
9. Holiday-shaped Pancakes
Using cookie cutters to make pancakes in fun Christmas shapes.
10. Reindeer Crackers
Using a round cracker cover with nut butter of choice, place a bit of raspberry for its nose and raisins or chocolate chips for its eyes and pretzels for the antlers.  You can also use a thick slice of cheese as the 'reindeer' body.
More Healthy Holiday Recipes
 Holiday Reindeer Snack
This simple holiday snack or appetizer takes a classic snack and makes it into a fun and festive creation. 
Ingredients  
1 stick celery

 

1 tbsp peanut butter (or nut butter of choice) 

 

1 raspberry 

 

2 raisin

 

2 pretzels

 


 
Instructions 
Cut the celery stick into 3 pieces.

 

Put 1 tsp of peanut butter into the center groove of each celery piece.

 

At the bottom of the celery place a portion of the raspberry to make the reindeers nose, the raisins one third of the way from the top to make the reindeers eyes and at the very top the 2 pretzels.

 
Nutrients per 1 serving  
154 Calories 
17 g Carbohydrate 
5 g Protein 
8 g Fat 
2 g Fiber 
Veggie & Dip Christmas Wreath
There is nothing better when a snack is festive and visually appealing. We eat with our eyes so feast your eyes on this delicious platter of red and green vegetables paired with a perfect red and green guacamole dip that will make your tastebuds sing!  
Recipe courtesy of Downshiftology.
Makes 6 servings 
Ingredients   
3 avocados, ripe

 

½ a small red onion, finely diced  

 

2 roma tomatoes, diced

 

3 tbsp finely chopped fresh cilantro

 

1 jalapeno pepper, seeds removed and finely diced

 

2 garlic cloves, minced

 

1 lime, juiced

 

Salt to taste 

 

1 red bell pepper

 

1 cucumber

 

1 cup cherry tomatoes 

 

1 cup snap peas 

 

3 stalks celery

 

6 radishes 

 
Instructions  
1) Slice the avocados in half, remove the pit and scoop into a mixing bowl. 
2) Mash avocados with a fork making it as smooth or chunky as desired. 
3) Add remaining ingredients and stir together. 
4) Prepare vegetables by slicing the bell pepper, cucumber and celery into strips. Cut the radishes into wedges.  
5) Place the guacamole in a bowl in the center of a serving plate. Place the vegetables around the dip alternating between red and green colours to make the wreath.  
 
Nutrients per serving:  
 215 Calories 
15 g Fat  
20 g Carbohydrates   
9 g Fiber 
4 g Protein 
We hope you've enjoyed some of these ideas for healthy and fun food ideas for the holidays! Do you have a favorite? Let us know in the comments!
Looking for more ideas for holiday appetizers? Check out these ideas on my previous blog: 13 Healthy Holiday Appetizer Ideas
You might also want to check out this article on our Holiday Eating Guide: The ONE Healthy Eating Tip You Need to Know
Looking for more holiday nutrition tips, recipes, and videos?
Sound Bites is a weekly newsletter written by our university-trained Registered Dietitians. Get the latest nutrition tips, healthy recipes, videos, and more!
Join thousands of subscribers, and sign up for the newsletter, today! Receive a FREE copy of our '52 Snack Attacks' PDF by subscribing now.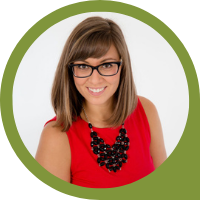 Shauna Kime
Registered Dietitian & Online Nutritionist - Weight Concerns, Women's Health, Diabetes & Meal Planning
The first thing you will notice about Shauna is her contagious optimism, energetic personality and zest. Shauna loves teaching and has a heart full of compassion and empathy for helping clients work through health concerns. Shauna specializes in healthy cooking, diabetes, cardiovascular health, weight concerns and womens health. Read more