Healthy Lunch Hacks
How to Save Time and Pack a Healthy Lunch for Work
Struggling with the dreaded task of packing your lunch? Many of our clients that work outside the home want to eat a healthy lunch but struggle with feeling overwhelmed and juggling a busy schedule. If you are looking for time-saving tips when it comes to how you think about lunch and some new tasty ideas that are also healthy, then read on.
Watch Andrea Holwegner, Calgary Registered Dietitian share Lunch Hacks:
What are the components of a healthy lunch and why?
A healthy balanced lunch should contain 3 components:
1. Grains/starches:
Bread, pita, wraps, crackers, homemade muffins, pasta, potato, rice, quinoa or other grains.
These offer fibre, B-vitamins and carbohydrate needed for your brain and muscles for energy.  
Failing to add enough carbohydrate in your lunch leads to poor productivity, fatigue, inability to concentrate and sleepiness in the middle of your work day. You may also experience low mood (crankiness and emotional swings) and overeat later in the day if you fail to fuel your brain with enough carbohydrate during your work day.

2. Veggies and fruit:
Raw veggies, leftover cooked/grilled veggies, vegetable soup or salad and fresh fruit, frozen berries, canned unsweetened fruit, dried fruit.
These offer fibre and health-promoting vitamins, minerals and phytonutrients. In general, adults should aim to have half of their lunch from veggies and fruit.  
Failing to add enough of these to your lunch will likely mean you may fall short by the end of the day which negatively influences health, energy and weight management efforts.
 3. Source of protein:
Leftover meat/poultry/seafood, legumes (such as chickpeas, lentils, black beans, refried beans and more), cheese, yogurt, cottage cheese, canned tuna/salmon, hard cooked eggs, tofu, nuts and seeds.
These provide iron and protein, which are key for sustaining energy and fullness.
Failing to add enough protein to your lunch will lead to inconsistent blood sugar levels that feel like you are on a rollercoaster ride, along with cravings and constant hunger through your work day
When is the best time to plan lunch?
While different things work for different people, there are generally 3 options when it comes to lunch meal prep. Which one will work best for you?  
3 Ways to plan lunch based on your meal prep personality:
Option #1: The Weekly Meal Planning Pro
If you are someone that is naturally drawn to lists, systems, planning ahead and keeping very organized, then weekly lunch planning will fit for you. If you already plan your suppers one week at a time then it would make sense to also plan lunches for the week that can incorporate leftovers and planned extras of single foods to enjoy in another way at lunch.
Option #2: The Night Before Planner
If you struggle with supper planning and find it hard to find the time and organization skills to plan for a few days or a week at a time then plan your lunch the night before, immediately after eating supper while you are still in the kitchen. Important! Don't wait until the next morning to begin thinking about lunch unless you are a morning person with oodles of time, it is not likely to be a creative time to brainstorm or make decisions when you are rushing out the door.  
Option #3: The Halfway Planner
If you are someone that plans some of your suppers but leaves the others for spontaneity, then using the same philosophy for planning half of your lunches is likely going to work well for you. Aim to plan 3 suppers and 3 lunches for the week and leave the other meals for items to pull from the freezer, a healthy meal out and/or one of the back-up lunches discussed later that you can put together quickly.
What do you mean by a back-up lunch?
In our Calgary nutrition counselling practice, we teach our clients to first nail down a best case scenario that involves packing leftovers, cooking planned extras of one component of the meal to include in your lunch and other useful planning strategies. Then we move on to help our clients brainstorm back-up plans for when things don't work out.
A back-up plan is key when:
Your life is insanely busy and you simply could not find time to plan and shop with all that you are juggling at home and work
Your schedule changes unexpectedly and makes it impossible to execute your meal plan
Weekday stress and fatigue impacts motivation to want to make a healthy lunch
All of the dietitians in our practice recommend having a list of back-up meals posted in your home:
Make a list of 3-5 back-up lunches you will have on standby at all times in your home
Make sure your weekly grocery shopping list always contains the ingredients for your back-up lunches
Lunches should be able to be prepared in a short amount of time
Lunches should contain 3 things for balance (grains or starches, vegetables and/or fruit and a source of protein)
The main cook and the "not-so-good cooks" should know how to make these (do some meal prep or cooking instruction if needed so everyone is on board).
What are some ideas for speedy back-up lunches?
Here are a few ideas to get you started if you are packing lunch in a hurry:  
Speedy Eggs: Pack eggs, bread/buns, carrot sticks or frozen veggies for work. At work use a microwave egg cooker and top your bread or toast with eggs and serve with heated frozen veggies or carrot sticks. Enjoy grapes or watermelon on the side.
Mexican Medley:  Pack flour tortillas (fresh or frozen), canned or frozen black beans (or refried beans), grated cheese (kept fresh or frozen), red peppers (fresh or jars of roasted red peppers), frozen corn and canned salsa. Assemble at work and eat cold, or place in a toaster oven and bake as a quesadilla. Enjoy melon or an orange on the side.
Snack Attack: Toss the following into a lunch bag and assemble at work. Pack a protein (Greek yogurt, cottage cheese, leftover meat, chicken, seafood, tofu, hard cooked eggs), fruit (whole fruit to slice and wash at work), raw veggies or salad greens and dressing as well as grains (whole grain crackers or bread).
Breakfast for Lunch: Leftover or pre-made frozen pancakes, waffles or French toast along with frozen mangos or berries (they will thaw by the time you are ready for lunch) and jam or maple syrup. Serve with milk, soy milk, yogurt, dessert tofu or pre-cooked leftover or frozen breakfast sausages.
Seafood Salad: Frozen cooked shrimp (or canned tuna or salmon), pre-washed mixed salad greens, a bottle of your favorite vinaigrette and whole grain rye crackers and cheese. Assemble your salad at work.
Go Nuts! Toss baby cucumbers or a piece of English cucumber into your lunch bag. Also toss in a container of peanut butter or other nut butter, wraps or pita bread, fruit (apple, pear or banana or berries) as well as a small container of coconut and hemp hearts. At work slice up your cucumber and munch on those while you prepare your wrap or pita (spread the nut butter on the wrap or pita or peanut butter and then top with fruit, coconut and hemp hearts and roll).  
Greek Goodness: Toss whole mini cucumbers, peppers and grape/cherry tomatoes into your lunch bag. Also pack feta cheese, olives, leftover cooked chicken or canned drained chickpeas and a Greek salad dressing. Assemble your salad at work and serve with whole grain crackers or couscous, quinoa, rice or barley (all of which you can make ahead and freeze in small portions in the freezer to add to your lunch).
Important! Office workplace wellness nutrition tips:
If space allows, stash some of these items at work in your office or the kitchen fridge/freezer.  
Ask your employer if they would consider adding a blender, toaster oven and microwave to your staff kitchen to encourage healthy lunches for employees.  
If fridge space is an issue ask your employer if an additional shared fridge could be purchased or if you can add a small bar fridge to your personal office.
Share this resource with your employer: WORKPLACE WELLNESS NUTRITION SCORECARD that may prompt them to think about diverse ways they can encourage healthy eating at work.
If you need more help with lunch (or other meal) planning, contact us!
We're happy to help as part of a nutritional counselling program.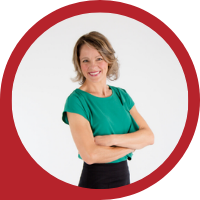 About Andrea Holwegner
CEO, Registered Dietitian, Counseling Practice Director & Professional Speaker
Andrea the «Chocoholic Nutritionist» is founder and CEO of Health Stand Nutrition Consulting Inc. since 2000. She is an online nutrition course creator, professional speaker and regular guest in the media. Andrea is the recipient of an award by the Dietitians of Canada: The Speaking of Food & Healthy Living Award for Excellence in Consumer Education....Read more