Struggling with your New Year's resolution to eat better?
3 Simple strategies to kickstart healthy eating again
This blog post is sponsored by my client, Egg Farmers of Alberta, representing the province's more than 170 registered egg farming families, providing our province with a stable supply of fresh, high quality, nutritious locally produced eggs.
At the start of the year many of us set goals to improve a range of things including goals for our health, fitness and eating habits. But, as the weeks roll on, it can be challenging to stick with those goals. Often we find ourselves back where we started, now with a sense of defeat and frustration.
In this article I talk about rebounding from New Year's resolutions that may not be working out and 3 strategies to kickstart healthy eating and move along a healthier path again.
#1 Use the "fresh start effect"
Researchers in the field of psychology have observed what is now known as the "fresh start effect." This is the notion that people are more likely to take action towards goals after a temporal landmark (the start of a new distinct time period) that represents new beginnings or sometimes a special occasion. Setting a goal on the New Year, your birthday, the first day after a long weekend, the beginning of the month or the start of the week are all examples of new distinct time periods.
If you feel like you have fallen off the wagon from your New Year's resolution, the good news is you definitely don't need to wait until January 1st to get going again. You can use the "the fresh start effect" and find another temporal landmark to regroup and restart.
As I like to say failure is the opportunity to begin again more intelligently. Look at failures from the lens of positivity and commit to failing forward. Think about the goal you set, assess what you've learned and recommit to a more supportive, clear goal.
Failure is the opportunity to begin again more intelligently
From my experience as a Dietitian for over 20 years, one of the reasons many of our clients have failed previously with goals they have set is simply because goals were vague. Often times goals they have written are confusing to understand if they were clearly on track and winning or losing. For example a goal to "eat healthier" or "lose weight" or "exercise more" is destined for you to feel like you are failing as it is unspecific and undefined. A better goal would be saying "I'm going to eat a ½ cup or more of vegetables in my lunch 5 days per week for the next 30 days" or "I'm going to walk 30-60 minutes 4 days per week for the next 2 months." Now I clearly understand how you will measure success. As boring as you might think setting SMART goals actually is (specific, measurable attainable, relevant and timely), they absolutely work.
What new temporal landmark (aka new distinct time period) will you select to get started again on your goal? How can you revise your last New Year's resolution into a written SMART goal?
#2 Make goals positive (not restrictive)
Rather than setting punishing goals that provide restrictive limits on food what would happen if you instead focused on goals that were positive and nurturing? What would happen if you stopped labelling foods as good, or bad and forbidden?
Instead of making a goal to "stop eating potato chips" instead make a specific goal to "for the next 30 days eat potato chips slowly, mindfully, away from distraction and technology and savor each bite to begin fully appreciating this soulful food choice."
When you do and you begin practicing making food your friend you will find that less becomes more. Allow yourself to fully enjoy soulful foods such as potato chips and chocolate chosen for taste and enjoyment. Our company mission is to help empower you to create a healthful and joyous relationship with food and your body. Yes, this is possible!
While it can take time (and plenty of practice if you've had a poor relationship with food and your body), practice reframing enjoyment of these foods. In time you will see overeating potato chips will lessen and you won't need to stuff down a family-sized large bag all at once. As you practice you will begin to appreciate that you can enjoy some again tomorrow, feel satisfied with less and that you don't need to be at war with food.
If food is a struggle for you, reach out to us and book some one-on-one nutrition counseling with a Registered Dietitian on our team who can offer you a helping hand to kickstart healthy eating.
#3 Be realistic about your available time
Many of us are guilty of setting grandiose goals that were destined to fail not because they were not good ideas, but simply because they did not work with our schedule this week. As you look at the week ahead in pursuit of your goals, be very realistic about your available time. While there are plenty of short cuts that can save you time in achieving a healthier diet, ensure the goals you set have enough breathing room for life to happen.
Your schedule will inevitably go sideways. Your motivation to take time to cook healthy meals will waiver. Expect this (it happens to Dietitians too!)
One strategy our Dietitian team at our practice uses is to help our clients set up "backup meals." These are speedy meal solutions for time crunched or changing schedules.
I've written previously about this concept here in this post on Backup Healthy Meal Plans In a Crunch. In a best case scenario planning meals ahead for the week and taking time to head out grocery shopping would be great, but we all know that life isn't perfect or predictable. Having a list of 3-5 healthy backup meals you can execute at ANY time is key. This means committing to have these ingredients on standby at all times.
In my home one of the backup meals we always have on hand is eggs (usually served with multigrain/sourdough toast and raw veggies and dip or as a breakfast burrito in a wrap with sautéed/raw veggies). Eggs are an excellent source of high-quality protein, are fast to make and have a long-shelf life making them ideal for backup healthy meals on busy weekdays. One egg contains 6 grams of protein, and only 70 calories. If you've been avoiding eggs because of concerns linking them to raising blood cholesterol or heart disease, the latest research shows that healthy adults can enjoy an egg every day without increasing the risk of heart disease.
Looking for a recipe to try? You can keep it super simple and toss scrambled eggs with grated cheese and tomatoes or salsa into a wrap or enjoy this recipe from my client Egg Farmers of Alberta.
Breakfast Burrito (for Dinner!)
What You Need
6 eggs
1/4 cup 2% milk
4 tsp olive oil, divided
1/2 cup dices, sweet orange pepper (or any color you like)
1/2 cup corn kernels (fresh, canned or frozen/thawed)
1/2 cup rinsed, drained canned black beans
1 tbsp water
1/2 tsp salt
4 12-inch whole wheat tortillas
1/4 cup 5% sour cream
1/4 cup salsa
1/2 cup quartered cherry or grape tomatoes
1 cup shredded cheddar cheese
fresh cilantro leaves and hot sauce of your choice (optional)
2 tsp chili powder
1/2 tsp ground cumin
1/4 tsp garlic powder
1/4 tsp dried oregano
1/4 tsp paprika
How You Make
In a medium bowl, whisk together eggs and milk; set aside.
In a large non-stick skillet, heat 1 tsp (5 mL) of the olive oil over medium heat. Add peppers and cook, stirring occasionally until tender, about 2 minutes. Add corn, beans, water, salt and spices; mix well and cook until water has evaporated, about 3 minutes.
Remove from heat and set aside.
In a large non-stick skillet, heat remaining olive oil over medium heat.
Pour in egg mixture and cook 3 to 5 minutes, stirring gently, until eggs are set but still soft. Remove from heat.
Hint: For making breakfast burritos I like to keep extra wraps in the freezer and jars of roasted red peppers in the pantry in case I'm out of fresh.
What else will you have on your backup meal plan for your healthy eating kickstart?
Looking for more simple meal planning tips and healthy recipes for a healthier lifestyle? Sign up for our weekly newsletter for a healthy recipe of the week (and nutrition articles and videos with a balanced living philosophy to help encourage healthy habits but still save room for your favorites). Our nutrition newsletter is written by the Online / Calgary Nutritionists on our team who each hold a professional Registered Dietitian license to ensure you are getting credible advice.
For more assistance on healthy eating for long term success, reach out to our Registered Dietitian team for private nutrition counseling. Find out more about our Calgary Dietitian / Online Nutritionist services here: Personal Nutrition Counseling.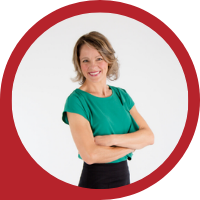 About Andrea Holwegner
CEO, Registered Dietitian, Counseling Practice Director & Professional Speaker
Andrea the «Chocoholic Nutritionist» is founder and CEO of Health Stand Nutrition Consulting Inc. since 2000. She is an online nutrition course creator, professional speaker and regular guest in the media. Andrea is the recipient of an award by the Dietitians of Canada: The Speaking of Food & Healthy Living Award for Excellence in Consumer Education....Read more