How the Low FODMAP Diet may help IBS & digestion issues
New info on what to eat if you struggle with Irritable Bowel Syndrome
If you have IBS (irritable bowel syndrome) and are experiencing digestive symptoms such as constipation, diarrhea, abdominal cramping or gas you are not alone.
You may have heard about some of the new research being done on what is known as the FODMAP diet as a potential treatment for IBS (irritable bowel syndrome).
Although research is still limited, data from several short-term (less than 6 week) clinical trials suggest that a low FODMAP diet can reduce uncomfortable digestive symptoms such as abdominal pain, bloating and excessive gas in up to 75 per cent of individuals with IBS.
What are FODMAPs?
FODMAP stands for Fermentable Oligosaccharides Disaccharides Monosaccharide Polyols. FODMAPs are certain types of sugars and fibres that are found in many common foods such as fruits, vegetables, legumes, grains, milk products and sweetening agents.
Oligosaccharides: short chain fibres such as fructans, galacto-oligosaccharides and inulin found in foods such as wheat, rye, certain vegetables, certain fruits, dried peas/beans, nuts/seeds and chicory root.
Disaccharides: two single carbohydrate sugars linked together. Most important to consider is lactose found in dairy foods such as milk, yogurt, ice cream and some cheese.
Monosaccharides: single carbohydrate units. The most important to consider is excessive fructose found in fruit juice, honey, agave, high-fructose corn syrup, sugar and large volumes of fruit.
Polyols: sugar alcohols found in certain fruits and vegetables as well as in certain sugar-free and diet foods containing sorbitol, mannitol, xylitol, maltitol and isomalt.
It should be noted that most people can eat FODMAPs without any digestive issues and following a low FODMAP diet is unnecessary.
However some individuals with sensitive digestive systems or with IBS can experience less digestive symptoms by following a low FODMAP diet. This is because for some people FODMAPs may be poorly absorbed in the
small intestine and when they travel to the large intestine they can draw water. Also in the large intestine, fermentation (digestion) occurs by bacteria that live naturally in the gut that can create gas and other byproducts. Research has established there are individual differences in tolerance for FODMAPs with some foods causing more symptoms than others.
What does a low FODMAP diet look like?
Partial list of high FODMAP foods to limit:
Regular milk, yogurt, cottage cheese, ricotta cheese, ice cream and soy milk
Apricots, apples, blackberries, dried fruit, cherries, fruit juice, nectarines, pears, peaches, plums, mango, watermelon
Asparagus, avocado, beets, Brussels sprouts, cauliflower, celery, garlic, mushrooms, onions, peas and tomato paste
Wheat, barley, rye (as well as cereals, pastas, bars or baked goods made of these items)
Sugar-free candy and gum; honey and high fructose corn syrup
Baked beans, refried beans, chickpeas, kidney beans, edamame and hummus
Pistachios, cashews
Partial list of low FODMAP foods to enjoy:
Lactose-free dairy foods or certain hard cheese like cheddar, Parmesan, Swiss and mozzarella
Strawberries, blueberries, banana, cantaloupe, grapes, honeydew, kiwi and oranges
Bell peppers, carrots, chives, cucumber, kale, lettuce, grapefruit, raspberries, spinach, fresh tomatoes, scallion greens, white potatoes and zucchini
Cornmeal, quinoa, rice and spelt (as well as cereals, pastas, crackers or baked goods made of these items)
Meat, poultry, eggs, seafood, firm tofu as well as small handfuls of nuts such as peanuts, pumpkin seeds and sunflower seeds
Where should I begin?
If you are experiencing digestive issues it is essential to visit your physician to have a proper medical assessment to be sure the diagnosis and treatment is correct. If your physician has diagnosed you with a functional bowel disorder such as IBS, work with a Registered Dietitian, the only university trained and regulated nutrition professional. A dietitian that specializes in nutrition for IBS can first help you understand the overall nutrition and lifestyle strategies important for IBS and other digestive issues.
Then if the traditional lifestyle and nutrition recommendations have not provided relief of uncomfortable symptoms, your dietitian can help you explore the low FODMAP diet. Since this is a complicated and restrictive diet to follow, your dietitian can help ensure you are getting enough good nutrition. Since this diet is not meant for the long-term, dietitian support can help you understand the re-introduction phase of individual foods to assess your personal tolerance.
Article originally appeared in the Calgary Herald Newspaper
Need additional help navigating a Low FODMAP diet, or have other health challenges? Contact Us for assistance with your nutrition.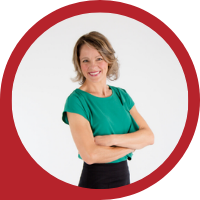 About Andrea Holwegner
CEO, Registered Dietitian, Counseling Practice Director & Professional Speaker
Andrea the «Chocolate Loving Nutritionist» is founder and CEO of Health Stand Nutrition Consulting Inc. since 2000. She is an online nutrition course creator, professional speaker and regular guest in the media. Andrea is the recipient of an award by the Dietitians of Canada: The Speaking of Food & Healthy Living Award for Excellence in Consumer Education....Read more