Lunch Box Ideas for Kids: Hawaiian Pizza Muffins
Looking for healthy lunch box ideas kids absolutely love?
Trying to find lunch box ideas for kids that they want to eat isn't always easy for parents and caregivers. As a Mom Dietitian I'm always looking for nutritious higher protein options for kids lunches and my son ranks this as a top favourite lunch! This healthy recipe for Hawaiian Pizza Muffins is a great make-ahead option you can bake in bulk and then add to the freezer for busy school days.
This "lunch box ideas for kids: Hawaiian Pizza Muffins recipe" is inspired from "The School Year Survival Cookbook by Laura Keogh and Ceri Marsh (I added double the ham, cheese, pineapple and tomato sauce to increase the protein level and flavor profile). Feel free to play with the ratio of these ingredients based on your kids preference. Enjoy!
Makes 18 muffins
What you need:
2 eggs
3/4 cup 1 % milk (or whatever milk you have)
1/2 cup vegetable oil
2 tbsp sugar
2 cups spelt flour (or whole wheat flour)
2 tsp baking powder
1/2 tsp dried Italian seasoning
1/2 tsp garlic powder
1/4 tsp salt
1 1/2 cups diced ham
3 cups grated mozzarella cheese (divided into 2 cups for the recipe and 1 cup for the top)
1 can (398 ml or 14 fl. oz.) canned pineapple tidbits, drained
1/2 cup tomato sauce or pizza sauce
How you make:
To make 'Lunch Box Ideas for Kids: Hawaiian Pizza Muffins' follow these instructions:
Preheat the oven to 350 F. Line 18 muffin cups with paper liners.
In a large bowl whisk the eggs, milk, oil and sugar until smooth. Add flour, baking powder, Italian seasoning, garlic powder and salt and stir just until combined. Stir in the ham, 2 cups of the cheese and pineapple just until combined (do not ove mix).
Spoon half of the batter into the muffin liners. Top the batter with half the tomato sauce (about a teaspoon of spoon of tomato sauce per muffin). Top with the remaining half of the batter and then top with the remaining tomato sauce. Sprinkle the remaining 1 cup of grated cheese on top.
Bake for approximately 20 minutes or until golden brown and a toothpick inserted into a muffin comes out clean.
Enjoy fresh or toss in the freezer. Kids, teens (and adults!) can enjoy these cold or pre-heat a thermos with boiling water and place these warmed Hawaiian Pizza Muffins in the thermos for their lunch.
Nutrition analysis per muffin:
210 Calories
17 g Carbohydrate
10 g Protein
11 g Fat
2.2 g Fibre
We hope you enjoyed this recipe for 'Lunch Box Ideas for Kids: Hawaiian Pizza Muffins.'
Do you have some suggestions for healthy lunch box ideas kids absolutely love? Let us know in the comments your suggestions!
Looking for more healthy lunch box ideas for kids or healthy family meal planning ideas?
You might also want to check out some of these other articles and recipes on our blog:
Sign up for our weekly newsletter for a healthy recipe of the week (and nutrition articles and videos with a balanced living philosophy to help encourage healthy habits but still save room for your favorites). Our nutrition newsletter is written by the Calgary Nutritionists on our team who each hold a professional Registered Dietitian license to ensure you are getting credible advice.
CLICK HERE TO SIGN UP FOR OUR WEEKLY NEWSLETTER: NUTRITION NEWSLETTER BY OUR CALGARY DIETITIAN TEAM.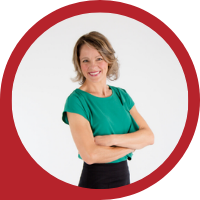 About Andrea Holwegner
CEO, Registered Dietitian, Counseling Practice Director & Professional Speaker
Andrea the «Chocolate Loving Nutritionist» is founder and CEO of Health Stand Nutrition Consulting Inc. since 2000. She is an online nutrition course creator, professional speaker and regular guest in the media. Andrea is the recipient of an award by the Dietitians of Canada: The Speaking of Food & Healthy Living Award for Excellence in Consumer Education....Read more