Nutrition guide for the holidays
How to eat well over the Christmas holiday period
By Andrea Holwegner, Health Stand Nutrition Consulting Inc. – for CBC.ca
If you are like me, at this time of year you might be dreaming about mouth-watering shortbread, creamy eggnog and festive chocolates.
The month of December is definitely known to be challenging for those trying to be health-conscious or lose weight.
The good news is that you can still indulge in enjoyable holiday eating without it adding to your waistline or sabotaging your health.
7 tips for surviving the holidays:
KEEP THINGS IN PERSPECTIVE The first thing to consider is how big of a challenge the holiday season will be for you. Over the years, I've met many people who are stressed about blowing their diet over the holidays when it really wasn't that big of a deal. Try to keep it in perspective. It's not what you do between Christmas and New Year's Day, but what you do between New Year's and Christmas that really counts. Do not expect perfection, but plan ahead to make good choices. If you are trying to lose weight, it is probably wise to choose to maintain your weight over the holidays rather than try and lose weight.
TAKE SOME OF THE FOCUS OFF FOOD While many of us (myself included!) come from a family that celebrates most events with decadent festive foods, why not start a new holiday tradition that involves an activity or a craft that does not emphasize food? Some examples may include: snowshoeing, skating, a holiday craft, attending craft sales, or an evening walk to enjoy the Christmas lights.
DRINK SMART Drink plenty of water throughout the holidays. When you are dehydrated it may trigger you to overeat since often your body gets signals of thirst mixed up with hunger. Alcoholic beverages can also add up to be many "empty calories" [high in calories with low nutritional value]. A small glass of rum and eggnog can have about 320 calories! Between drinks containing alcohol, try a low-calorie beverage such as mineral water or club soda with a bit of cranberry juice.
THINK ABOUT YOUR THINKING… One of the biggest challenges over the holidays is that we can easily talk ourselves into either under- or over-indulging. Our brain is wired to think about things as good or bad, and getting into a mindset of moderation is tough for many of us to do. Healthy holiday eating is absolutely about choosing to celebrate and enjoy your favourites. It is not necessary to give up your family traditions and skip out on goodies at holiday parties. Be aware when you have slipped into "all or none" thinking. All is not lost if you decide to indulge. If you get off track and overdo it one day, get back on track the next day. Also try to notice when you are eating in a way that really doesn't make you feel comfortable. Ask yourself if you are eating because you are stressed, lonely or bored, rather than truly hungry.
USE YOUR CALENDAR Something that has worked for many of my clients is to take a calendar and "X" off the days you are likely to overeat or gobble down special holiday treats. For example, you may start by placing an "X" on Dec. 24, 25 and 26, as well as New Year's Eve, New Year's Day and days with any holiday parties you know you will be attending. For many people, even listing the number of holiday functions and parties you will be attending may result in a calendar full of X's! Try to make healthier choices on other days in the month that do not have an "X" placed beside it. This type of planning allows you the freedom to enjoy the holidays but not overdo it.
EAT SMART AT HOLIDAY PARTIES Before going out to a party, have a nutritious nibble or small snack so you don't arrive ravenous. Try some toast and peanut butter, or yogurt and banana. Give yourself permission to enjoy the holiday treats — but practise portion control. When you are at the party, distance yourself from the food table and remember to mingle more than you munch. If you are the host or taking something to a potluck or party, be sure to prepare some healthier alternatives among the holiday treats. Try a nutritious appetizer such as pita bread and hummus, or whole-wheat baguette with bruschetta, or fall back on a traditional plate of raw veggies with light dip or fruit plate. You can't complain that there's nothing healthy to eat at a party if you have not contributed yourself. There will always be someone else at the party who will appreciate this break from the decadence of the holidays.
SQUEEZE IN SOME EXERCISE As tough as it is, don't neglect your exercise program over the holidays. Get out and do plenty of walking if you simply can't adhere to your normal routine. Try exercising first thing in the morning, since often as the day progresses it becomes harder to squeeze it in. Take the stairs instead of the elevator. When shopping, park far from the store entrances and walk an extra two laps around the mall when finished.
15 Tips for the last 15 days of the year
Pack a water bottle when you are shopping or running errands.
Pack a healthy snack for the mall such as trail mix or mandarin oranges.
Have a snack such as a bowl of cereal or wedge of cheese with an apple before a party so you don't arrive too hungry.
For every alcoholic drink you have, drink a glass of water, or soda water in between.
Dress warmly and take a family walk after dinner to check out the Christmas lights.
Before you go for seconds, wait 15 minutes and decide if you are still hungry.
At holiday parties, distance yourself from the food table and put everything you eat on a plate. Research shows if you graze by a table of food without putting it on a plate you will likely eat more.
Make a big pot of homemade soup and freeze extras to warm up for busy days and cold nights.
Include a green vegetable in your holiday dinner such as spinach, asparagus, brussels sprouts or green beans.
Include a short daily activity to help reduce stress and stay active [e.g., a 10-minute stretch or a 10-minute walk].
Eat holiday dinners and special treats S-L-O-W-L-Y and truly enjoy every bite.
Buy a gift for good health, such as a healthy cookbook, yoga/Pilates class pass, pedometer or heart-rate monitor.
Make some healthy food choices when you are on your own and allow some flexibility during social occasions.
Focus on all the healthy decisions you made, and don't stress about the unhealthy ones.
For healthy holiday recipes and nutritious winter meal ideas, visit www.healthstandnutrition.com.
Andrea Holwegner — the Chocoholic Dietitian — is a registered dietitian and founder and president of Health Stand Nutrition Consulting in Calgary.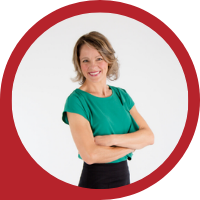 About Andrea Holwegner
CEO, Registered Dietitian, Counseling Practice Director & Professional Speaker
Andrea the «Chocoholic Nutritionist» is founder and CEO of Health Stand Nutrition Consulting Inc. since 2000. She is an online nutrition course creator, professional speaker and regular guest in the media. Andrea is the recipient of an award by the Dietitians of Canada: The Speaking of Food & Healthy Living Award for Excellence in Consumer Education....Read more