Top 3 Nutrition New Year's Resolutions for 2019
The best dietitian recommended healthy eating advice to look and feel your best
There is much debate over if setting a nutrition New Year's resolution is even helpful. As a Calgary Nutritionist and Registered Dietitian for almost two decades, I know first-hand just how impactful setting the right nutrition New year's resolution can be to achieve the biggest shifts in your health, energy, and weight.
The Reason Many Nutrition New Year's Resolutions Fail
Unfortunately many people set a well-intended nutrition New Year's Resolutions that is either destined for failure since it was too extreme to sustain. Others choose too many goals to try and focus on and lack enough clarity to specifically be able to measure success.
I've also noticed a really common issue is that the nutrition resolution may be healthy but have little impact on the results they are trying to achieve. In this case it can feel like you are working hard and not getting paid.
The Best Dietitian Approved Healthy Eating Strategies
There are hundreds of suggestions, healthy foods and eating changes I could have suggested for your New Year's Resolution. I contemplated the most important nutrition changes that could have the most profound influence on your overall health, energy levels and help you move towards your personal best weight.
Below you will find the top 3 nutrition New Year's Resolutions I think are some of the most important nutrition changes to explore. Which one could you work on this year?
1. Feel More, Track Less
Your smart phone is not a nutrition expert on you.
You are not a robot and your hunger and fullness will change daily like the weather. If you are full it is OK to leave food on your plate. If you are still hungry give yourself permission to have a little more. Remember it can take time for your brain and your body to connect and determine fullness. Slow down and listen to what your body is saying. When you do, your body doesn't let you down. No judgement. Honor your hunger.
You don't need to track calories on an app.
Many programs and apps irresponsibly provide a reward that you are allowed to eat more on days that you exercise and a punishment of less food if you have not exercised. This fundamentally goes against normal intuitive eating patterns. In fact, you may find your appetite is lowest on active days and your body will cure you to eat more to recover on days off. You are worthy of eating regardless of your physical activity patterns. Learning to identify the different kinds of hunger, trust your body and respond appropriately to your needs is key for success.
2. Time Block Meal Prep
You may not want to spend time in the kitchen but good health depends on it
If you really don't enjoy cooking you may be hoping there is a way to totally eliminate all meal prep to instead go with convenience solutions. While there are certainly time saving tips we teach our clients every day in our Calgary dietitian practice, eating well does take time and effort. It must be prioritized in your schedule.
Use the 5 minute time block solution
Constantly feeling stressed by meal planning? Grabbing too many convenience foods? Tossing out fruits and veggies from your refrigerator that just didn't get prepared? You need a better system. You don't need to be a professional planner or devote your entire Sunday to meal prep for the week, but you do need to be intentional about time blocking meal prep. Start by spending 5 minutes once per week to time block your calendar for grocery shopping and meal prep. Most people need at least 1/2 hour each day at supper or longer periods on the weekend blocked off to prepare and cook food. Many people you may underestimate how long it takes to acquire, prepare and cook. If it's not on the calendar you will likely find it hard to fit in.
3. Make Veggies Awesome & Abundant
The vast majority of people could benefit from increasing the number of vegetables they eat each day. While most people know this, knowledge often does not lead to action. Some of the barriers is simply not understanding how to cook vegetables in a way that tastes good and adding enough variety throughout the day to hit your targets.
Let the vegetables drive dinner
When you are meal planning start with the veggies first for a little more love and attention. Build your repertoire of tasty recipes and cooking methods so you will actually want to eat veggies. Start with these two simple tips:
Learn how to roast veggies (my favorite way to eat just about any veggie) – Watch this video on how to roast veggies
Learn how to make homemade vinaigrettes so your salads don't suck – Watch this video on how to make a vinaigrette in under 1 minute
Use my "2 by 2" rule for veggies
To make the goal to eat more vegetables more actionable, use my "2 by 2 rule" which simply states "eat two different vegetables, twice per day."
Give yourself more than one opportunity each day to eat vegetables. You likely won't eat enough if you only have them at supper. Add raw veggies and dip, salad or vegetable soup as a daily snack or as part of lunch. At supper, instead of only having a cooked vegetable or a salad, focus on having both. As an adult, aim to have half of your supper plate full of vegetables. In order to do this, go for steamed, grilled, roasted vegetables as well as a few raw veggies or a salad.
The New Year is a great time to take action on a healthy eating goal. Which one of the above 3 goals sounded like the best fit for you?
Book an appointment for nutrition counseling by our top Calgary nutritionists and our virtual online Registered Dietitians. For more information visit Calgary Nutrition Counseling
Take our free online dietitian created nutrition assessment to find out how healthy you are eating here: Personal Nutrition Scorecard
For a more in-depth discussion on the top 3 nutrition New Year's resolutions AND the top food and nutrition trends for 2019 watch the longer discussion that happened on Global TV Facebook Live here: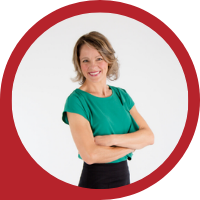 About Andrea Holwegner
CEO, Registered Dietitian, Counseling Practice Director & Professional Speaker
Andrea the «Chocolate Loving Nutritionist» is founder and CEO of Health Stand Nutrition Consulting Inc. since 2000. She is an online nutrition course creator, professional speaker and regular guest in the media. Andrea is the recipient of an award by the Dietitians of Canada: The Speaking of Food & Healthy Living Award for Excellence in Consumer Education....Read more