Online Corporate Wellness Programs
How Companies are Providing Virtual Wellness Support and Initiatives
Since March, online corporate wellness programs have become increasingly important for businesses to support their employees' mental and physical health. With people working from home, the well-being of employees' families is also a significant concern because when families are suffering, the employee will suffer also. Employers are focusing on helping their employees stay healthy, cope with the additional stresses brought on by the pandemic and promoting mental well-being. 
In business, the bottom line matters. Businesses must consider more than ever that healthy, focused employees are more productive – while stressed, unhealthy and individuals are less productive and more prone to miss work. Post-pandemic, it's likely that many employees will continue to work remotely at least part-time, and virtual wellness initiatives will remain important to companies and their employees. 
Canada's Healthy Workplace Month (CHWM) each October is an opportunity to raise awareness around the importance of workplace health. The 2020 theme is, "Great employers create thriving workplaces". Whether an employee's workplace is at their home, in a co-working space or at their business location, employers who provide online corporate wellness programs and virtual corporate wellness initiatives are creating a healthier workplace and employees. 
Nutrition For Mental Health

Research shows that diet is as important to mental health as it is to physical health. What someone eats impacts their overall mental health, mood and how they feel each day. The food-mood connection can be positive or negative. Your food choices can uplift mood, energy and overall mental health. Unfortunately what and how we eat can also negatively lower mood, productivity and your ability to concentrate. It can also increase the risk of anxiety and depression. Employee mental health is a vital consideration for building healthy workplaces. 
Virtual Workplace Nutrition Counseling
Health Stand Nutrition dieticians have offered virtual nutrition and wellness consultation services to companies and individuals for several years. Online nutrition counseling is cost-effective, practical and in some cases can cause less anxiety compared to face-to-face counseling. When the world turned upside down in 2020, we were quickly able to transition our on-site workplace nutrition and wellness programs and individual counseling to virtual services. 
People's lives have changed, and people have become more accustomed to online services, programs and communications. Many companies have launched new virtual wellness initiatives to promote the health and well-being of their employees. Employees' needs have changed, and the resources and tools they need to help cope with the many changes due to the pandemic have to change also. A recent New York Times article spoke about the silent breakfast wellness practice, a mindfulness technique to help prepare for the day ahead. 
Over the past 6 months, I've been excited by the virtual workplace wellness and nutrition initiatives I've seen companies launch to support the physical and mental health of their employees and employees' families. 
Here are a few ideas for online corporate wellness programs and initiatives that companies I've worked with have launched for their staff: 
Quiet Fridays: No Zoom or other virtual meetings to allow people to catch up on their work and to beat Zoom fatigue.

No lunch meetings: No meetings over lunch so people can step away to take a break, refuel with good nutrition or attend to family commitments.

Flex time: New flex-time policies and a philosophy of it is not about WHEN you work but about getting work done.

More personal days: 10 personal emergency days.

Mandatory mental health training for leaders.

Surprise wellness days and surprise days off.

Management taking a salary cut to fund wellness support and initiatives.

Live well committee: The committee has brought in virtual speakers, online fitness programs and is sharing mental health stories from staff members who are willing to talk about their own issues in mental health and be a little vulnerable to provide support to those that might feel alone. 

Project thank you: Gift certificates for meals for family time. 

6 weeks of wellness: A 1 ½  month-long campaign with external experts, a Q and A with a physician, mindfulness sessions and insurance provider webinars. 

Wellness wednesday initiatives: Internal company communications such as encouraging random coffee dates with someone they don't know. 

Encouraging sharing of personal stories of how you've overcome a mental health struggle to help others feel less alone in their struggle.

Adding a wellness session, healthy eating session or cooking demo to the conference or company meetings either on a webinar platform or more small group casual Zoom meetings encouraging more engagment and interaction.
Wellness Starts At The Top
Whether your corporate wellness program is virtual or onsite, wellness starts at the top. Corporate wellness works better when leaders walk the talk. Company leaders can inspire employees to adopt healthier lifestyles and take control of their personal health but setting an example, and sharing their successes – and failures. Leading by example is a powerful strategy to encourage employees to want a healthier lifestyle. 
10 Practical Tips for Leadership Teams to Help Walk the Talk When it Comes to Wellness:
Lead by example at home and work.

Encourage walking meetings if possible.

Remove pop from your workplace and funnel that budget for 'Wellness Wednesday' food or online classes or vouchers for healthy food.

Percolate productivity during long online and in-person meetings with Food + Fluids + Fitness (this strategy to 'move it to lose it' can be especially helpful for online meeting fatigue). 

Look for wellness champions and start team meetings with a story, tip or shout out.

Make a mandatory work policy for lunch-free meetings.

Invite spouses to attend wellness initiatives.

Ensure

Registered Dietitians

are covered under your company benefits.

At home generate JOY when it comes to cooking (sight, smell and sound influence cognitive load and enjoyment).

At home hold the dinner hour 100% sacred. Mandatory home policy for "no technology at the table" have your kids hold you accountable. 
How To Shift to Online Corporate Wellness Programs
Loneliness and isolation are detrimental to workplace health and productivity. Working from home can be isolating for people used to social interactions at work and conversations with their peers throughout the day. Months of self-quarantine can negatively impact remote worker's mental health. Fear about their health and the economy can hurt morale. Weeks of isolation can be detrimental to their eating and exercising habits.
The first step to managing employee wellness is to recognize that  Employers who offer online wellness programs can help employees cope during the pandemic and post-pandemic. Many virtual wellness programs fit the needs of employees who are working from home for flexibility and convenience. On-demand webinars, workout sessions and other forms of remote instruction and information allow people to participate when it's convenient – versus when it's convenient for the employer.  
To help your company shift to online corporate wellness programs and virtual wellness initiatives, encourage your leadership to: 
Offer online workout program memberships, links to free exercise resources and encourage employees to take movement breaks throughout the day.

Encourage virtual "water cooler" conversations with co-workers.

Host biometric health screenings .

Provide gift cards for delivery of at-home healthy food options.

Invite wellness and productivity experts such as Registered Dietitians, Psychologists and Physicians to speak to your employees.

Create internal posting and newsletters with healthy messaging, recipes and fitness tips. 

Announce the priority of your wellness program on social media and challenge your community to join in.

Showcase employees who have made a positive change in their wellness journey during the pandemic.
Try Our Employee Wellness Newsletter
Our NEW quarterly co-branded online nutrition newsletter license is for your company's intranet, email blasts, newsletter, wellness portal and your physical locations. Ask me how we can bring wellness news and tips to your employees! 
As a Registered Dietitian and workplace wellness expert I specialize in helping elevate health, mental health and productivity through healthy eating.  Find out more about my virtual professional speaking engagements and other workplace nutrition initiatives here:  WORKPLACE NUTRITION


Find out more about the Virtual Dietitian services provided by my team of Online Nutritionists specializing in meal planning, weight concerns, emotional eating, eating disorders, digestive health, heart health, diabetes, sports nutrition and more here:  Dietitian Nutrition Counseling Programs.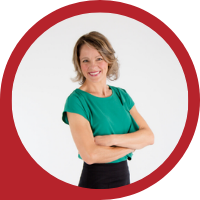 About Andrea Holwegner
CEO, Registered Dietitian, Counseling Practice Director & Professional Speaker
Andrea the «Chocoholic Nutritionist» is founder and CEO of Health Stand Nutrition Consulting Inc. since 2000. She is an online nutrition course creator, professional speaker and regular guest in the media. Andrea is the recipient of an award by the Dietitians of Canada: The Speaking of Food & Healthy Living Award for Excellence in Consumer Education....Read more