Potato or Sweet Potato Shepherd's Pie Recipe
How to Make Shepherd's Pie Two Ways
If you are looking for a family friendly weekday meal you can serve fresh (or from the freezer) try this potato or sweet potato shepherd's pie recipe. Having the option to swap out potato or sweet potato and a few minor seasonings allows you to use whatever you've got in the fridge or use up leftover mashed potatoes from a previous meal. It also allows you to "cook once and eat twice" (or more) if you are trying to stock up your freezer for a few extra meals for busy weekday nights. Serve shepherd's pie with a tossed green salad or a plate of raw veggies and dip.
Makes 4-6 servings
What you need:
1 pound (500g) lean ground beef
1 medium onion, finely chopped
2 large cloves garlic, minced
3 carrots, minced or grated
1/2 cup frozen peas
1/2 cup frozen kernel corn
1/3 cup tomato paste with 1/3 cup water (or 1 can tomato sauce that is 213 ml or 7.5 oz.)
1 tbsp Worcestershire sauce (ensure gluten-free if making this recipe for someone with celiac disease)
Salt and pepper to taste
1/4 tsp dried thyme (or a pinch of cinnamon, nutmeg and allspice if making the sweet potato variation)
2 cups mashed potatoes (or 2 cups of mashed sweet potatoes)
Paprika
How you make:
In a large skillet or frying pan over medium heat cook the ground beef until browned and then add the onion, garlic and carrots and cook until tender. Add the peas, corn and tomato paste (or tomato sauce) and Worcestershire sauce. Simmer for a few more minutes stirring up any brown bits from the bottom of the pan.
If making the regular potato version add the thyme. If making the sweet potato version add the cinnamon, nutmeg and allspice.
Place the meat mixture into a 2 litre (8 cup) casserole pan or into several smaller casserole dishes or pie plates depending on how much you need for your family.
Spread mashed potatoes or sweet potatoes on top and sprinkle with paprika.
If eating fresh bake at 350F for approximately 35-50 minutes until heated throughout. If freezing for later cover with tinfoil and place in an airtight plastic bag.
Tips:
If you don't have leftover mashed potatoes boil up 5 medium potatoes (or 2 medium sweet potatoes).
You can also make mini sweet potato shepherd's pie cups for school and work lunches in small glass containers that can easily be reheated in the oven or microwave.
Nutrient analysis based on 1/6 of the recipe using white potatoes:
333 Calories
27 g Carbohydrates
28 g Protein
12.8 g Fat
3.9 g Fibre
Nutrient analysis based on 1/6 of the recipe using sweet potatoes:
349 Calories
30 g Carbohydrates
28 g protein
12.9 g Fat
5.2 g Fibre
We hope you've enjoyed this recipe for potato or sweet potato shepherd's pie!
Looking for more simple meal planning tips and healthy recipes for a healthier lifestyle?
Sign up for our weekly newsletter for a healthy recipe of the week (and nutrition articles and videos with a balanced living philosophy to help encourage healthy habits but still save room for your favorites). Our nutrition newsletter is written by the Calgary Nutritionists on our team who each hold a professional Registered Dietitian license to ensure you are getting credible advice.
Click here to sign-up for our free weekly nutrition newsletter: Nutrition Newsletter by our Calgary Nutritionist / Online Dietitian team.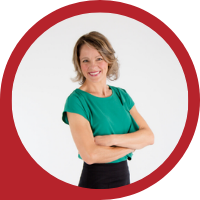 About Andrea Holwegner
CEO, Registered Dietitian, Counseling Practice Director & Professional Speaker
Andrea the «Chocolate Loving Nutritionist» is founder and CEO of Health Stand Nutrition Consulting Inc. since 2000. She is an online nutrition course creator, professional speaker and regular guest in the media. Andrea is the recipient of an award by the Dietitians of Canada: The Speaking of Food & Healthy Living Award for Excellence in Consumer Education....Read more