Simple Peach Cobbler Recipe
Try this easy summer peach dessert!
It's tough to beat a fresh peach cobbler for a summer dessert! If it is too hot to turn on the oven you can also place this on the top rack of your BBQ and cook outside.
Recipe from: www.myrecipes.com
Makes 10 servings
What You Need:
1/2 cup unsalted butter
1 cup all-purpose flour
2 cups sugar, divided
1 tablespoon baking powder
Pinch of salt
1 cup milk (1% or any type you have)
4 cups fresh peach slices
1 tablespoon lemon juice
Ground cinnamon or nutmeg (optional)
How to Make:
Melt butter in a 13- x 9-inch baking dish.
Combine flour, 1 cup sugar, baking powder, and salt; add milk, stirring just until dry ingredients are moistened. Pour batter over butter (do not stir).
Bring remaining 1 cup sugar, peach slices, and lemon juice to a boil over high heat, stirring constantly; pour over batter (do not stir). Sprinkle with cinnamon, if desired.
Bake at 375° for 40 to 45 minutes or until golden brown. Serve cobbler warm or cool.
We hope you liked this peach cobbler recipe! Let us know in the comments if you have other favorite fruits to add into a cobbler recipe or other peach desserts!
If you liked this peach cobbler recipe you are also going to like this recipe as it is one of my favorite ways to use peaches in the summer: Grilled Peaches with Honey Mascarpone Cheese Recipe
Nutrients per serving:
311 Calories
55 g Carbohydrates
3 g Protein
9.9 g Fat
1.3 g Fibre
Looking for more simple meal planning tips and healthy recipes for a healthier lifestyle?
Sign up for our weekly newsletter for a healthy recipe of the week (and nutrition articles and videos with a balanced living philosophy to help encourage healthy habits but still save room for your favorites). Our nutrition newsletter is written by the Online / Calgary Nutritionists on our team who each hold a professional Registered Dietitian license to ensure you are getting credible advice.
Click here to sign-up for our free weekly nutrition newsletter: Nutrition Newsletter by our Calgary Nutritionist / Online Dietitian team.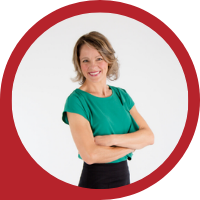 About Andrea Holwegner
CEO, Registered Dietitian, Counseling Practice Director & Professional Speaker
Andrea the «Chocolate Loving Nutritionist» is founder and CEO of Health Stand Nutrition Consulting Inc. since 2000. She is an online nutrition course creator, professional speaker and regular guest in the media. Andrea is the recipient of an award by the Dietitians of Canada: The Speaking of Food & Healthy Living Award for Excellence in Consumer Education....Read more