Start Your Day With a Healthy Breakfast
Simple meals for busy mornings
Breakfast is said to be the most important meal of the day. Why is it also the one we so often miss? If you find it hard to eat a healthy breakfast, you're not alone. Read on to find solutions to your top breakfast challenges. Learn how early in the day you should eat, and how to plan fast healthy options that will fuel you for the day ahead.
What are the top five breakfast challenges?
1. Skipping or delaying breakfast
The word breakfast literally means to 'break the fast.' You need food to help your body burn energy efficiently throughout the day. To be at your most productive and energetic, a healthy and nutritious breakfast is essential. It also helps you to move toward or maintain your personal best weight.
If you find yourself munching all evening, the first question to ask is, "Did I have a balanced breakfast?" If you skip breakfast and try to rely on willpower to control overeating in the evening, you will likely fail. It is easy to justify overeating when you miss your first meal of the day. This 'starve early, binge later' mindset does not help with managing a healthy weight, and can create an unhealthy relationship with food.
2. Running on coffee alone
Coffee can give a false sense of energy. For some people, coffee hinders appetite. Make a deal with yourself that you cannot have your morning brew until you have eaten. This strategy has helped many frequent breakfast skippers become avid breakfast eaters.
3. Missing carbohydrates
Carbohydrates from foods like grains, starches and fruit are essential for key vitamins, minerals and fibre. They also provide energy for your muscles, and are the exclusive source of fuel for your brain. Skipping carbohydrates can leave you feeling tired and unfocused. You may also find your mood suffers.
Try an experiment. Compare how you feel later in the day after a breakfast with a vegetable omelette versus the same vegetable omelette along with toast or oatmeal. Note the difference between fullness and satisfaction. Protein satisfies your appetite and helps you to feel full, while carbohydrates satisfy your brain.
4. A lack of protein
Meals like oatmeal and fruit or toast and juice are a good start. However, without protein-rich food, meals will not sustain you longer than an hour or two. Protein-rich foods like nuts, eggs or meat provide you with energy and keep you feeling full longer.
Note that dairy foods like milk, yogurt and cheese, as well as soy milk, are also good sources of protein. Did you know that one cup (250 mL) of milk (and most soy milks) supplies nine grams of protein, while an egg has six grams of protein?
5. Frustration with failure
While some people are able to commit 100 per cent to making a change, most find that as soon as life gets busy or stressful, the new change is difficult to maintain.
Why not set a goal that challenges you to feel positive and succeed? If you often skip breakfast, start by committing to have one meal choice you enjoy and nailing breakfast three days this week. Once you get going, you can work on variety and commit to a daily habit.
How early in the day should I eat breakfast?
When you eat your breakfast will depend on what you do now.
In a best-case scenario, aim to eat breakfast within an hour or so of waking up.
If you have skipped breakfast your entire life, start with a bite-sized change. Begin by having breakfast as soon as you can manage to eat something without feeling sick. Chances are you can find a window before lunch that could work for you.

Breakfast Scorecard
| | |
| --- | --- |
| I ate within an hour of waking. | 2 points |
| My meal included grains or a starchy food like toast, cereal, pasta or rice. | 2 points |
| I added fruit or vegetables, like fresh fruit, dried fruit, canned fruit, unsweetened juice, vegetables or vegetable juice. | 2 points |
| I included a source of protein, like nuts, nut butter, eggs, cheese, cottage cheese, yogurt, milk, soy milk, protein powder, meat, poultry or seafood. | 2 points |
| My meal size was enough to keep me energized and full for three to five hours. | 2 points |
Do your points add up to 10? Great job – your breakfast scored 100 per cent!
Six breakfast ideas for on-the-go mornings
Here are some ideas for foods you can eat at home, in the car, on the bus, or once you arrive at work.
1-PB&J waffles
On the weekend make a big batch of waffles. Refrigerate or freeze them to eat during the week. Reheat in the toaster and top with peanut butter (or your favorite nut butter) and jam or honey.
Pack a fresh fruit to go. Peel or slice an orange or grapefruit for easy eating on the go.
2-Frittatas or egg muffins
Bake a vegetable and potato frittata, and refrigerate the extra slices. They are tasty hot or cold.
Muffin tin eggs are easy to make ahead at night or on the weekend. Stir together:
6 beaten eggs
1/2 cup grated cheese
1.5 cups diced ham (optional)
3 tbsp. chopped chives
1/2 cup breadcrumbs
Spoon into greased muffin tins and bake at 375 F for 15 to 20 minutes. Enjoy hot or cold
Pack fresh fruit or a handful of dried fruit like figs, apricots or dates.
3-Big batch muesli or overnight oats
In a medium mason jar combine:

1/3 cup quick oats
3 tbsp. seeds (chia seeds, ground flax seeds or hemp hearts)
1/2 cup plain kefir or yogurt
Drizzle of maple syrup or honey
1/2 cup fresh or frozen berries to top the jar
Prepare a few jars at once to save time.
Have a 'backwards day' by serving pancakes for supper tonight. Make enough so that you will have extras to freeze or refrigerate for upcoming breakfasts.
Boost the protein content of your favourite pancakes by stirring in hemp hearts. Three tablespoons contain 10 grams of protein.
Spread cream cheese and jam between two pancakes to create a sandwich.
Pack a fresh fruit to go. Wash grapes and enjoy, or slice kiwis in half and eat them with a serrated grapefruit spoon.
5-Quinoa or granola yogurt parfait
Buy or make a big batch of granola that you can top with yogurt, fresh or dried fruit and mixed chopped nuts or seeds.
For a different variation, make a quinoa yogurt parfait. Cook the quinoa in milk, soy milk or almond milk and stir in nut butter. Freeze individual portions of quinoa to thaw and serve chilled in yogurt parfaits with yogurt and fruit.
Try a citrus parfait with oranges and chopped almonds, or a tropical parfait with mango, pineapple and coconut.
6-All-in-one crunch mix
If breakfast is often hit and miss for you, assemble this all-in-one crunch mix. You can grab it on the go or keep it stashed in your car, bag or desk at all times. To make the mix, line up your plastic containers or small mason jars on the counter. Fill them with a mix of:
dried fruit like raisins, dried cranberries, dried figs, dates, prunes, dried apricots
nuts or seeds like almonds, pecans, walnuts, cashews, peanuts, pumpkin seeds or sunflower seeds
long strands of coconut
a mix of ready-to-eat breakfast cereal or small crackers.
You can find more breakfast ideas in these posts:
By making small changes, planning ahead and choosing a balanced breakfast, you can get every day off to a healthy start!
Looking for more simple meal planning tips and healthy recipes for a healthier lifestyle?
Sign up for our weekly newsletter for a healthy recipe of the week (and nutrition articles and videos with a balanced living philosophy to help encourage healthy habits but still save room for your favorites). Our nutrition newsletter is written by the Calgary Nutritionists on our team who each hold a professional Registered Dietitian license to ensure you are getting credible advice.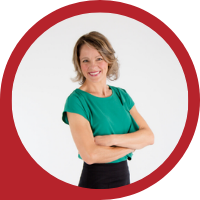 About Andrea Holwegner
CEO, Registered Dietitian, Counseling Practice Director & Professional Speaker
Andrea the «Chocolate Loving Nutritionist» is founder and CEO of Health Stand Nutrition Consulting Inc. since 2000. She is an online nutrition course creator, professional speaker and regular guest in the media. Andrea is the recipient of an award by the Dietitians of Canada: The Speaking of Food & Healthy Living Award for Excellence in Consumer Education....Read more