How to Stop Dieting & Ditch Food Rules Once and For All
Intro to food rule bending: Ditch the diet mentality and find balance & joy in eating
If you have ever thought about dieting or been on a diet, this article is to encourage you to stop dieting. There is a way to stop dieting and achieve your personal best weight still eating foods you love. Now more than ever there are food rules, trendy eating regimes and fad diets that tell you which foods are good or bad and how you should eat.
If you have experienced dietary chatter in your mind about what you "should" eat and are looking to move away from dieting behaviors and the noisy thoughts that steal enjoyment from eating, you are not alone. Improving your overall relationship with food and your body is one of the most important aspects of what our Registered Dietitian team works on with our clients struggling with health issues, weight loss concerns or eating disorders.
Watch this previous Global TV News segment on how to stop dieting and bend food rules: 
Why do food rules develop?
While food rules can develop through a broad range of personal experiences, cultural influence, family upbringing and environmental triggers, one of the other ways to think about why food rules develop is to understand your brain. The human brain can be divided into two broad hemispheres that carry out very different functions: the left brain and the right brain.
 The best words to describe the LEFT BRAIN are:
Logic, linear, control, accurate
Analytical, strategic, familiarity, patterns
Academics, science, math and language
The best words to describe the RIGHT BRAIN are:
Feeling, creativity, imagination
Intuition, freedom, passion, unstructured
Art, music, poetry, taste, emotion
The left brain appreciates structure, rules and simplified black and white thinking (especially in response to stress or if you are anxious or depressed about your weight or appearance). All or none eating habits or labeling food as either good or bad can therefore be easy to do. Daily calorie tracking apps appeal to your left academic brain and can easily lead you to lose sight of the big picture and how you feel.
Diets can hijack your left brain's ability to access the right brain for input which is related to intuition. Losing your intuition about what your body is communicating about food in the moment from a mind, body and spirit perspective is harmful for your long-term well-being and overall food and body relationship.
Questions such as what am I hungry for, am I fully satiated and what does this food do to my mood? involve the right brain and are linked to feelings, taste and flexibility. Diets that provide a list of forbidden foods and set portions of diet foods goes against the intuitive right brain that embraces "colorful" creative thinking (i.e. not black and white thinking).
How can we go about breaking food rules and stop dieting? 
There are 3 steps to stop dieting and ditch food rules:
1. Become aware of your food rules
All change starts with awareness of our thoughts. Spend some time exploring the question "What are my food rules?"
To help you generate some thought think about these 10 questions:
Am I able to eat without feeling guilty?
Do I have a list of "good foods" and "bad foods"?
Have I labelled my eating as a "good day" or "bad day"?
Do I experience pleasure and satisfaction from eating a meal?
What do I feel I "should" or "should not" eat at home or when eating out?
Do I weigh or measure food or count anything (calories, points, grams of fat/protein/carb)?
What messages about eating, food choices, cleaning your plate, snacking, dessert or weight were provided by my parents or caregivers growing up?
Do I have rules about what time of day or how much is acceptable to eat or drink at one time?
Do I eat differently in front of other people or compare what I eat with other people?
Do I eat differently if I have or have not exercised?
2. Become a left AND right brain eater
Eating fully = healthfully (left brain) + soulfully (right brain)
There are no bad foods, only bad diets. It's all about choice. Nothing is off limits. Just like budgeting your finances, you need to develop the skill and awareness of spending and saving where it counts. Similar to our bank account, what we choose to spend on is highly individual. There will always be key basic needs we must spend on, and then there is discretionary room for fun.
Use your left brain that is logical, analytical and structured to build daily and weekly healthful foods and meals chosen for nutrition and good health and productivity.
To access your right brain be sure to spend some quiet time reflecting on what foods make you happy and which soulful foods chosen for taste, enjoyment and socializing you appreciate most. Allowing the creative and emotional right brain to flow is an important influence in becoming an intuitive eater to live your best life.
3. Reframe food rules to rewire the brain
Psychologists use the term cognitive flexibility (which I like to think of as reframing), to describe the ability to view a situation, event or thought from different perspectives. Reframing unconscious, automatic negative thoughts or food rules into more positive and realistic perspectives may seem initially hokey but the effects are profound when you work on this skill over time. Work on a handful of potential comebacks or reframe responses about negative thoughts or food rules. If you are stuck for answers, think about how you would respond to a friend as this may be easier to offer kind and compassionate words or insight. As you practice your food rules will become less intense and your automatic thoughts will move to those that are kinder.
Reframing a thought can rewire the brain.  
For example:
If you have struggled with your weight and bingeing on chocolate and sweets and then labelled them as forbidden foods here is the food rule or negative thought and some ideas for the reframe.
Food Rule:  "I can't eat this chocolate because I am fat"
Potential Reframe Ideas:
There are no bad foods, only bad overall diets
I am worthy of enjoying ALL foods
No one food contributes to weight gain or weight loss
Permission to eat chocolate regularly and guilt-free leads to more satisfaction with smaller quantities
When I eat chocolate, I will do so mindfully to savour and enjoy each bite
I am learning that somewhere between eating no chocolate and bingeing on chocolate mindlessly, is an amount that provides true satisfaction
Struggling to stop dieting?  Confused about the right balance of healthy foods and soulful foods? If you have an unhealthy relationship with food or your body, we can help.
The Health Stand Nutrition Dietitian team specializes in helping you stop dieting and instead develop a balanced living plan you can live with for life.  We can help you with meal planning, weight concerns, eating disorders, digestive health issues, sports nutrition and more.  Learn more about our nutrition counselling programs or contact us directly below to get more information.
You might also want to check out these previous articles on our blog: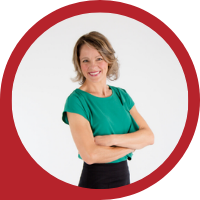 About Andrea Holwegner
CEO, Registered Dietitian, Counseling Practice Director & Professional Speaker
Andrea the «Chocolate Loving Nutritionist» is founder and CEO of Health Stand Nutrition Consulting Inc. since 2000. She is an online nutrition course creator, professional speaker and regular guest in the media. Andrea is the recipient of an award by the Dietitians of Canada: The Speaking of Food & Healthy Living Award for Excellence in Consumer Education....Read more