Streusel-Topped Rhubarb Muffins
Bake up a batch of these delicious rhubarb muffins for a treat
Springtime always makes me think about rhubarb.  Rhubarb is tart, delicious and found in many backyards – it's also a great source of fiber and Vitamin K. With Mother's Day around the corner, pheraps a mom in your life would enjoy these streusel-topped rhubarb muffins. This is an old family recipe for a sweet morning treat.  Tart rhubarb and the sweet crumb topping provide an amazing flavor combination! The sugar pools in little dimples that look like craters on the moon, so some people call these lunar muffins.
Makes 12 Muffins
What you need:
1.5 cups whole wheat flour
1 cup all purpose flour
1 tsp baking soda
1/2 tsp salt
1 1/4 cups brown sugar
1/2 cup vegetable oil
1 egg
1 cup buttermilk
1 tsp vanilla
3 cups chopped rhubarb
Topping
1 tsp unsalted butter
3 tbsp brown sugar
1/4 tsp cinnamon
How to make rhubarb muffins
Preheat over to 350F
Combine both flours, baking soda and salt in a large bowl
In a separate bowl, combine sugar and oil
Whisk in egg, buttermilk and vanilla
Toss rhubarb with dry ingredients
Add wet ingredients and mix just to combine
Spoon into prepared muffin tins
In a small bowl, mix cold butter, 3 tbsp brown sugar and cinnamon with a fork until it resembles coarse crumbles
Sprinke muffins with topping
Bake at 350F for 20 minutes

Nutritional Information
332.9 Calories
56 Carbohydrates
5 g Protein
10.3 g Fat.
2.9 g Fibre
We hope you enjoy this recipe for streusel-topped rhubarb muffins! Looking for other muffin recipes? Give these a try:
Looking for more simple meal planning tips and healthy recipes for a healthier lifestyle? Sign up for our weekly newsletter for a healthy recipe of the week (and nutrition articles and videos with a balanced living philosophy to help encourage healthy habits but still save room for your favorites). Our nutrition newsletter is written by the Online / Calgary Nutritionists on our team who each hold a professional Registered Dietitian license to ensure you are getting credible advice.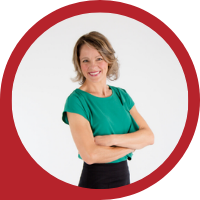 About Andrea Holwegner
CEO, Registered Dietitian, Counseling Practice Director & Professional Speaker
Andrea the «Chocolate Loving Nutritionist» is founder and CEO of Health Stand Nutrition Consulting Inc. since 2000. She is an online nutrition course creator, professional speaker and regular guest in the media. Andrea is the recipient of an award by the Dietitians of Canada: The Speaking of Food & Healthy Living Award for Excellence in Consumer Education....Read more