Top 3 Ways to Start Practicing Mindful Eating
Mindful Eating Doesn't Need to be Hard
The Center for Mindful Eating explains mindful eating as a mindfulness tool that helps us become aware of our thoughts, feelings, and physical sensations related to eating, reconnecting us with our innate inner wisdom about hunger and satiety.
Mindful eating is paying attention to what you are eating and evaluating it from an objective, non -judgmental stance. Try to think of yourself as your own science experiment and each experience with mindful eating is a test. Sometimes, the test will not work out in your favour and other times it will! When we use mindful eating as a way to as a way to discover foods for how they taste and how they make us feel instead of what they give us (calories, protein, carbs, vitamins, fibre, etc) we are able to better tune into our body and our body's needs.
My top 3 ways to START mindful eating are:
Check-on pre / mid / post intake
Before you eat, ask yourself how you are feeling emotionally and physically. How is your energy level? Are you experiencing any hunger cues? Are you looking forward to the food in front of you? Do you have any feelings or rules about the food item(s)?
When your meal or snack is half-finished, check-in again. How is that food tasting? Is it satisfying your hunger? Are you starting to feel full at all?
After you eat, one last check-in moment. Are you still hungry, full or satisfied with what you ate? Do you feel any emotions tied to that food such as guilt, disappointment, joy? How is your energy now?
Do only one thing, EAT.
No phone, no computer, no TV, no screens at all. No books or to-do lists. Maybe even no other people to talk to. This will feel awkward, but it allows you to give your full attention to the task at hand. It is with this kind of awareness that you will start to notice if you have food rules or judgments that creep up about how much or what you should be eating. You may notice your hunger and fullness cues are not as dull or quiet as you thought they were. You will start to learn more about the foods you eat, the foods you like and how different foods make you feel.
Pay attention to the experience of eating.
Make the food look good. Every time you eat, put it on a plate or in a bowl. Try your best to avoid eating out of a bag or a box or a jar.
Sit down to eat! Avoid standing at the counter, the cupboard or the fridge while eating. Avoid eating while in transit between places unless you really need to eat then.
These simple strategies will reduce the chance of distracted eating and allow for increased awareness of your emotional reactions and physical sensations while eating.
Read more about mindful eating in these previous articles from our Registered Dietitian Calgary blog:
Mindful Eating for Health and Meal Satisfaction: How You Eat is as Important as What You Eat
When is Mindful Eating an Effective Strategy for Eating Disorders?
How to Navigate Emotional Eating: What to Do When You Find Yourself Eating When You Are Not Hungry
Looking for more support on mindful eating, better health or eating disorder dietitian support?
Our Dietitian Calgary and Online Nutritionist services can help you create a healthy and joyous relationship with food and your body. You won't find any weird fad diets, unnecessary food restrictions and anyone trying to sell you shakes, supplements or so-called miracle cures here. As university trained Registered Dietitians, you can count on us for credible advice and practical meal planning so you don't have to stress about food anymore. You can achieve a healthy and joyous relationship with food and your body. Let's talk about what this can look like for you. CONTACT US.
As Registered Dietitians that specialize in weight concerns, emotional eating and disordered eating we can see you in our local Calgary nutritionist office or as an Online Dietitian by phone or video conferencing for virtual nutrition counseling. Read more about our nutrition counseling programs and book an appointment by our experienced Registered Dietitian team here: NUTRITION COUNSELING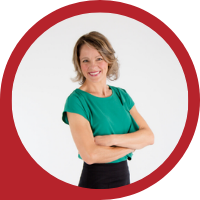 About Andrea Holwegner
CEO, Registered Dietitian, Counseling Practice Director & Professional Speaker
Andrea the «Chocolate Loving Nutritionist» is founder and CEO of Health Stand Nutrition Consulting Inc. since 2000. She is an online nutrition course creator, professional speaker and regular guest in the media. Andrea is the recipient of an award by the Dietitians of Canada: The Speaking of Food & Healthy Living Award for Excellence in Consumer Education....Read more