We've Been Nominated a Top Nutrition Blog
Top Dietitian Blog for Healthy Eating
When fitness training provider OrigiGym Centre of Excellence did a search of over 10,000 fitness professionals from their database, our Registered Dietitian blog was voted as one of the best nutrition blogs under the clean eating niche.
There were 52 blogs selected and since our blog certainly wouldn't fit under the categories of paleo, keto, vegan, vegetarian, recipe, dairy-free, gluten-free, or desserts, the closest match for where to categorize us would be under "clean eating." The interesting thing about this is, we consider our approach to nutrition better classified by the hashtags: #balancednotclean #antidiet #allfoodscanfit.
We've never chosen to use the words "clean eating" on our blog since to "eat clean" implies that anything that is not a perfect nutritional nerdy choice can be considered the opposite (dirty). Our philosophy will always stand for BALANCED (NOT CLEAN). This is because eating fully is about balancing healthful food choices (chosen for good health) AND soulful food choices (chosen exclusively for taste, social fun and joyous living). Our experience since the year 2000 in the nutrition field has taught us that failing to look at both parts of eating always leads to an imbalanced life.
We recently had this image created to illustrate this core philosophy of our nutrition counseling practice, online nutrition courses and all the articles, resources and that we do to help support our clients.
Our Philosophy of Balanced Living
We like to think of our left analytical brain as the part that is responsible for geeky nutritious foods and our right creative brain as the part that is responsible for taste, intuition and flexible eating. Overall our goal is to empower people to create a healthy and joyous relationship with food and their body.
Here is a summary of my answers to the questions OriGym asked me to respond to for their list of top nutrition blogs:
When you are on a mission to make a difference but don't like any of the job options available in public health, naturally you decide you must create your own opportunity. I founded Health Stand Nutrition Consulting Inc. in 2000 straight out of university when dietitians didn't really work much in private practice.
I'd watched my grandparents pass away with health issues and my dad struggle with advanced cardiovascular issues at a very young age.
Nutrition played a role in all of these situations and since I had always loved science, I became fascinated with understanding how and why what we eat impacted wellness.
I had also grown up in a home where my mom cooked yummy family meals and taught me the way around the kitchen.
While others in university were partying, my best friend and I (who was also a foodie) were making homemade noodles and other geeky things in the kitchen.
I have fond memories of long strands of noodles draped across bed sheets drying in our little apartment.
It was from this passion of marrying my love of food and natural curiosity for nutritional science that my business was born.
We now proudly empower our clients to create a healthy and joyous relationship with food and their body through our nutrition coaching programs, online courses and resources.
We specialize in achievement of health without guilt or complexity. We don't just give you advice on what to eat, we also show you the system of how to do it. We help take the guesswork out of what to do and in what order to boost your success.
No nonsense here. No forbidden foods or weird extreme eating plans that you won't sustain. As a registered dietitian for close to 20 years, every aspect of my business is grounded in practicality, science and sustainability.
I'm known as the chocoholic nutritionist for my approach to balanced living. We provide this guidance through individual nutrition counselling, workplace wellness initiatives, professional speaking engagements, media relations and online education/courses.
I have hand-selected a team of experienced dietitians who work with our clients individually in specific areas ranging from practical meal planning skills (even for people that don't like to cook), weight concerns, emotional/stress eating, eating disorders (anorexia, bulimia and binge eating disorder), pediatric issues, sports nutrition, high cholesterol, diabetes, IBS and other digestive issues.
What would I say the biggest challenge is about nutrition blogging?
The biggest challenge about nutrition blogging is combating the noise of dieting behavior, food rules and body weight obsession.
As an advocate for balanced living it can take time to shift the eating mindset to one of balanced, not clean eating.
Food choices do not need to be thought of as good or bad. Food is just food.
We eat for different reasons, not simply to add nutrients into your body. Live by the hasthtag #balancednotclean.
There are no bad foods, only bad diets. Nothing is off limits. You can eat anything, just not everything. It's all about being intentional about your choices.
Just like budgeting your finances, you need to develop the skill and awareness of spending and saving where it counts. Similar to our bank account, what we choose to spend on is highly individual.
There will always be key basic needs we must spend on (similar to a basic level of nutritious foods that need to be consumed for health and productivity in our day).
Then we have some money left to spend on fun stuff (just like we have some calories left to spend on soulful foods chosen for taste and enjoyment rather than any type of nutritional need).
So how do you know if you are truly eating well? The answer to this question is complicated since no one food causes health issues and there is not one single eating style that is best for health or weight concerns.
There are, however, some clear nutrition factors that are best known to help and you can find out more about them by filling out our Personal Nutrition Scorecard.
People often ask me "What is the best diet to follow?" The answer is actually quite simple.
The best healthy eating lifestyle is the one you can sustain for life. If we break this down further, there are a couple of key words to look at here.
First of all, our goal is to have you think about the best lifestyle you can follow rather than the best diet (after all, the word diet has the word die in it and often brings about negative feelings of deprivation).
Building a lifestyle means you have thought about eating fully.
Eating fully is the balance between eating healthfully (foods chosen for geeky nutritious reasons that improve health) as well as eating soulfully (foods chosen purely for fun, social enjoyment and taste).
One without the other leads to an imbalance in either wellness or quality of life.
This brings me to the second word that is really important in the statement "the best healthy eating lifestyle is the one you can sustain for life."
Another important word here is sustain. Ideas of what to follow are endless but actually being able to stick to an eating plan is difficult.
Any short-term cleanse, detox, rigid plan or diet that will end in a matter of days or weeks simply lacks benefit in your long-term health and often leads to feelings of failure when you're unable to follow this.
Time and time again we see 'food rebel' behavior happen when our clients go off a rigid diet plan (aka overeating forbidden foods). The worst part is the heavy emotional toll our clients feel when feelings of guilt, shame, and failure creep in.
As with most things in life, one size does not fit all. Be wary of any eating plan that says there is one way to eat that is superior.
Scientific evidence does not suggest this is the case. You can be healthy following a wide range of eating plans (including both eating meat or as a vegetarian).
Looking for more top Dietitian tips?
If you like our philosophy to nutrition and could benefit from simple meal planning tips and healthy recipes for a healthier lifestyle sign up for our weekly newsletter for a healthy recipe of the week (and nutrition articles and videos with a balanced living philosophy to help encourage healthy habits but still save room for your favorites). Our nutrition newsletter is written by the Calgary Nutritionists on our team who each hold a professional Registered Dietitian license to ensure you are getting credible advice.
Join the waiting list for my next Online Nutrition Course The Pursuit of Healthiness.
Contact us to learn more about booking private one-on-one nutrition counseling in-person at our Calgary office or by virtual video conferencing with one of the weight loss Dietitians on our team.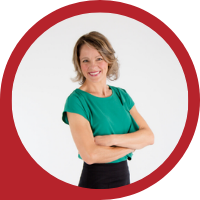 About Andrea Holwegner
CEO, Registered Dietitian, Counseling Practice Director & Professional Speaker
Andrea the «Chocolate Loving Nutritionist» is founder and CEO of Health Stand Nutrition Consulting Inc. since 2000. She is an online nutrition course creator, professional speaker and regular guest in the media. Andrea is the recipient of an award by the Dietitians of Canada: The Speaking of Food & Healthy Living Award for Excellence in Consumer Education....Read more