Tortellini Bean Soup Recipe
This hearty vegetarian soup recipe is a perfect supper meal and makes for a great leftover lunch the next day. The veggies, lentils and beans supply a high amount of fibre for digestive health, satiety and heart health.


Makes 10 servings
What you need:
1 tbsp. olive oil
1 medium onion chopped
1 clove garlic, minced
1 cup sliced mushrooms
1 red pepper
1 can (398 ml) stewed tomatoes, minced
8 cups vegetable or chicken broth (homemade, reconstituted from powder, or canned)
2 tbsp. dried basil
1/2 of a 750 g package fresh or frozen tortellini (375 g), cooked
1 can (398 ml) beans in tomato sauce
1 can (540 ml) lentils, drained and rinsed
How you prepare:
Sauté onion, garlic, mushrooms and red peppers until soft in the oil in a large saucepan. Add tomatoes, broth and basil and bring to a boil. Simmer uncovered for 10 minutes. Add cooked tortellini, beans and lentils.
Option: add salsa, hot chili sauce, or dried chili pepper flakes to spice it up if you like!
Per serving:
Calories 266
Carbohydrates 42 g
Protein 16 g
Fat 4 g
Dietary Fiber 7 g
Looking for more healthy eating recipes? Sign up for our weekly newsletter for a healthy recipe of the week (and nutrition articles and videos with a balanced living philosophy to help encourage healthy habits but still save room for your favorites). Our nutrition newsletter is written by the Calgary nutritionists on our team who each hold a professional Registered Dietitian license to ensure you are getting credible advice.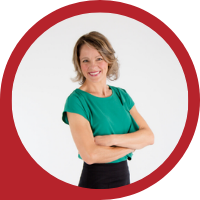 About Andrea Holwegner
CEO, Registered Dietitian, Counseling Practice Director & Professional Speaker
Andrea the «Chocolate Loving Nutritionist» is founder and CEO of Health Stand Nutrition Consulting Inc. since 2000. She is an online nutrition course creator, professional speaker and regular guest in the media. Andrea is the recipient of an award by the Dietitians of Canada: The Speaking of Food & Healthy Living Award for Excellence in Consumer Education....Read more