What to eat for High Cholesterol
Answers to the most asked questions on nutrition for heart health
It can be very confusing to sift through all the information on heart healthy eating and determine the best foods to eat to lower your blood cholesterol levels. Here is the scoop on some of the latest debates on nutrition for heart health and what to do if you have elevated blood cholesterol levels. 
Watch Andrea Holwegner on Global Morning News:
WATCH Andrea's Facebook LIVE on this topic:
Should I follow a vegan or vegetarian diet?
You can find a research study that will support just about anything you want to promote or discount. There is research to support that a well-planned vegan or vegetarian eating plan is healthy for your heart. There is also research to support that consuming animal foods such as dairy, meat, poultry, and seafood (such as what is included in the Mediterranean diet) can also be included in a heart healthy eating plan.
The best heart healthy eating plan is the one you will actually follow. You don't need a diet, you need a healthy lifestyle you can sustain for life. Follow a plan that speaks to your foo
d personality and the types of foods that you enjoy.
What is the best diet to follow for my heart?
Your health and heart health depend on your whole diet, not just the type of fat you eat or any other single nutrient. The key is taking a big picture look at scientific evidence and using some common-sense advice from what your grandparents likely have always known.
Eat plenty of whole foods that you can recognize as food (without a complicated label with long lists of ingredients). Emphasize plant based foods such as vegetables, fruit, whole grains, nuts, seeds and legumes. If you wish to consume animal foods go with those that are minimally processed with lower levels of sodium and sugar.
Also note that trans fats are a particularly negative class of fat found in packaged and processed foods such as deep fried items, commercial baked goods and pastries. Read food labels and be sure to limit foods that contain hydrogenated vegetable oil and shortening.
However, remember you don't need to be extreme – there is always room for your favorite soulful foods such as sweets and savoury foods that are chosen for taste and enjoyment. You can eat anything, just not everything – heart healthy living is all about being intentional about your overall choices.
What is the #1 most important change to make to reduce high cholesterol?
The single most effective nutrition strategy to lower your blood cholesterol levels (and blood pressure) is to lose weight if you are overweight. Even small changes in your weight can have a significant change on your blood cholesterol level. The best weight loss diet is going to be based on your food philosophy and which diet you can actually sustain.
Working with an experienced Registered Dietitian that can work with you on a customized plan to help you determine what, when and how much to eat along with everyday meal ideas that work within the types of food you enjoy and take into account your cooking skill, if you eat out often and your family situation. In our Calgary dietitian practice we also find the vast majority of our clients also need ongoing support and strategies to help them with emotional eating, managing cravings and accountability.
Are foods such as butter and cheese that are high in saturated fat bad for my heart?
The answer to this question is both yes and no.
Traditionally it was thought that saturated fat was harmful for heart health. Saturated fats are found in heavily marbled meats, the skin on poultry, butter, margarine, tropical oils (coconut oil, palm oil, cocoa butter), and high fat-dairy foods such as cheese. 
Newer research has found that saturated fats may or may not increase the 'bad' LDL-cholesterol in the body, which harms heart health. Part of the reason that there may be some conflicting results depends on which foods are being replaced for saturated fat. Monounsaturated fats (found in olive oil, nuts and avocado) as well as omega-3 fats (found in fish) when replaced for saturated fat is beneficial for heart health. Health depends on the quality of your whole diet, not just the type of fat or any other single nutrient. Rather than focusing on counting grams of fat, focus first on eating wholesome foods your grandmother would recognize that contain simple ingredients.
Rather than asking if the butter or cheese you are eating is good or bad, the bigger question you should be asking is what foods do you put your butter on or what else are you eating with your cheese? Hint: most people need to eat more veggies and fruit so the focus likely needs to start there.
Which is better butter or margarine?
How you answer this question depends on a few factors. Firstly from a taste preference most chefs and foodies would agree that nothing beats butter. Other butter advocates would say they prefer to consume something more natural. 
On the other hand vegetarians that do not consume animal foods may choose margarine instead because it is plant based. Since soft-tub non-hydrogenated margarine is lower in saturated fat than butter and is trans-fat free if you have high cholesterol you might choose this for a nutrition reason. Skip square cubes of margarine and tub hydrogenated margarines since these are high in trans fats.
At the end of the day whatever you choose be mindful of simply eating less of both.
Which is better coconut oil or olive oil?
Coconut oil is all the rage lately but I don't believe this is a fat you should be trying to increase in your diet. 
Coconut oil (which is solid at room temperature) contains a high level of saturated fats (more than butter).  One positive note is that some of the saturated fat in coconut oil is lauric acid, a medium fatty acid that may have a more neutral role on heart health and blood cholesterol levels. Lauric acid can raise both the good (HDL) and bad (LDL) cholesterol levels while other saturated fats can raise LDL levels with no effect on HDL levels. 
Also note that hydrogenated coconut oils would not be recommended since they contain trans fats. If you are consuming a coconut oil choose virgin coconut oil and eat this in moderation.
The health benefits of olive oil and other liquid plant oils trumps coconut oil. 
Should I limit eggs and other foods high in dietary cholesterol?
Be aware that dietary cholesterol is different than the cholesterol found in your blood. Although foods such as eggs or shrimp are high in dietary cholesterol, foods high in cholesterol have little effect on the cholesterol in your blood. There is research to support an egg a day is fine for most people. Both shrimp and eggs are free of trans-fat and low in saturated fat and therefore have limited influence on the cholesterol levels in your blood. This is good news if you enjoy eggs for breakfast or grilled shrimp on the barbeque.
To find out how healthy your diet is visit Andrea's website to download her free Personal Nutrition Scorecard at: www.healthstandnutrition.com/scorecard/ and connect with her on Facebook, Instagram or Twitter at @chocoholicRD.
[thrive_2step id='22679′]
[/thrive_2step]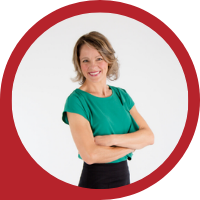 About Andrea Holwegner
CEO, Registered Dietitian, Counseling Practice Director & Professional Speaker
Andrea the «Chocolate Loving Nutritionist» is founder and CEO of Health Stand Nutrition Consulting Inc. since 2000. She is an online nutrition course creator, professional speaker and regular guest in the media. Andrea is the recipient of an award by the Dietitians of Canada: The Speaking of Food & Healthy Living Award for Excellence in Consumer Education....Read more